It's a bold statement to say something is the best, but if you are looking for the best dropshipping platform for your customers' experience in 2023, look no further than Zendrop! This software platform offers a wide range of features that can help online merchants take their online business to the next level and enhance the experience for their customers, thus ensuring success.
From product management tools to enhanced customer-oriented features to shipping and payment options, Zendrop has everything you need to run a successful dropshipping business. This Zendrop review will cover these features in detail and provide our overall take on Zendrop.
How Zendrop Works
With the increasing popularity of e-commerce, more and more businesses are turning to drop shipping to save on costs and to allow focus on sales and marketing. Zendrop is the perfect drop shipping platform for your business.
It offers customizable ordering processes and integrations with the most popular e-commerce platforms, Shopify and WooCommerce. You can use Zendrop to create custom shipping labels and automate the fulfillment process. It's easy and free to get started and access over one million products.
How to Get Started with Zendrop
With Zendrop, getting started and managing your business online is easy. The platform offers many features, including an inventory management system, shipping tools, and more. If you need assistance with anything related to your dropship business, Zendrop has a world-class support team. Get started by signing up for the free account, which will provide you access to over one million products instantly.
You also get access to Zendrop's ability to source products. Yes, with a free membership to Zendrop, they will scour all reliable dropship suppliers for you, find the product you want to sell at the best price, and bring it to your store through the Zendrop platform. The actual customer-oriented advantages come into play when you look at the features Zendrop provides.
Zendrop Features
Zendrop has some of the most eye-popping features of any dropship platform available. Many of these features allow your brand to shine in front of your customers and add value throughout the customer's journey with your store. We've outlined the most notable features to empower your online store and associated branding efforts.
Fast Shipping
Shipping products quickly and efficiently is a top priority for business owners. With Zendrop, shipping doesn't have to be complicated or time-consuming. The free plan gives you access to some of the fastest shipping times in the industry.
If you become a Zendrop Plus user, you are provided expedited shipping and the ability to ship from the United States, which cuts your shipping time down to a few days at most. There is a lot of value here for your customers, and Zendrop will give you a competitive advantage in this area.
Custom Branding
Having an online business and being your own boss is a great accomplishment, but when you grow a brand around your store, you can expand into something much bigger than you might have imagined. Zendrop provides custom-branded packaging, labels, packing slips, and even custom-designed thank-you cards as the cherry on top.
Thank you cards are an excellent way to show your customer appreciation. Zendrop makes it easy to send them with just a few clicks. You customize the card and add a personal message that will make the recipient feel special. Plus, it's free! This incredible tool keeps in touch and lets customers know how much you appreciate their business.
Automated Fulfillment
Zendrop provides a great automated fulfillment option that can help reduce the time you spend on fulfilling customer orders. This is beneficial as it allows you to focus on other areas of your business, such as growing sales and increasing profits.
With auto fulfillment, scaling a successful business becomes much more manageable. As a result, you will be able to serve customers faster than ever. Zendrop knows you're busy, so enabling this feature, which is optional, can save you a lot of time.
Private Labeling
Private Labeling is a great way for small businesses to get a custom label for their products. This system keeps your products secure and prevents them from being copied by others on the marketplace. Furthermore, it can spark your brand growth, allowing you to leverage your brand across more channels and scale your e-commerce operations quickly and effectively.
Bundles & Subscription Boxes
Zendrop offers bundles and subscription boxes that are perfect for businesses of all sizes. Imagine being able to offer memberships to your customers each month or quarter, sending a box of custom-curated products to their doorstep. There is likely no better way to scale growth than subscriptions or bundles.
These options can help you to customize your product offering, expand your customer base, and increase profits exponentially. Plus, with these tools in place, it's easy to keep your products fresh and current so that you always have a competitive edge on the market.
United States Fulfillment
Zendrop is committed to providing the best customer service possible. That's why it offers United States fulfillment for all products. This means you can shave roughly two to five days off shipping times. The value of this from a customer service perspective is tremendous and puts you on the same scale as Amazon, Wayfair, or Walmart. This is a huge advantage over most other dropshippers.
Analytics & Zendrop Dashboard
An essential part of any successful online marketing plan is tracking the results. Without good analytics, it's hard to determine which strategies are working and which aren't. With Zendrop, you can make informed decisions about improving your efforts by providing reliable insights into your campaigns, sales, and more.
The dashboard makes it easy to see all this data in real time so that you can take action immediately – whether adjusting your strategy or scaling up operations. Having an eye on performance is key to sustained growth and profitability.
Automatically Import Products
Running an online store is great, but manually adding products from various online stores and marketplaces can be time-consuming. Zendrop makes that easy with its integration into Shopify, WooCommerce, or Commerce HQ and its ability to automate the import process of adding products to a storefront.
This allows for adding products quickly and efficiently, updating current products, and removing products that are not selling well or have changing availability or supply chain issues. Other dropshipping suppliers may offer this functionality, but Zendrop's emphasis on it is a key advantage.
Product Sourcing
Product sourcing is essential to any business, enabling you to purchase products and bulk orders with a low minimum order quantity.
Zendrop's marketplace offers a wide range of products from different niches and categories, making it easy to find what you're looking for. And if you don't see a product you're looking for, ask the Zendrop team, and they will source it for you, or you can use the AliExpress import tool to source it for you.
Zendrop Pricing
Drop shipping is a great way to run your business, but it can be time-consuming and expensive to set up shop. Zendrop's pricing scheme is very flexible, so you can find the plan that best suits your needs.
For those looking for an extra boost for their dropshipping stores, Zendrop does not disappoint. Even the free version offers access to quality products from AliExpress suppliers.
Zendrop Free: $0/mo. – Zendrop Free offers you the following benefits.
Access to over 1 million products
World-class customer support
Product sourcing assistance
Zendrop Pro: $49/mo. – Zendrop's Pro plan comes with a 7-day free trial to test out all of its features and is a great step up after testing the free version. The Pro plan comes with everything in Free, plus:
Unlimited number of orders per month
Auto fulfillment (if desired)
Custom branding
US products and fulfillment
Express shipping
Note: Paying annually will save you money. $399/yr, which breaks down to $33.25/mo. vs $49 if you pay monthly.
Zendrop Plus: $79/mo. – Zendrop's Plus plan adds quite a bit of value above the Pro plan and is, quite frankly, the plan we would invest in upon successfully establishing an online store. With Plus, you add the following:
Zendrop Academy
Product bundles
Subscription boxes
Chargeback management
Private product listings
Tending products finder
$100 in order credits
Note: Paying annually will save you money. $549/yr, which breaks down to $45.75/mo. vs $79 if you pay monthly.
A few benefits of the Plus plan are worth outlining in more detail.
Zendrop Academy
If you are looking to start a drop shipping business fast, you need to learn as much as you can as quickly as you can to avoid as many mistakes as possible. Zendrop Academy is a comprehensive series of training videos on everything from setting up a store for success to successful Facebook advertising and beyond. Academy is an excellent resource for those who want to learn more about the nuances of growing successful dropshipping operations.
Private Product Listings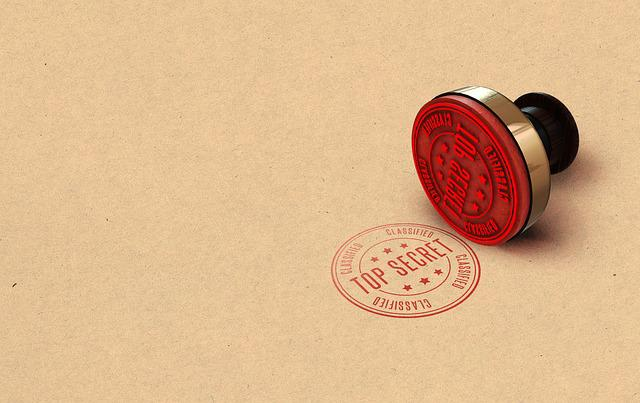 When you've found that winning product that is trending and is selling in the way you envisioned, you don't want competitors to swoop in and start selling it as well. Private product listings allow you to close that loop in the Zendrop catalog by removing access for other sellers. From that point on, it's solely yours to sell.
Trending Products Finder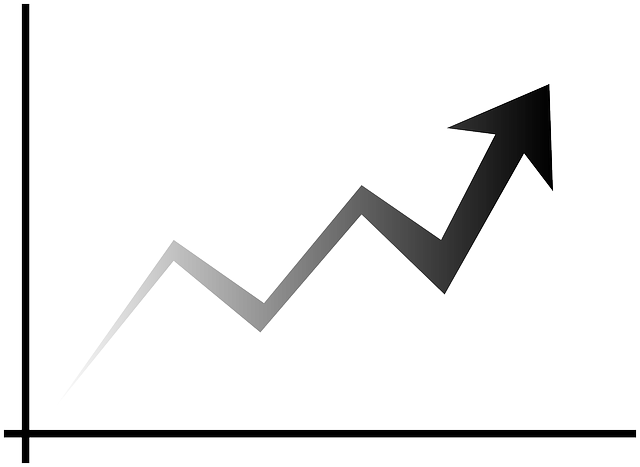 Another incredible resource to help find top, hot trending products or keep up with the seasonal trends. The trending products finder allows you to keep tabs on what products are trending online so you can add them to your store and take advantage of their popularity.
Zendrop Shipping
Dropshipping can be challenging when you can't provide your customers with the best shipping price or options. Many stores fail because they cannot compete with the Amazon's of the world on both time and price. Zendrop levels the playing field here with its Pro and Plus plans and allows US fulfillment and expedited shipping. This reduces shipping times to rival those of larger eCommerce giants.
Shipping Prices
Each product comes with an associated weight, accounting for 90% of the shipping cost. This is incredibly important when looking at any drop shipping app, as not understanding shipping costs can negatively impact your experience with dropshipping and your customer's experience. The key to finding the best products is also to find those with low prices and fast shipping times
Pro Tip: When importing a product, toggle the Express shipping switch to "On" to ensure the product in your store will be handled with Express shipping. Otherwise, it can take 8-15 days to ship.
Shipping Times
Below are some shipping times and types to help determine which method of shipment might work best for you.
Regular Shipping
The default method is pre-selected when you import a product to your store. The advantages are it is cost-effective but still faster than most dropship suppliers on the market.
United States – 7 to 15 days
Great Britain – 5 to 10 days
Canada – 7 to 15 days
Australia – 6 to 12 days
France – 6 to 12 days
Germany – 6 to 12 days
Mexico – 12 to 22 days
Brazil – 25 to 35 days
Express Shipping
Zendrop's fastest shipping method, but with limited availability to certain countries at this time.
United States – 5 to 12 days
United Kingdom – 3 to 9 days*
Canada – 5 to 10 days*
France – 4 to 11 days*
Italy – 5 to 10 days*
Germany – 5 to 10 days*
Spain – 3 to 7 days*
Note: *Temporarily Unavailable
Economy Shipping
The most cost-effective method to ship products but also the slowest. The only difference from other shipment methods is that the label will show a Chinese address in the "return to sender" section. Economy shipping is for you if you don't mind long shipping times.
Japan – 5 to 12 days
Hong Kong – 3 to 15 days
India – 40 to 55 days
Most of Africa – 30 to 60 days
Most of South America – 30 to 60 days
Most of the Caribbean and Central America – 30 to 60 days
Zendrop Returns
Returns are essential to the dropshipping business model. Without them, your customers might start taking their business elsewhere. Zendrop offers a comparable, if not better, returns policy than most dropship apps.
Overdue – For any order plus five days over the estimated shipping time, Zendrop refunds the shipping cost if you've refunded your customer. Proof of refund to the customer is required.
Damaged or Defective – If a customer receives a damaged or defective product, Zendrop will issue a full refund (product + shipping) or a replacement product within seven days of an order being delivered. You must show proof of damage or defect using a high-quality video or image. You can send the image or video to Zendrop Support at support@zendrop.com.
Lost or Stolen – Zendrop will work with their sellers to make it right, but sometimes it's out of their control. This is a rare occurrence, so hopefully, no one will need to deal with it.
Note from Zendrop: "For certain products, it may be difficult for us to determine if something is damaged or defective (like earphones, for example). We will have to make a judgment call in rare scenarios like this. This decision will be much easier if you provide us with as much information as possible about the damaged or defective product and ensure that the high-quality images and videos showcase the damage or defect."
Customer Support

Starting a business is hard – making it even harder is trying to do it yourself. With 24/7 customer support, a dedicated support site at https://zendrop.zendesk.com/, and a thriving community, Zendrop makes it easy to run your business successfully.
The team at Zendrop is passionate about helping you succeed, which makes them an invaluable resource. They understand what it takes to succeed, as many are dropshippers. You can always reach out to them via email at support@zendrop.com. They offer a dedicated Facebook group you can join at https://www.facebook.com/groups/zendrop, and you can view an extensive selection of YouTube videos at https://www.youtube.com/@ZendropApp.
Zendrop offers phenomenal Customer Support that is US-based, and applauded by many for its effort, focus, and team concept. Trustpilot has them rated at 4.8 out of 5 with 2,324 reviews, having 87% coming in as 5-star.
Who Should Use Zendrop?
Zendrop is a great fit for anyone who wants to start a dropshipping business and also learn how dropshipping should take a customer-centric approach. Zendrop is also for high-volume sellers, as you can apply for Zendrop Select, which is for companies that sell a high volume of products. Some of the benefits of Zendrop Select are:
Dedicated success team for support
Proactive price negotiation on your behalf
Dedicated sourcing agents
Brand development support
Fast shipping with 2-day expedited
Who Shouldn't Use Zendrop?
Zendrop is a dropshipping platform that enables entrepreneurs to start and run their businesses efficiently. It isn't for everyone; understanding your dropshipping requirements will steer you toward Zendrop or away from it.
Even though Zendrop offers exceptional features and benefits to make the life of a dropshipper easier, you still have to put in a lot of work to succeed with dropshipping. It isn't a get-rich-quick scheme, so Zendrop isn't for you if you're looking for an easy way to make money online.
Zendrop Marketing Support
Zendrop is a top dropshipping platform that provides customers with a wide range of products and services. The marketing team at Zendrop is dedicated to helping you succeed in your dropshipping business.
They offer a variety of resources and support that will help you grow your company. They provide daily email updates, weekly blog posts, and training videos that will teach you how to dropship successfully. You can join the Facebook group or the Community within the Zendrop Knowledge Hub at https://zendrop.zendesk.com/hc/en-us/community/topics.
Zendrop Financing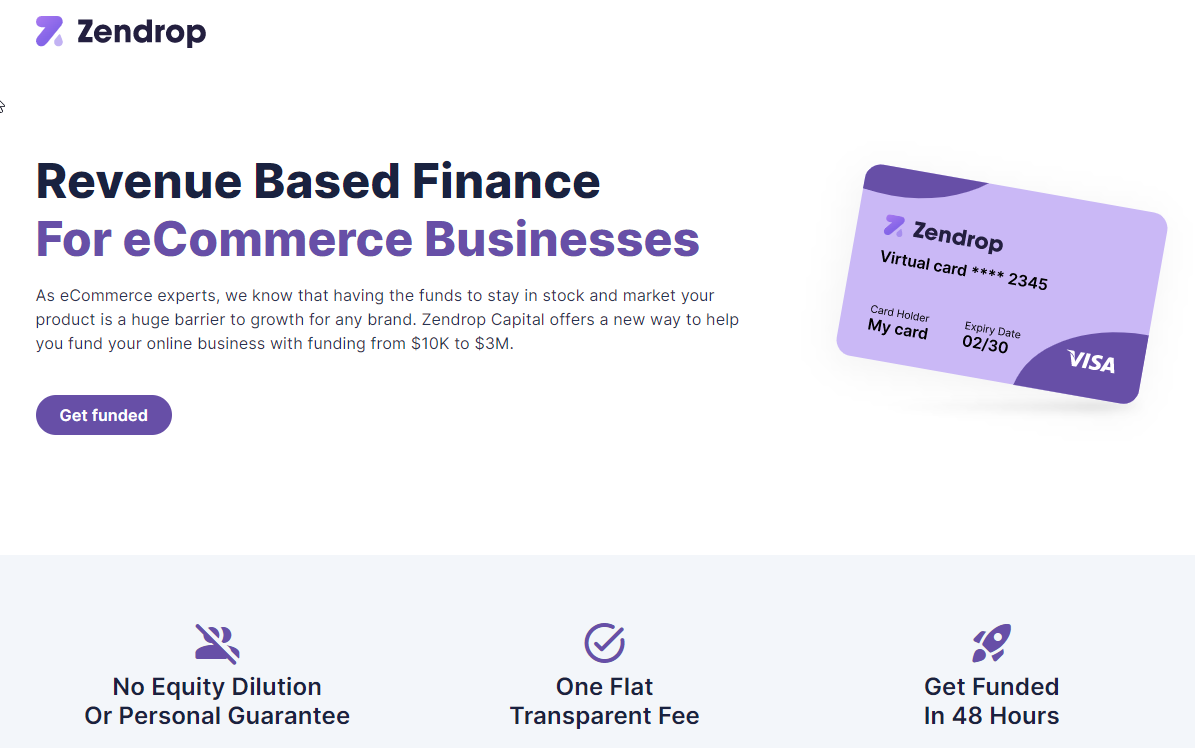 Zendrop offers financing under certain conditions to store owners who meet the following qualifications.
Business must sell products online
Been trading for 6 months+
Earn $10K+ monthly revenue
These may seem like steep qualifications, but most businesses will meet these requirements in the mid to later growth phase. Financing allows you to scale your online dropshipping store much faster than you could if you bootstrapped in perpetuity.
Zendrop Capital, powered by Outfund, offers revenue-based financing. The benefit of this method of financing is that you do not give a stake in your company to anyone else. You have complete ownership. You repay based on a pre-agreed-upon percentage of your revenue.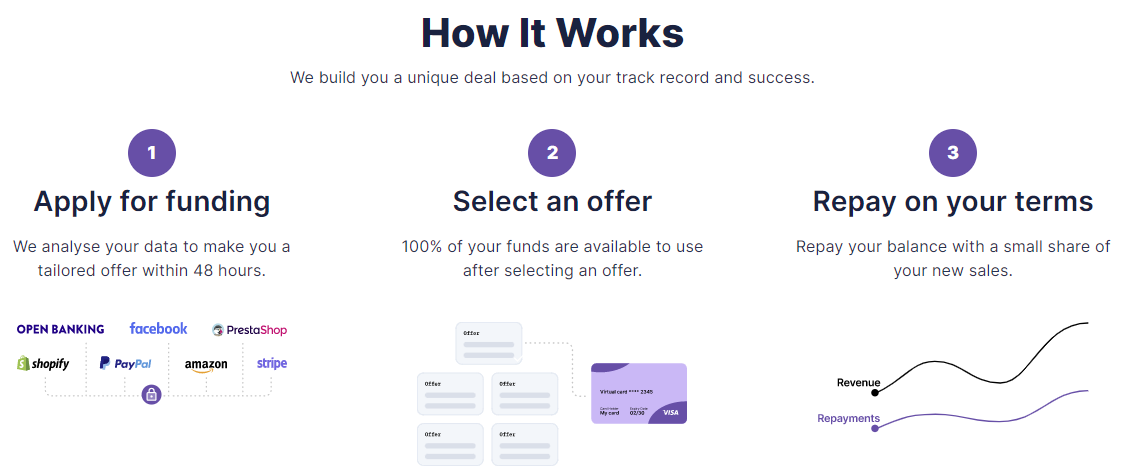 Apply for funding, your application is analyzed within 48 hours, and a tailored offer is made. You select the offer that best suits you and get funded. It sounds simple, and it is. There is no equity dilution, a single fee to get started, and you get your funds fast so you can scale uninterrupted.
Zendrop Alternatives
If you're looking for a reliable and easy-to-use dropshipping platform, Zendrop is an excellent choice. Still, Zendrop is such a popular platform; there are many alternatives to choose from if you're looking for a different dropshipping experience. If you're unhappy with Zendrop, try out some of its competitors like Spocket, DSers, Dropified, or SaleHoo.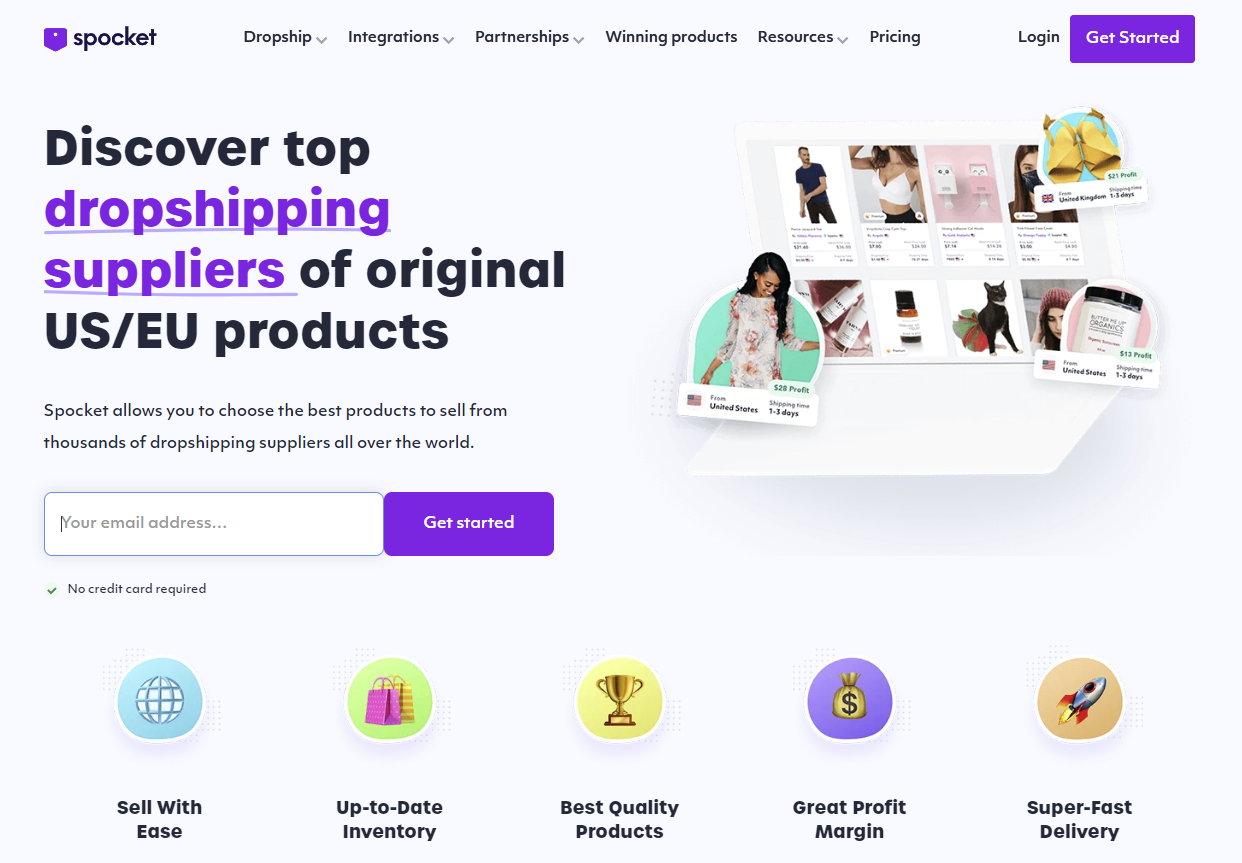 If you're looking for a dropshipping platform that is easy to use, Spocket might be the right choice for you. Its user-friendly design makes it simple to set up and manage your dropship store. You can also integrate it with many more shopping cart systems than you have the option to with Zendrop.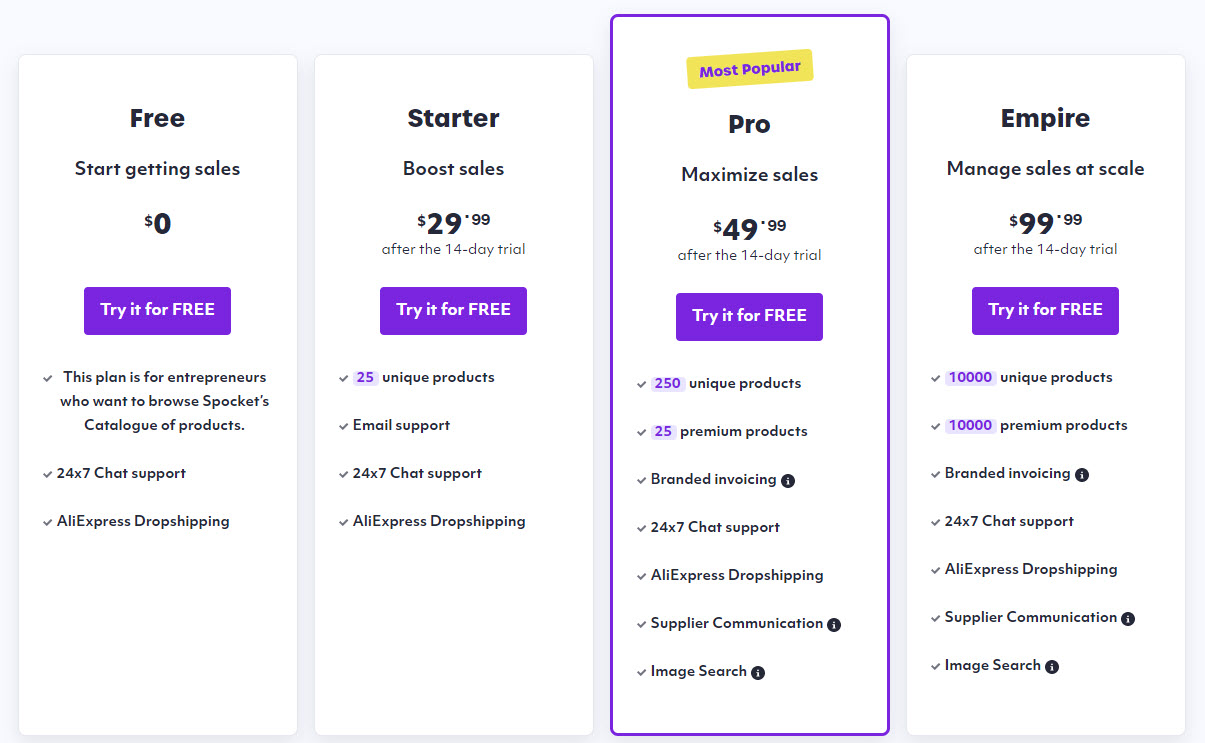 Spocket integrates with 10 different e-commerce platforms, has many of the same features, and offers a free plan and three paid plans, all offering a 14-day trial.
You can read our complete Spocket review to determine if Spocket is a better fit.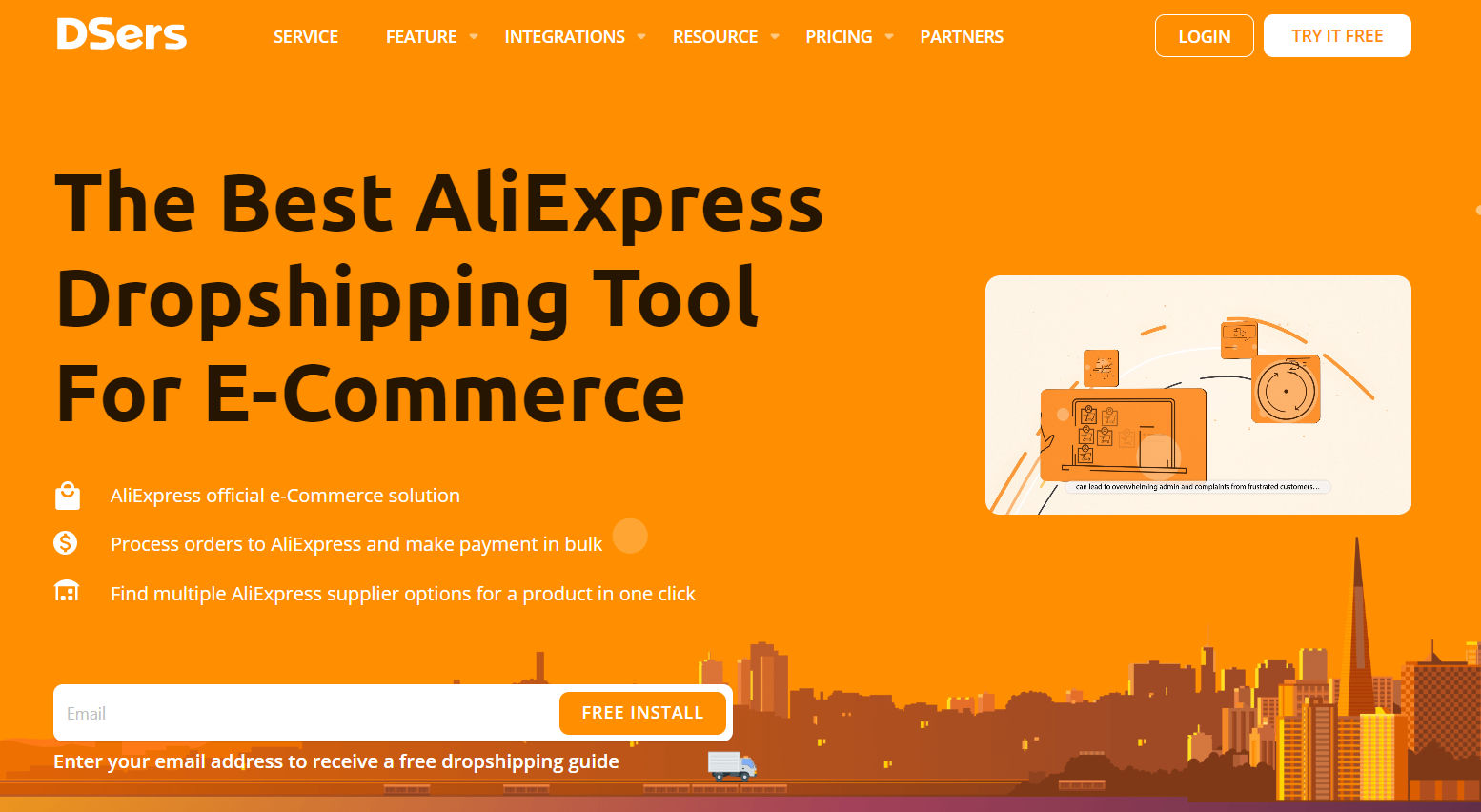 Dropshipping with DSers has some advantages. Since Shopify acquired Oberlo, DSers became one of the best options for dropshipping with Shopify. DSers also integrates with AliExpress, Wix, and WooCommerce. Additionally, DSers has direct PayPal integration.
With features like bulk ordering, variants mapping to enable your store quicker, product bundles, pre-selected preferred shipping, and automatic pricing rules, DSers will appeal to many dropshippers seeking these benefits.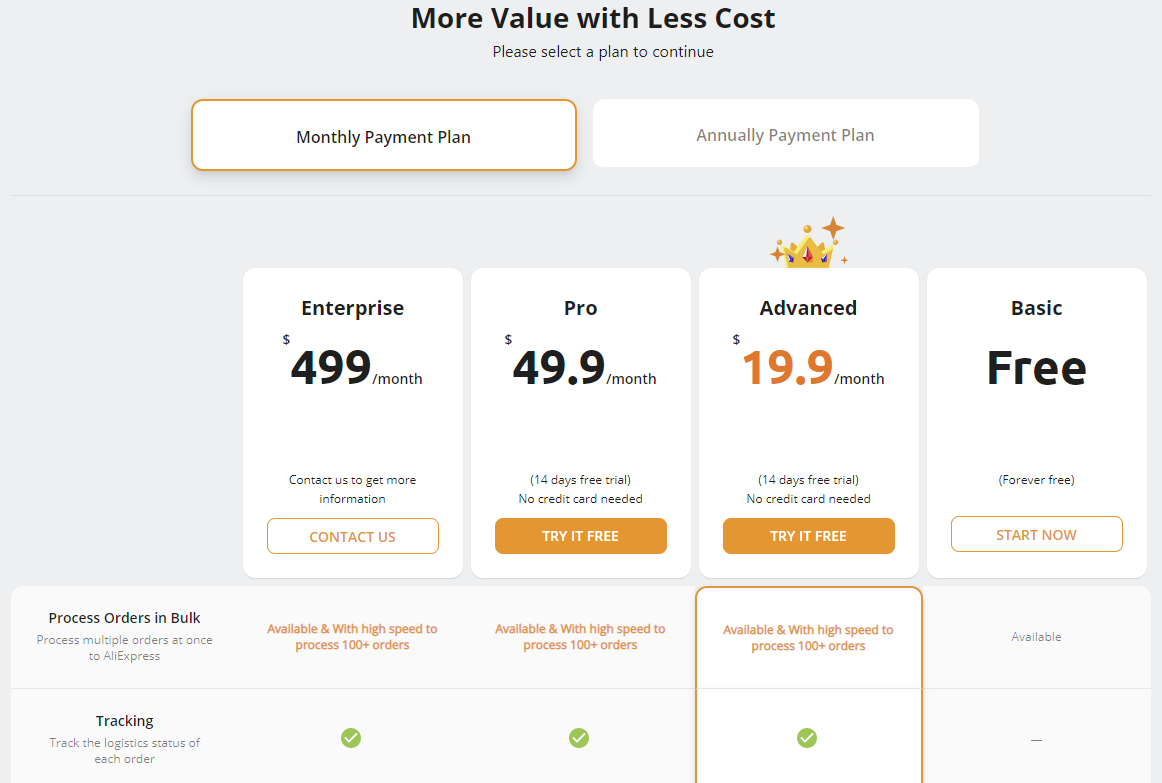 DSers has multiple plans, including a free plan and paid plans that vary in features and price by eCommerce platform. All paid plans come with a 14-day free trial.
You can read our complete DSers review to determine if DSers is a better fit.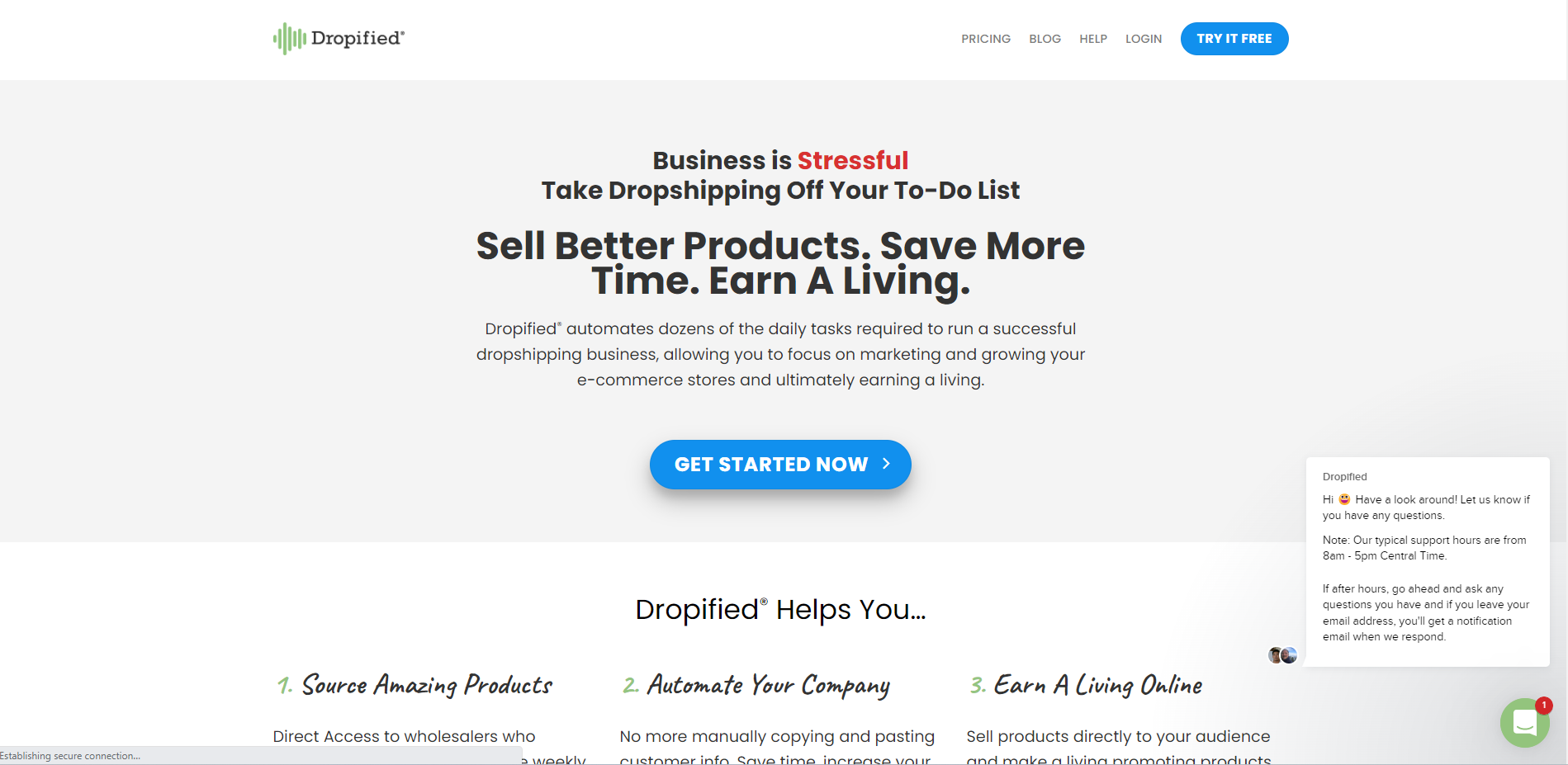 If you're looking for a dropshipping platform that is more customizable than Spocket, Dropified might be the right choice for you. Dropified offers a couple more integrated commerce systems than Zendrop, adding BigCommerce and GrooveKart.
They have some great features, including private labeling, dropshipping on eBay, and importing products from AliExpress, eBay, Alibaba, and more than 75 additional websites.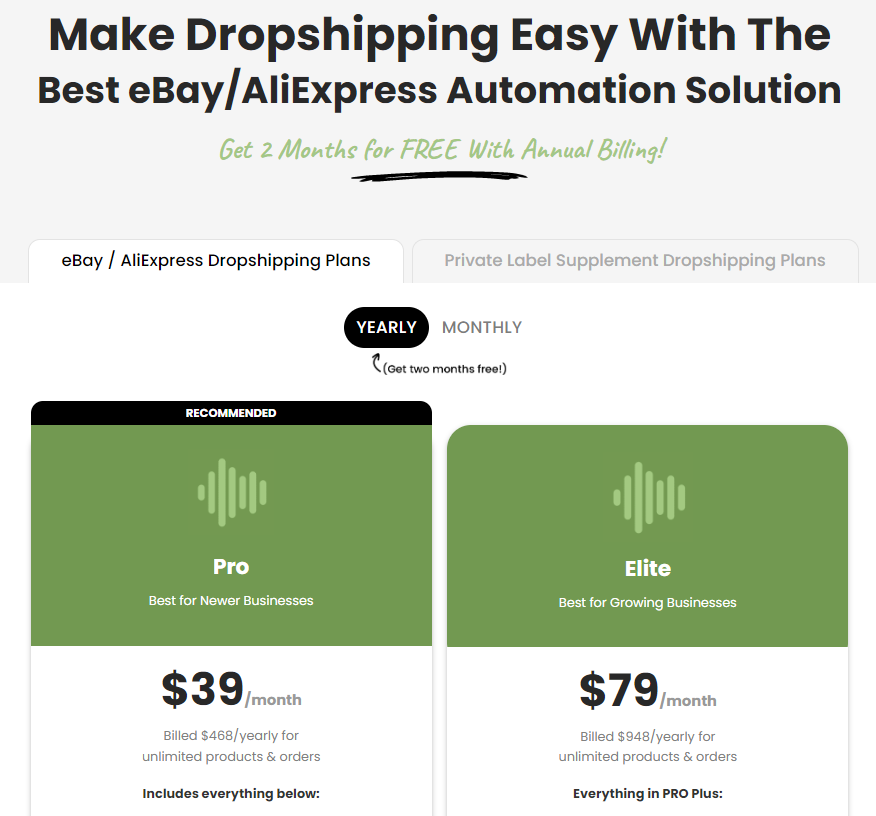 Pricing starts at $47/mo. for Pro and $97/mo. for Elite with a yearly option that saves money, as seen in the pricing chart above. There are also separate pricing plans for the private labeling eCommerce stores that range from $97 to $397 per month.
You can read our complete Dropified review to determine if Dropified is a better fit.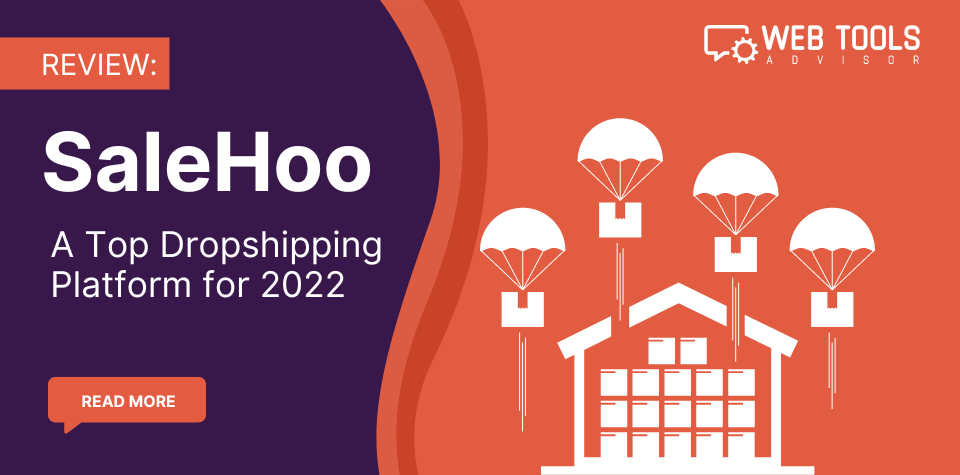 If you're looking for a dropshipping platform that is easy to use, SaleHoo might be your best option. SaleHoo offers SaleHoo Directory and SaleHoo Dropship, each offering unique benefits.
SaleHoo Directory costs $67/yr or $127/lifetime and grants you access to over 1.6 million products, research labs, trends data, and 1-1 support.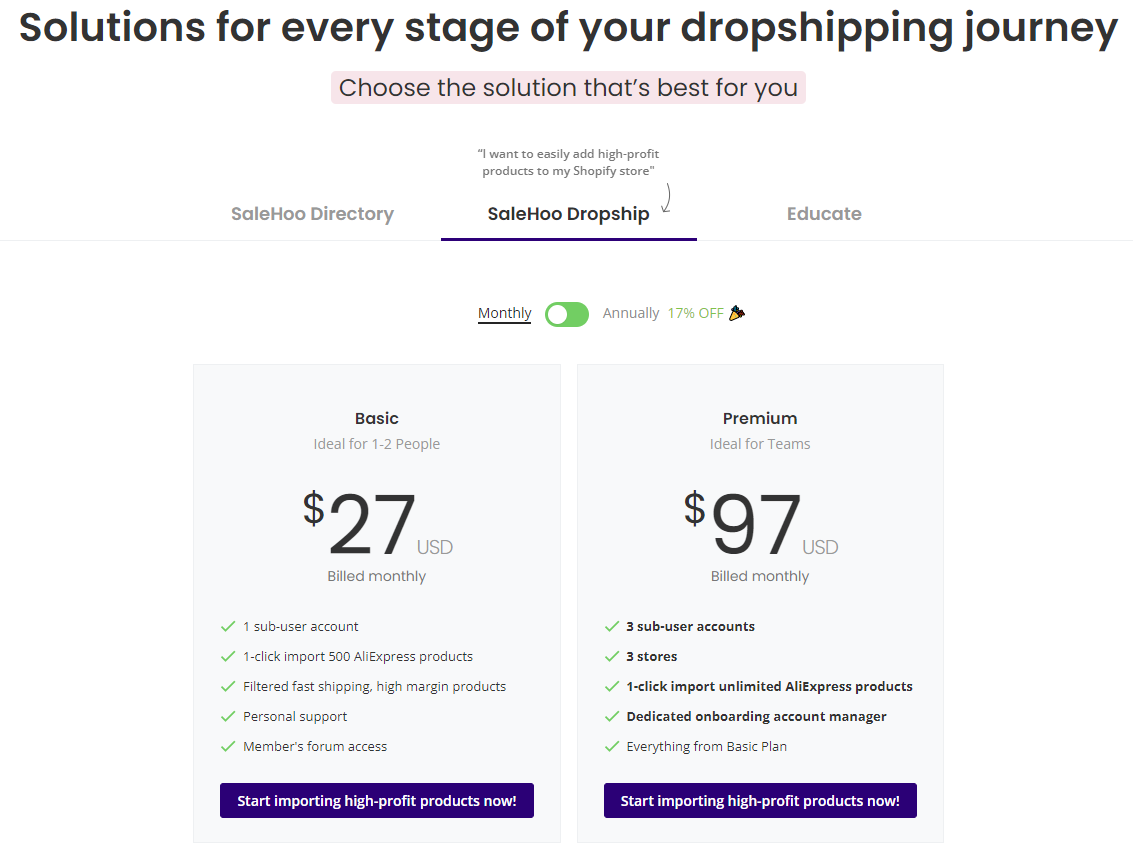 SaleHoo Dropship offers two plans ranging from $27 to $97 monthly, with a 14-day trial. The only limitation is that it only integrates with Shopify.
You can read our complete SaleHoo review for more information.
Zendrop Review Wrap-up
If you're looking for a dropshipping platform that is both reliable and easy to use, then Zendrop is the perfect solution. With features like auto fulfillment, private labeling, custom packaging options, and the highest-rated customer support, Zendrop is perfect for busy eCommerce merchants who want to focus on their business rather than on fulfillment and shipping.
Zendrop is an excellent option for those looking to get started in the dropshipping industry. Overall, we think Zendrop is the perfect choice for anyone looking to start or grow their business in the dropshipping niche in 2023 with a customer-first approach.
So don't wait any longer – get started today and see how Zendrop can become an extension of your brand and customer-focused online store.
References
---
Disclosure: We are a reader supported website. If you buy through links on our site, we may earn an affiliate commission. Learn more here.
Dropshipping Software Reviews