What are the best dropshipping apps for Shopify? Let's find out if DSers makes the grade in this comprehensive DSers review. It is the best in 2023?
Dropshipping is one of the most popular ways to start an online business in 2023; since 2020, interest in the industry has skyrocketed, and many retailers and entrepreneurs have realized its potential for profitability. Because of this increase in demand, the dropshipping industry will likely be valued at over $476 billion globally by 2026.
Many entrepreneurs naturally turn to Shopify due to the success and authority the company has earned in a relatively short time. Shopify is an eCommerce platform that allows you to create and manage online stores, take customer payments, and fulfill orders. A crucial factor when deciding on dropshipping apps for your Shopify store is finding one with great user reviews.
While Oberlo shut down and officially became a part of Shopify in June of 2022, the online eCommerce giant also makes it easy to use other dropshipping methods ranging from Spocket to Printful. But the question is, which Shopify app should you use in 2023?
DSers is a revolutionary dropshipping app that helps you take advantage of automation and social media marketing tools to maximize profits from your store. This review will discuss how DSers fits into the dropshipping ecosystem and how it can help you succeed this year.
DSers Review – Key Takeaways
DSers is an innovative alternative to Shopify and other dropshipping apps for 2023. It offers many desirable features and services that could help dropshippers maximize profits and automate their store operations.
Thousands of eCommerce stores have used this comprehensive tool to manage their stores; its reviews are overwhelmingly positive, and the customer service team is highly rated. DSers has many of the features that dropshipping companies have come to expect, but most importantly, the key takeaways from this app are:
The Free version has most of DSers features – You can use DSers for free and still get access to most of the features. This makes it an excellent option for entrepreneurs unsure about committing to the app.
Synchronized order placement in minutes – With DSers, you can place orders in minutes. This saves time and allows you to process orders quickly.
Can manage multiple suppliers easily – DSers makes it easy to manage multiple suppliers and helps you keep track of all your orders in one place.
Can manage multiple eCommerce stores easily – This is a necessary feature for entrepreneurs who have multiple stores and need an efficient way to manage them.
Integrates with some of the most popular online dropshipping tools – DSers integrates with AliExpress, WooCommerce, Wix, and others, so you can easily manage your dropshipping operations.
What is DSers?
DSers is the best universal application for AliExpress dropshipping. Expand your shop inventory, import products from AliExpress, and use its Supplier Optimizer feature to identify the cream-of-the-crop suppliers with stellar ratings rapidly.
The app accomplishes a seamless sync between your Shopify store and data, allowing you to monitor order progress effortlessly. Furthermore, extra features include bulk ordering options, bundle or BOGO offers, and country filters for dealers.
DSers & AliExpress
DSers is one of several official dropshipping partners of AliExpress, working together to provide unparalleled customer service. Moreover, AliExpress recognizes and endorses DSers as their premier dropshipping solution partner – a true testament to the effectiveness and quality of this application.
In other words, DSers has repeatedly proven itself to be a seamless addition to all that AliExpress offers.
By forming a partnership with AliExpress, DSers can use their bulk order feature as an attractive perk for customers. This has helped them stand out from other market competitors and become a successful business. Because of this beneficial partnership, DSers can fulfill about 100 orders at once, which not many other apps offer.
DSers Key Features
As mentioned above, the Free version of DSers gives you access to almost all the features. As a result, you can take advantage of all the key features that make its dropshipping software a viral hit.
Some key features include automated order fulfillment, Facebook automation and ads optimization, AI-powered product research tool, and inventory management.
The free version gives you access to the following:
Pre-selection of shipping methods
Auto Sync tracking numbers to Shopify
Businesses can find trending suppliers
The Supplier Optimizer
Publish multiple products in bulk to your store
The DSers Chrome extension
Automated order status updates
A cost-effective shipping method
Moreover, DSers allows you to manage multiple suppliers in one place and integrate with popular dropshipping tools such as AliExpress, WooCommerce, and Wix. Let's discuss DSer's key features and explain why it may be one of the best dropshipping apps today.
Stock Management
DSers enables you to explore, select, and use numerous providers for the same item. Plus, DSers simplifies keeping track of each AliExpress supplier's stock count. When one of your items goes out of stock, DSers automatically sends notifications within the app so that you can update your product listings accordingly.
With this valuable information, streamlining your workflow will become a breeze. By selecting amongst DSers' premium pricing plans, you can leverage their automatic inventory updating system to ensure your store's stock data accurately reflects the product levels of your AliExpress supplier.
Additionally, if any products are out of stock on AliExpress, customers will be aware before purchasing from your website. With this advantageous feature of DSers' premium plan, you don't have to worry about stocking too little or too much.
Additionally, you can assign alternative merchants or substitute suppliers for all of your AliExpress products. For example, look up another AliExpress merchant who sells the related product and confirm them as an alternate provider.
Subsequently, if your primary supplier runs out of stock, DSers will buy the item from the preferred backup seller you specified. Also, DSers can monitor and compare the performance of different suppliers to help you choose the best one.
Order Management
As experts in the dropshipping industry, DSers know that getting orders into your store can be challenging, and placing orders with your suppliers shouldn't match that difficulty. Users can spend more time growing their businesses with DSers order management system. With a few clicks, it's possible to manage unlimited orders.
DSers' bulk ordering feature can be a massive time-saver, allowing you to process up to 100 orders in the blink of an eye and save 96.7% of the time it typically takes to place customer orders on AliExpress manually. In addition, DSers offers users the unique advantage of paying for all their purchases simultaneously – no more juggling multiple invoices. We'll discuss bulk ordering in just a bit.
Order Tracking
DSers gives you the edge in customer satisfaction by creating order tracking numbers as soon as your customers purchase in your online store. This lets you promptly provide these codes, keeping them informed and satisfied throughout their shopping journey. Once you send the tracking number, DSers automatically updates your customers with order status notifications.
Bulk Ordering
Part of DSers appeal is its ability to do bulk orders in seconds. Here's how to use DSer's bulk ordering feature:
After a new customer order is placed, it will automatically show up in the 'Awaiting Orders' tab, which can be reviewed for accuracy and precision.
When you're prepared, with only a few clicks, you can quickly forward orders to AliExpress. You may select individual orders by checking the box close to the order, or if multiple selections are available, check all boxes in one go. It's that simple and convenient.
When you're content with your order, click the 'Place Order' to get started!
Post-selection, dropshippers will receive a prompt window listing all orders to be placed on AliExpress. This window allows you to view details such as:
The cost of each product
The total cost of the order
Where the order is going
Shipping fees
Shipping times
Now it's time to review and adjust your chosen shipping method if necessary. Finally, you must ensure you are ready for AliExpress suppliers to process the orders. Once confirmed, all orders will be submitted directly to AliExpress without further effort from you.
Supplier Optimizer
Fortunately for the dropshippers that use the dropshipping app, DSers makes sourcing suppliers one of the most manageable parts of the process. As notorious as hunting for suppliers can be, DSers identifies the most reliable suppliers so that you don't have to go through the frustrating process of trial and error.
In addition, DSers' Supplier Optimizer is an effortless solution for discovering new suppliers with positive reviews and reasonable prices to source the products you want to market. In a nutshell, it's as easy as that!
To access the Supplier Optimizer feature, go to your DSers dashboard. Once there, copy and paste the URL of an AliExpress product you want suppliers for into the search bar. The optimizer will then generate a list of companies selling similar products with different prices and review ratings!
It's easy to filter these results according to:
The price
How many products has the company sold
The rating and reviews of the supplier in question
After identifying the ideal supplier, select them and transfer their products to your store. You can modify the product details manually or use AliExpress's link to remap your existing product. If that's what you'd like to do, open up your product mapping page, delete the old supplier connection and import a new one instead!
DSers Advanced Features
Auto Sync Tracking
The tool also automates this process by automatically syncing the tracking URLs with the emails to your buyers. This way, your customers can quickly know the status of their orders. Once shipped, DSers automatically detects it and copies the tracking number before adding it to your order. This causes a seamless transition from 'Awaiting Shipment' to the 'Fulfilled tab' in your dashboard, ensuring you have a stress-free experience with every purchase.
DSers then send customers an email containing their AliExpress tracking number, depending on the eCommerce platform they are using. This allows shoppers to monitor where their parcel is and when it will arrive, providing comfort.
Automatic Pricing
Finding the correct pricing that covers shipping and advertising costs can be time-consuming with many products in your store.
Fortunately, DSers allows you to set prices for imported items automatically. For example, a fixed product margin could be added to the item's base price, or even a percentage markup will do. With the custom pricing rules feature of DSers, you can also have more control over these percentages. In other words, it's like having your assistant help set competitive prices.
Shipping Management
DSers makes placing AliExpress orders with suppliers easier and faster when receiving a customer order. All you need to do is set your desired shipping preferences ahead of any sales so that ordering can be streamlined in the future.
DSers' advanced shipping settings make reducing shipping costs easier among carriers offering similar delivery times. However, you can pick from multiple shipping options and establish a maximum price, and DSers will then calculate the quickest choice within your budget.
Multiple Stores Manager
Managing multiple eCommerce businesses can be grueling, but DSers allows you to combine them into one centralized account! No matter which dropshipping platform your stores are on – whether it's Shopify, WooCommerce, or Wix – connecting them is the key to success. You can easily manage multiple stores and keep track of everything with just one account.
Admitad Affiliate Integration
With Admitad Affiliate or cashback, you can get a portion of your money back on almost every purchase you make on AliExpress. This beneficial program isn't limited to dropshipping either – brands across the globe are taking part in affiliate marketing with this fantastic system.
With Admitad, the money comes from them, thanks to their affiliate relationship with AliExpress. In other words, once you place an order through your AliExpress suppliers, they'll reward you with cashback.
Sophisticated Product Management
DSers also offers a sophisticated product management system, giving you more control over your products' display. The unique system has some fantastic features; let's discuss them below.
Product Division – Crafting the ideal product for your buyers to offer in your online dropshipping store can be complicated. Overwhelming customers with too many choices might not yield a desirable result, mainly when selling children's clothing or dresses; some shades may not appeal to your target demographic. In addition, importing a product from an AliExpress supplier often includes numerous variants. So DSers developed an advanced mapping feature that allows dropshippers to "Split" or divide one larger product into multiple smaller ones for easier management. As a result, sellers aren't limited; they can divide multiple products into smaller categories.
Ability to Hide Products – If your business utilizes a dropshipping supplier or agent that isn't AliExpress, you should take full advantage of the DSers Hide Products feature. This will allow you to hide any products from being synchronized within orders between your eCommerce store and DSers. Hidden products can't be processed via AliExpress and won't appear in these synchronizing orders.
BOGOs – Elevating your store's average cart value is highly advantageous. With DSers, you can craft customized deals from AliExpress suppliers to pique customers' interest. Those product bundles have the potential to provide compelling discounts and special prices for shoppers, resulting in more products sold than if they were each purchased separately.
Bundle Products on Your Online Store – Are you looking to offer discounts on bulk orders and upsell your customers? With DSers, you can easily create product bundles from various AliExpress suppliers. All it takes is navigating to the backend of your online store and creating one product for the bundle – then sitting back and watching those sales pour in. It's important to remember that DSers can only add up to five different products per bundle. Therefore, you must ensure your product is properly named and includes pictures of the bundle and applicable variations.
DSers Integrations
DSers works with various eCommerce platforms to create a seamless, high-quality drop shipping experience for its users. Let's take a closer look at the integrations available:
Shopify Integration – This integration is an essential element of DSers' platform. With the integration, DSers allows you to use the app and control your products, orders, and customer information from one place.
WooCommerce Integration – DSers also offers integration with WooCommerce, allowing users to access product settings and tracking data from a unified system in the backend of their store. The integration also makes DSers compatible with WordPress-based eCommerce stores.
Wix Integration – With DSers' Wix integration, you can keep all your dropshipping information centralized and up-to-date. The integration lets users easily configure their product settings, import AliExpress products, and more.
PayPal Integration – Integrating PayPal into your eCommerce platform for AliExpress dropshipping businesses will improve the checkout experience for your customers. As a popular payment platform, PayPal notifies users of every transaction and payment received from customers. With DSers, you can securely connect your PayPal account to ensure that all order tracking numbers are synchronized directly with the transactions on your PayPal.
DSers Shopify Setup Steps
Like every other feature with DSers, setting up your eCommerce store is simple. We will replicate the process on the Shopify app store and show you how to get your store up and running.
Install the DSers App
The first step to setting up your store is to install the DSers app from the dropshipping app website. You'll need to set up an account and select Create Account on the DSers app page, follow the instructions, and wait a few minutes for it to create your account.
Next, choose your favored dropshipping platform and link your own online store if you have an account with one of them. If this is your first time setting up dropshipping assets, consider each store's pros and cons.
Then select a plan that best suits your dropshipping needs and provides the desired features. Once the setup is complete, you will be ready to start importing products and tracking orders!
Set Your Price Rules
Are you struggling to determine the best pricing for all of your products? DSers Pricing Rule feature removes the hassle and lets you quickly establish store-based price strategies. This tool automatically calculates prices based on your plan when you push multiple products to stores, allowing you more time to focus on other business areas.
Log in to DSers, then choose Settings and Pricing Rule.
Users could, but aren't required to, turn on the Pricing Templates to apply the pricing rule.
Click and confirm the pricing rules and then click Save.
If you aren't selling in the USD, you can turn on the setting to apply your currency rate in Settings. This will take effect automatically when you push new products into the store.
Set Auto Epack Shipping
The Auto Epack Shipping feature allows you to automatically fulfill orders with ePacket shipping, the fast and cost-effective choice for international drop shipping. ePacket was initially developed for eCommerce, but it has become a preferred shipping method and is now offered in over 40 countries.
To remain competitive, dropshippers must understand ePack shipping and the regulations to make it work for their eCommerce business.
To set up ePack shipping in DSers, go to Settings and Shipping.
Next, click on the Auto Epack Shipping toggle button.
After that, enter your store's shipping details and save the settings.
Once you have completed these steps, you can start dropshipping with DSers.
Link Your AliExpress Account to your online store
For efficient order placement to AliExpress and successful synchronization of products and order data, you must connect your DSers account with your AliExpress one. Please note that this only works when you try to sign in to a new DSers account or disconnect your current account.
First, log in to DSers.
Then navigate to the AliExpress linking page and click the AliExpress Button.
You should be directed to the authorize DSers. Once there, you should fill in your Email and Password to sign in.
Click Authorize, and your accounts will be linked.
Add Products
Adding new products to your store is easy with DSers. All you need to do is select the desired products on AliExpress, copy the URL, and confirm everything by clicking OK. You can also use the Chrome extension to accomplish the same task if you prefer.
First, install the DSers extension by visiting AliExpress.com.
Select your store's name.
Select the Next option.
Afterward, you should be able to update the setting.
Now you should be able to go to any AliExpress category, search for the products you want and add each by clicking the DS symbol on the image.
Edit Products
Fortunately, DSers allows you to edit products once you add them to your store; this can mean better conversions and more sales if you can optimize product descriptions well enough.
You will need to go to the products on the app.
Click the product pencil icon, which allows you to edit the product.
Clicking the pencil icon will produce a popup to edit the product title, variants, and description.
After editing, click Save, then use the Push option to send the product to your Shopify store.
Place Unlimited Orders
Easily order from DSers on your online store. This is remarkably straightforward, and all you have to do is go into the DSers App area, select an order, then click "Place Order." Remember, you can also place bulk orders with just a few clicks if you receive multiple orders simultaneously.
DSers Pricing
The pricing structure on DSers is simple enough to understand and is divided into three categories: Shopify, Wix, and WooCommerce.
Shopify
Shopify plans costs are divided into four tiers: Free, Advanced, Pro, and Enterprise; if you're not quite ready to commit to a single level for Shopify, DSers allows you to try it for free for 14 days. Otherwise, each plan has pricing per month and pricing per year.
Basic plan – Free
Advanced plan – $19.90
Pro plan- $49.90
Enterprise plan – $499
As always, each plan has progressively better features and access to more functions.
Wix
DSers also works with Wix, and it's much like other platforms except that Wix only supports a Basic plan, and that plan is Free forever. However, as great as that sounds, the Wix accounts may get the shorter end of the stick.
WooCommerce
Finally, DSers also works with WooCommerce and offers three different plans.
Free – This free plan gives you access to most features of WooCommerce, but you will be limited to only the core features.
Standard – The plan starts at $1.99 monthly, giving you access to advanced features such as adding product variations and Automated Inventory updates.
Advanced – The last DSers plan offered for WooCommerce stores starts at $19.9 monthly. It gives you additional features such as Advanced Mapping, BOGO and Bundling, editing images, a staff account, and automatic customer emailing.
DSers Help & Customer Support
DSers offers all users customer service and technical help, regardless of your plans. There is a Help Center that provides information on almost any topic.
DSers Chrome Extension
Imagine having a tool that automates your dropshipping business and imports products from AliExpress to your DSers account with the click of a button. That's precisely what you get with the incredible DSers Chrome Extension. Not only is it effortless to use, but more than 80,000 people have already installed this game-changing extension.
With its help, you can quickly manage products within Shopify, WooCommerce, or Wix stores without any hassle – making it the perfect way for anyone looking to skyrocket their online sales success.
Help Center and Customer support
DSers provides round-the-clock customer support through Facebook Messenger, live chat, and email. So you can feel secure knowing that help is always available. According to 5,900 five-star reviews on Shopify, DSers proves its commitment to problem-solving and offers prompt responses to queries.
Additional Resources
If you're a DIY dropshipper, then DSers has got your back. When the customer support team isn't available, there is a comprehensive knowledge base with dozens of articles ranging from product information to migration. They even offer an in-depth FAQ section divided into subcategories to help you find your needs.
Support Options
If that isn't enough support, they also offer personalized video tutorials, how-to articles, and manuals to help you access all the features. You'll be able to find more information on how to use DSers, create products, and start selling in no time. Users should be able to find a contact method that suits them, such as email, live chat, and more.
DSers Alternatives
If DSers doesn't fit your needs, a few alternatives just might. Let's briefly discuss some of the best alternatives.
After rigorous assessment, SaleHoo deservedly earned its spot among the top substitutes for DSers. With a commendable 8,000 verified suppliers and more than two-and-a-half million products, plus seamless integration for multiple store management – it's easy to see why it's a great alternative.
A key advantage of SaleHoo is its thorough vetting and verification process for suppliers, which many can't pass. Their two dropshipping products – SaleHoo Dropship and Salehoo Directory – are built with convenience in mind; you can use one or both separately or together.
Read our full Salehoo review for more information.
Dropshipman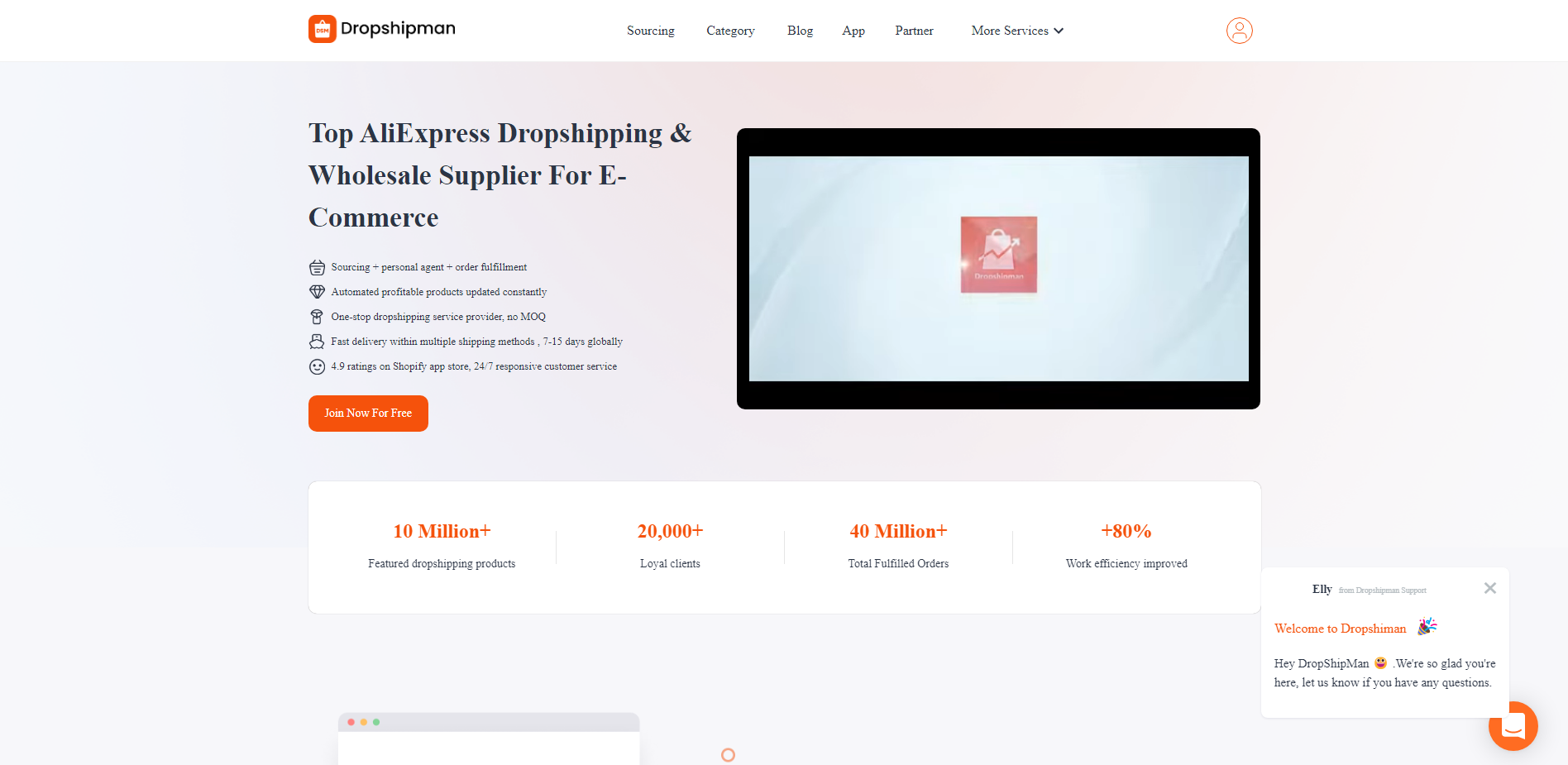 Dropshipman and DSers have unique features, but one distinct difference is that only Dropshipman has a bulk edit product option. On the other hand, DSers boasts an integration that makes more e-commerce platforms accessible, making it stand out from its rival.
Many users consider DSers to be superior to its counterpart, Wholesale2B. DSers easily lets users sync orders from up to three stores if needed or channels in one dashboard, whereas Wholesale2B only syncs with Shopify. Moreover, DSers' Chrome extension helps to simplify the product sourcing and listing process.
DSers Review Wrap-up
DSers is an ideal choice for new store owners, anyone, or experienced sellers, and those just beginning their dropshipping journey. DSers offers a range of features that make it an ideal choice, even if these may be too advanced for beginners. With automation tools, bulk import functionality, and browser extensions available, you can rest assured that your business will scale up over time while saving loads of precious time.
DSers lets you choose suitable suppliers and offers great money-saving options such as better shipping rates and Admitad Affiliate cashback offers. It's even possible for customers to build their product bundle or take advantage of BOGO deals, thanks to DSers' advanced features. Although the platform is currently limited in its eCommerce connection services, DSers users will gain access to all the advanced features. Still, it's worth testing the app before you decide it's a suitable dropshipping tool for your business.
DSers Review – The Best 2023 Shopify Dropshipping App?