Dropshipping works well for new entrepreneurs, and Shopify makes it easy to start an online store and sell products. This detailed guide will show you how to start a dropshipping business on Shopify.
We will discuss everything you need to get started, from determining your target market, adding products, optimizing your performance, and tips on what to do after launching your store.
So you want to know how to start a dropshipping business with Shopify? Well, you've come to the right place. Let's get started.
How Does Shopify Work?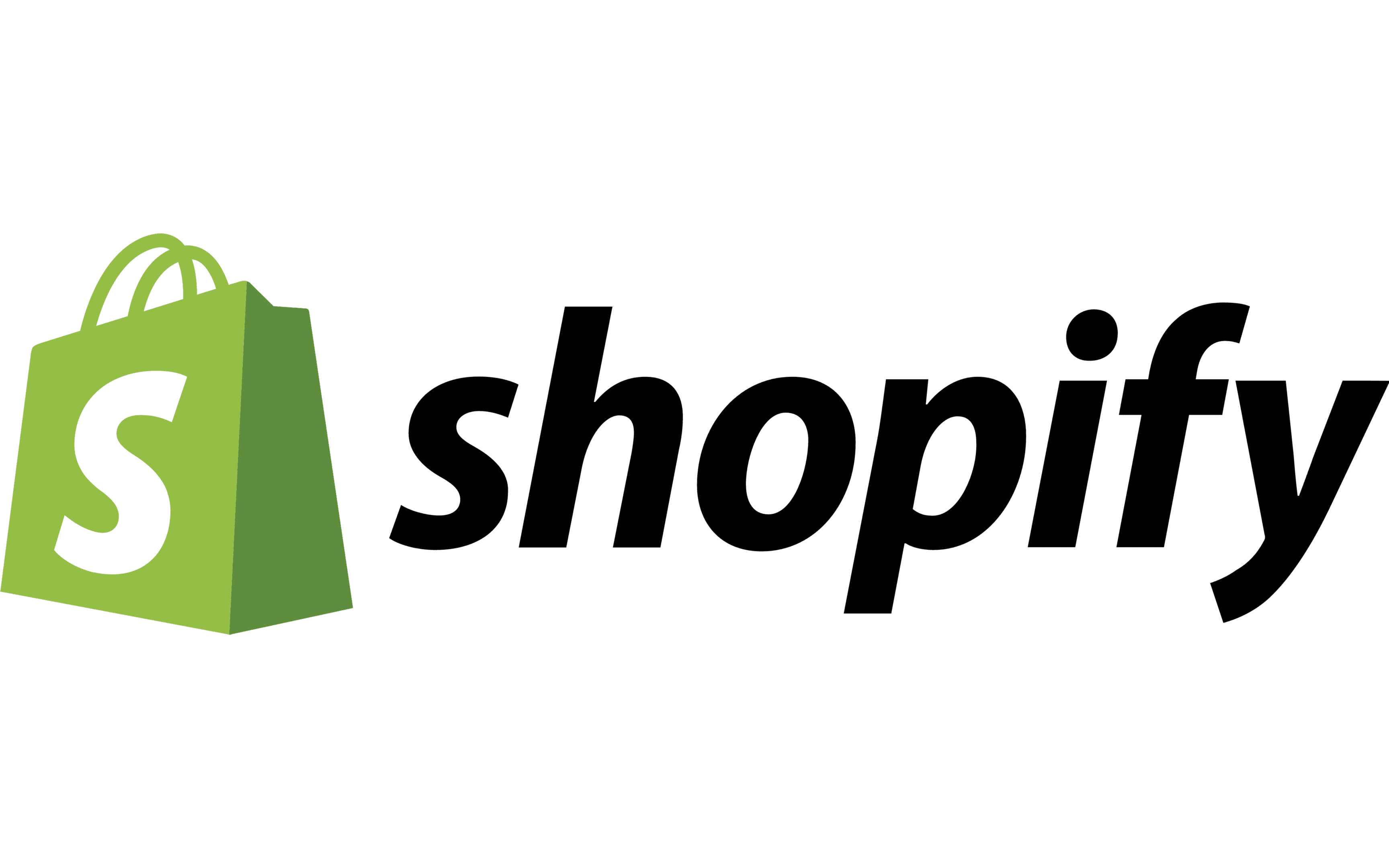 In its simplest form, Shopify is a platform that allows you to create an online store. With a Shopify store, anyone with determination can start their own eCommerce business and grow and manage it using the platform's practical tools. Shopify provides entrepreneurs with everything they need to create a professional eCommerce store, process payments, and ship orders.
Shopify has become a hub for entrepreneurs to meld their dropshipping business into a single platform. Business owners can build and customize their eCommerce store so they can sell in multiple physical and digital locations; experts call this an "omnichannel" business.
That's not to be confused with multichannel commerce, which is quite similar in practice; simply put, omnichannel commerce could only exist with multichannel commerce. Furthermore, experts estimate that multichannel eCommerce sales will exceed $575 billion in the United States by 2023.
Multichannel commerce – You can interact with potential customers via social media, phone calls, or physical stores. Having a solid online presence is important, but it's also essential that your customers know where to find you in the real world. Multichannel marketing is an excellent way to get people engaging with your brand.
Omnichannel commerce – Omnichannel commerce happens on more than one channel, similar to the multichannel commerce strategy. The crucial distinction is that omnichannel links all channels. Therefore, your customer has a cohesive experience on every platform.
Shopify makes it possible to run an online store and a brick-and-mortar business. Multichannel commerce is vital to Shopify's formula, but the platform also applies omnichannel eCommerce so that users get a cohesive experience. In other words, Shopify is perfect for entrepreneurs who want their dropshipping business run on multiple channels.
Shopify is a cloud-based platform, so dropshippers can access the software from any compatible device. The company manages any updates and server upgrades, so users aren't inconvenienced by the "upkeep" usually required with other software.
However, many dropshippers know that it's rarely the store apps they have to concern themselves with; typically, dropshippers have to juggle multiple suppliers, orders, and customers all at once.
At the same time, they have to find out how to stitch together multiple third-party apps and use the data they collect to improve their business. Dropshippers will notice an immediate benefit when using Shopify, as it integrates all dropshipping tools one might need into a single platform.
How does Shopify do this?
Generally, you can think of the platform working in three different layers creating one powerful eCommerce solution.
The Core product – the platform's core includes everything dropshippers need when they purchase a Shopify plan. In addition, it contains templates for creating an ideal storefront that matches your brand, tools to allow for multichannel eCommerce, integrated payment processing, SEO and marketing tools, and APIs for customizing the Shopify platform to your specific business needs.
Shopify's additional products – A dropshipping business needs to change as it evolves. Therefore, the platform has upgrades that will assist with growth pain points, like more accessible access to capital, Shopify's fulfillment network, and accelerated payment options.
Third-party apps – Shopify likely has the most comprehensive app store of any eCommerce platform. The store has apps that range from accounting and bookkeeping to marketing and social media. In addition to the Shopify app store, companies have access to Shopify Experts, a directory of professionals who can help with everything from designing a custom Shopify theme to setting up a Shopify POS for a retail store.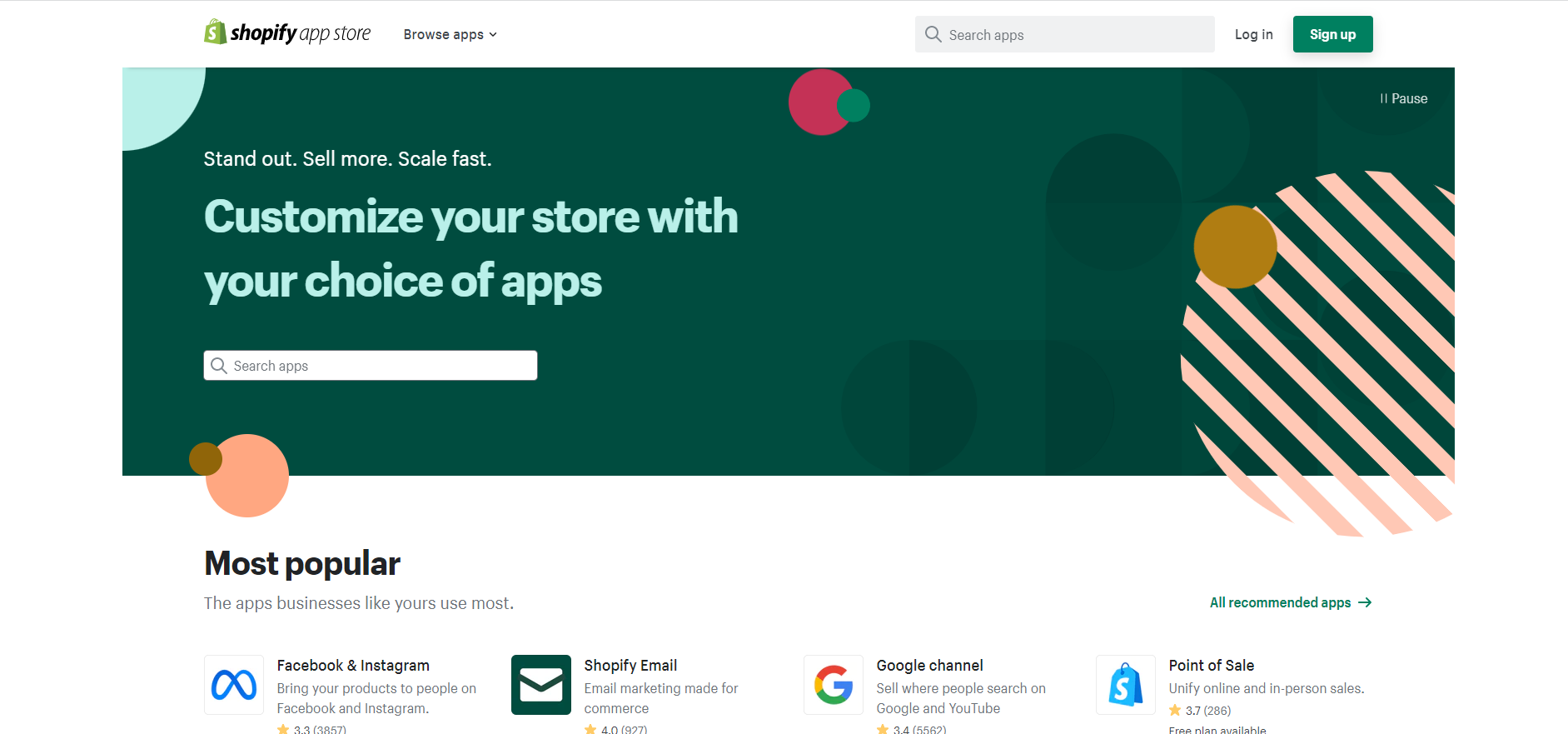 Shopify is the platform of choice for any potential dropshipping business because it offers a comprehensive, all-in-one solution that allows businesses to start and grow their eCommerce operations efficiently and with much less risk.
What is Shopify Dropshipping?
The dropshipping business model doesn't work without an eCommerce platform to sell online and support business growth. Shopify is that platform, as it offers multichannel eCommerce; Shopify lets companies sell online, in-person, and on the go.
Dropshippers use Shopify to create online stores and manage their inventory, orders, and customers. Shopify also provides users with powerful marketing and SEO tools so businesses can attract more visitors to their stores and convert more of those visitors into paying customers.
If you need to define "Shopify dropshipping," the business model is a low-risk eCommerce solution. You can sell physical products manufactured, warehoused, and shipped by third-party dropshippers from your online store; you don't produce or store anything. Shopify's business model isn't unheard of, but it has become the go-to platform for dropshippers because of its easy and customizable infrastructure.
Shopify is an ideal platform for businesses that want to provide on-demand products to their customers. Companies don't have to purchase their inventory upfront; instead, they can buy it as needed from Shopify's suppliers. When a customer orders from your store, you order the product from the wholesaler, and they ship it to the customer.
Why Shopify for Dropshipping?
If you spoke to proponents of Shopify's platform, many of them would tell you that Shopify is the best eCommerce platform for dropshipping because it offers everything businesses need to start and grow their operations. While it's challenging to distill Shopify's benefits to a few key points, the following three reasons are often cited as Shopify's main advantages for dropshipping businesses.
Shopify is a Highly Integrated eCommerce Platform – Shopify enables businesses to operate through a centralized platform and offers the opportunity to integrate with commerce ecosystem integrations. This access allows for depth in themes, apps, channels, products, and experiences.
Shopify Removes the Complexity – Starting a business needs to be more friendly to independent operations. Shopify understands this and offers a platform with a low barrier of entry and access to growth tools.
Shopify Scales with You – Shopify is a platform that can grow with your store and allows companies to scale up as their operation grows. Shopify offers enterprise-level plans for businesses with complex needs and champions a model that claims your business will never outgrow the platform.
Why Shopify is Right for a Dropshipping Store
Determining how Shopify is suitable for dropshipping businesses may be subjective, as all companies are unique. However, Shopify's platform is lauded for its user-friendliness, comprehensive features, scalability, and integrations.
Ultimately Shopify continues to be one of the most popular platforms because:
Shopify is Made for Dropshippers
Shopify is very user-friendly, especially for those new to dropshipping. Some examples of its ability to integrate with other valuable platforms are Mailchimp, Instagram, PageFly, and even dropshipping apps like Printful and Printify.
Shopify has Valuable Features
Entrepreneurs have everything they need to operate a successful online store. Not only does Shopify have a complete set of features accessible from their platform, but you can also install various apps created by third-party developers to customize your store and create seamless integrations.
Shopify Provides One, Unified Solution
Using Shopify helps you avoid many preliminary steps to create an eCommerce business. For example, there is no need to find a web hosting service for your website or design your online store with complex code.
Shopify typically provides low-code solutions that do not require technical expertise. You also don't have to manage inventory sources; in other words, the 'gatekeeping aspect' of starting a drop shipping business is negligible.
Before Starting a Dropshipping Store with Shopify
As we mentioned, Shopify doesn't require much financial investment or technical expertise. However, you should still start a Shopify dropshipping store with preparation. Here are several things you should consider before starting your Shopify store.
Figure Out if Your Niche is Profitable
Logically, this is the first step, as you need to sell products people want to buy to make money. Next, you'll need to research your niche to determine if there is a product demand. The easiest way to do this is using Google's Keyword Planner tool, which will show you how many people are searching for keywords related to your products.
You're on the right track if there is high demand for the products you want to sell. Ensure that you're interested in the products and run some numbers to estimate your profitability for each item. You need to figure in shipping fees, marketing, your supplier's fees, and the cost of doing business. Ideally, you want to select low-cost, high-quality products in demand that you can sell for a profit. Check out supplier websites and use Shopify's Gross Profit Calculator for a clearer picture. You're in good shape if your dropshipping business can make 70% margins.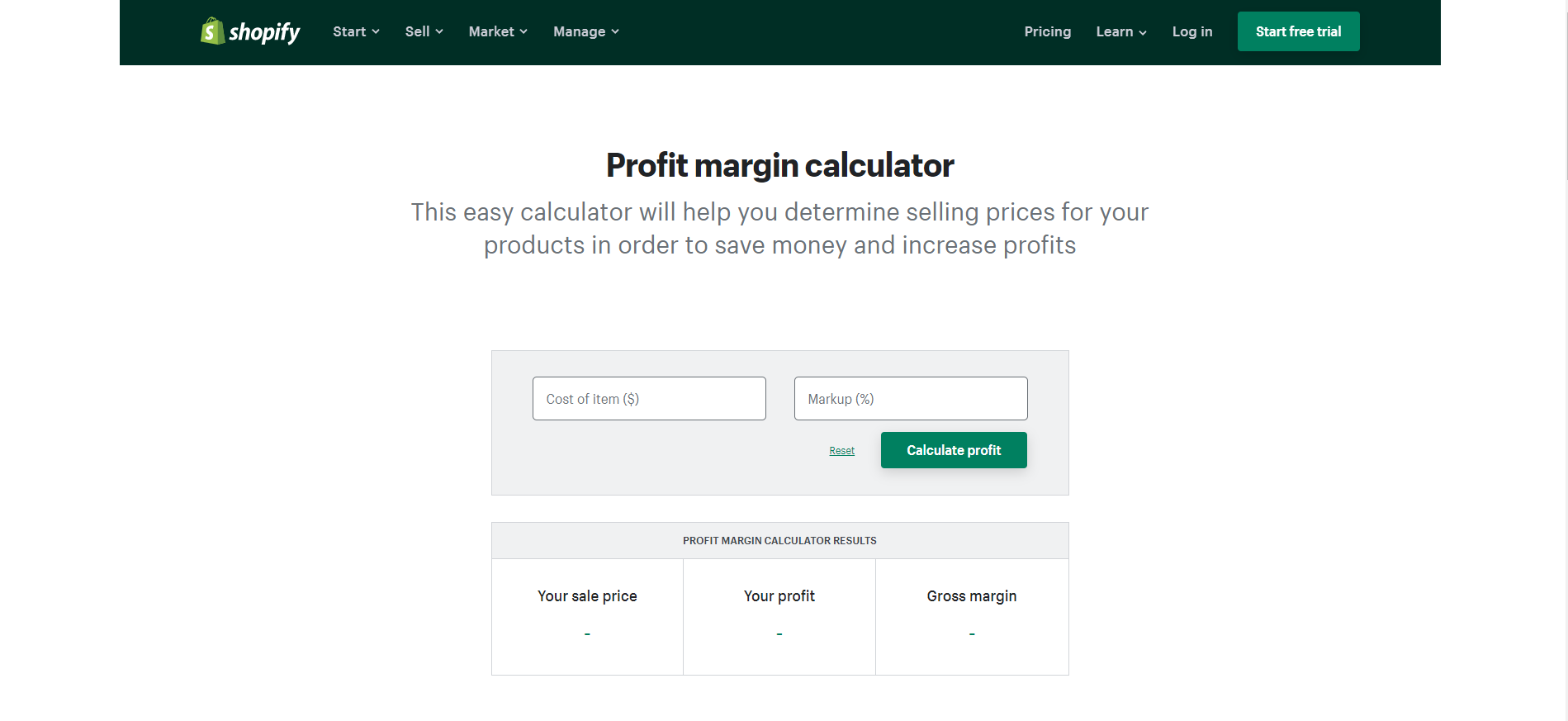 Determine Your Target Market
Next, determine your target market. This can be tricky as you want to make your niche more specific but broad. A broad target market may be easier to reach but more competitive and saturated. On the other hand, a narrow target market can be challenging but less competitive.
To determine your target market, start by brainstorming who would be most interested in your products.
Are they male or female?
What is their age range?
What are their interests?
Who do they follow on social media?
What are their pain points, beliefs, or desires?
Who are your competitors for this audience?
Once you've answered these questions, you should understand your target market and who you're trying to help. Next, consider what software you could use to validate your market.
You're looking for as much traffic and revenue data as possible. Software such as Survey Monkey (for consumer sentiment), Google Trends (to monitor what's "hot"), and Ahrefs (for monthly search volume) can help. Finally, customer interactions are also an insightful way to understand what they want and what direction to take.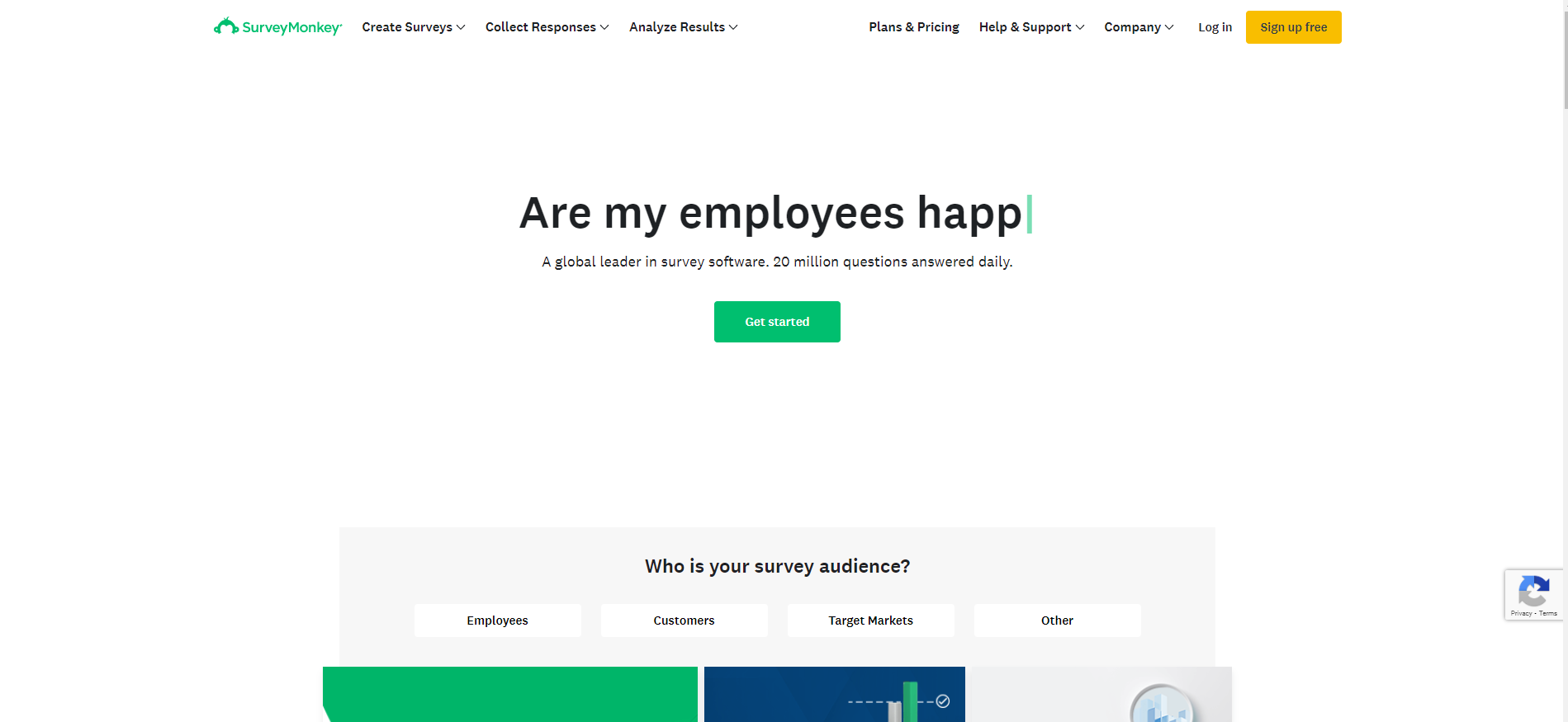 Dropshipping Apps
Leverage the Shopify app store for apps created by third-party developers to help you run and customize your Shopify dropshipping store. There's an app for almost everything, including apps to help with product sourcing, marketing, shipping, accounting, and more. You can choose the best dropshipping app when you know your niche and target market.
Dropshipping apps handle their suppliers differently, so companies must evaluate the apps to determine if they meet specific criteria. Some of the most popular dropshipping apps are:
Printful – For Shopify stores wanting to sell custom-printed products like t-shirts, posters, mugs, and more. You can read our complete Printful review for more detailed information on its viability for your business.
Spocket – Spocket is an ideal app for entrepreneurs who want to source products from global dropshipping providers, giving you the opportunity for 30% to 60% margins. They specialize in inventory syncing, extremely-fast delivery, and vetted suppliers. For more information, please read our full review of Spocket.
SaleHoo – SaleHoo is a great dropshipping app that allows sourcing products and direct integration into Shopify. SaleHoo offers both a SaleHoo Directory and a SaleHoo Dropshipping application you can select from depending on your settings and overall needs. Stay informed. Check out our comprehensive SaleHoo review.
Select The Best Suppliers
A dropshipping supplier is pivotal to the success of your business because, without them, your dropshipping store won't contain any products. Once you know which dropshipping products you want to sell, it's time to find a supplier who can offer high-quality services.
E-commerce platforms like Shopify simplify finding potential suppliers by connecting the best options directly to your online Shopify dropshipping store. There are countless dropshipping providers, but not all of them will be a good fit for your business. The following tips will help you find the best Shopify dropshipping suppliers:
Read Shopify dropshipping reviews
Check for Shopify partner programs
Analyze Shopify dropshipping supplier's shipping times and locations
Research Shopify dropshipping supplier's return policy
Inquire about Shopify dropshipping supplier's customer service
To find dropshipping suppliers, you can use Shopify to connect with potential providers or use dropshipping apps like DSers, Spocket, Worldwide Brands, SaleHoo, and Printful. Typically, your supplier is specific to the items you want to sell in your store. When evaluating Shopify suppliers, consider the following factors:
Dropship Products – The most critical factor is whether the supplier has the top dropship products you want to sell online. Without this connection, the rest of the factors don't apply. Make sure you cover this first and foremost.
Pricing – Make sure the Shopify dropshipping supplier's prices are competitive. If the dropshipping supplier's prices are too high, you'll have a hard time making a profit. If the Shopify dropshipping supplier's prices are too low, the products might be of poor quality.
Shipping Times and Locations – Find out how long it will take for your Shopify dropshipping supplier to ship products to your customers. Dropshipping suppliers located in countries overseas will have longer shipping times.
Return Policy – Ensure the supplier has a fair return policy for you and your customers. A return policy that is too lenient will result in you losing money on returns. But a return policy that is too strict will result in unhappy customers and negative reviews.
Customer Service – A supplier with good customer service will be responsive to your questions and concerns. Conversely, a dropshipping supplier with poor customer service will be challenging and make it hard to resolve issues.
Select a Shopify Plan for Your Business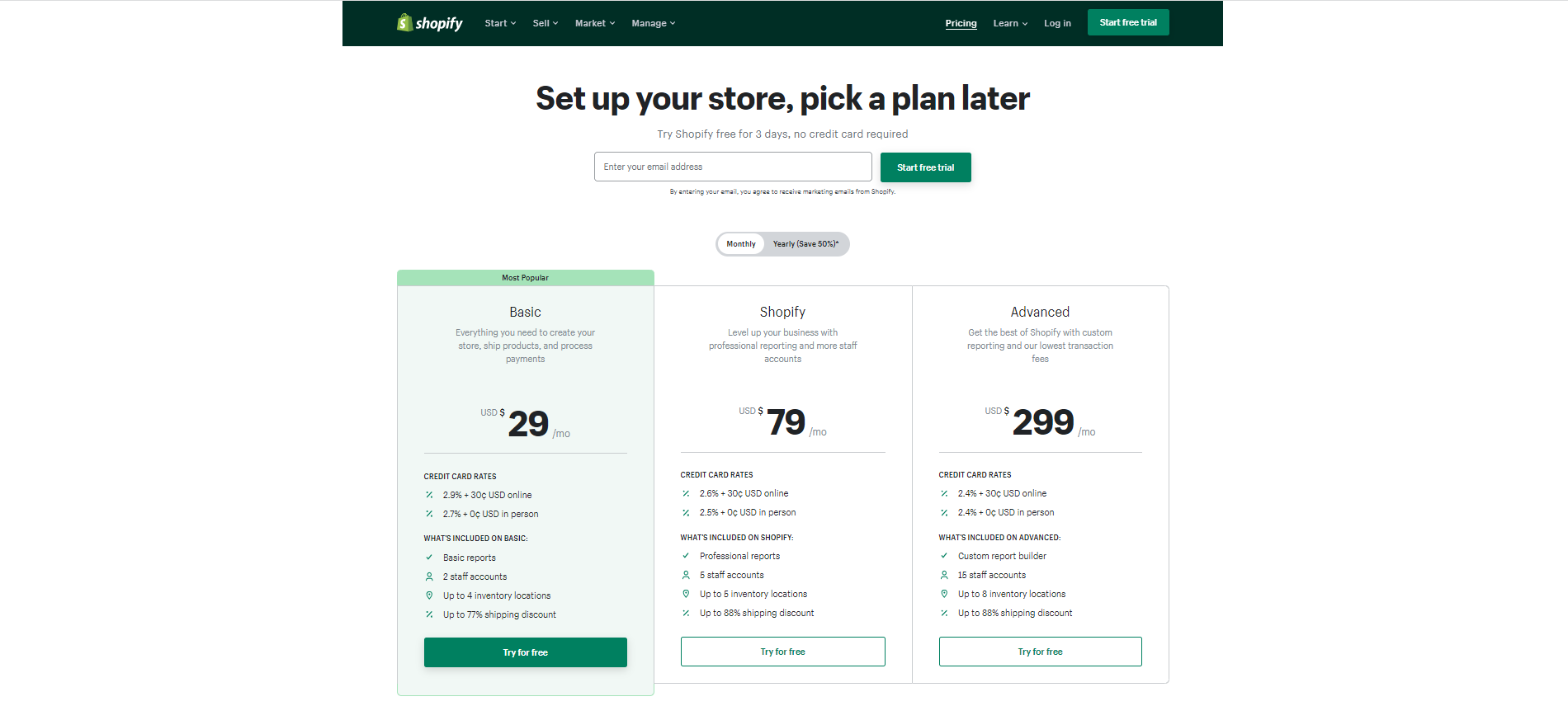 Shopify offers three standard plans: Basic, Shopify, and Advanced; each plan provides more benefits and value to the dropshipper.
Basic Shopify – The Basic Shopify plan includes all the necessities to create, store, ship, and process payments for your customer's orders. Basic Shopify plan holders enjoy up to a 77% shipping discount on their orders, two staff accounts, and access to basic reporting.
Shopify – This is the platform's mid-tier plan that is more of an upgrade and the next logical step for expanding eCommerce businesses. The mid-tier program gives account holders access to 5 staff accounts and professional reports; with expansion comes larger orders, so this plan compensates dropshippers by offering up to 88% discounts on shipping.
Advanced – The best plan for dropshipping businesses on the platform and a more customizable plan for your business. This plan includes the lowest transaction fees, up to 15 staff accounts, and over eight inventory locations. This is the plan you will want once established on the platform.
If these plans don't meet your needs, Starter is the alternative solution for businesses to review. With Starter, dropshippers can set up their store in minutes and sell across multiple social media platforms. This is an ideal plan for stores that want to explore Shopify further but need more time.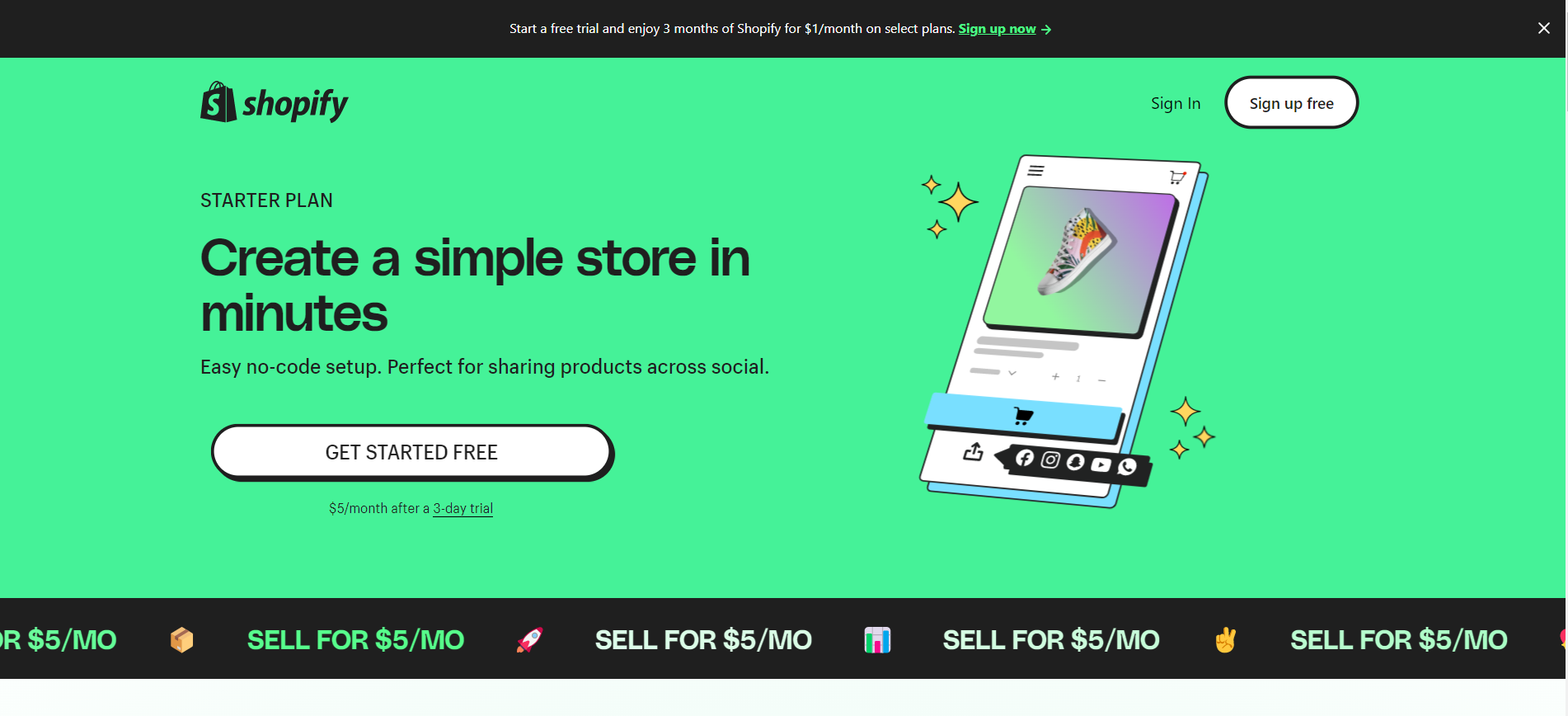 Shopify also has a plan for companies that have the potential to do a lot more business than your average dropshipper. With Shopify Plus, businesses get access to enterprise-level benefits, which they can use to help their business grow profitably and succeed wherever they operate.
Shopify Plus is the most expensive plan; it's $2,000 per month or a variable rate for higher volume businesses. However, Shopify Plus businesses get access to exclusive benefits such as:
Better conversions with Shop Pay
Customizable checkout with advanced features such as discounts and better shipping rates
Decreased marketing and conversion costs with Shopify Audiences
Complex automation that helps you save money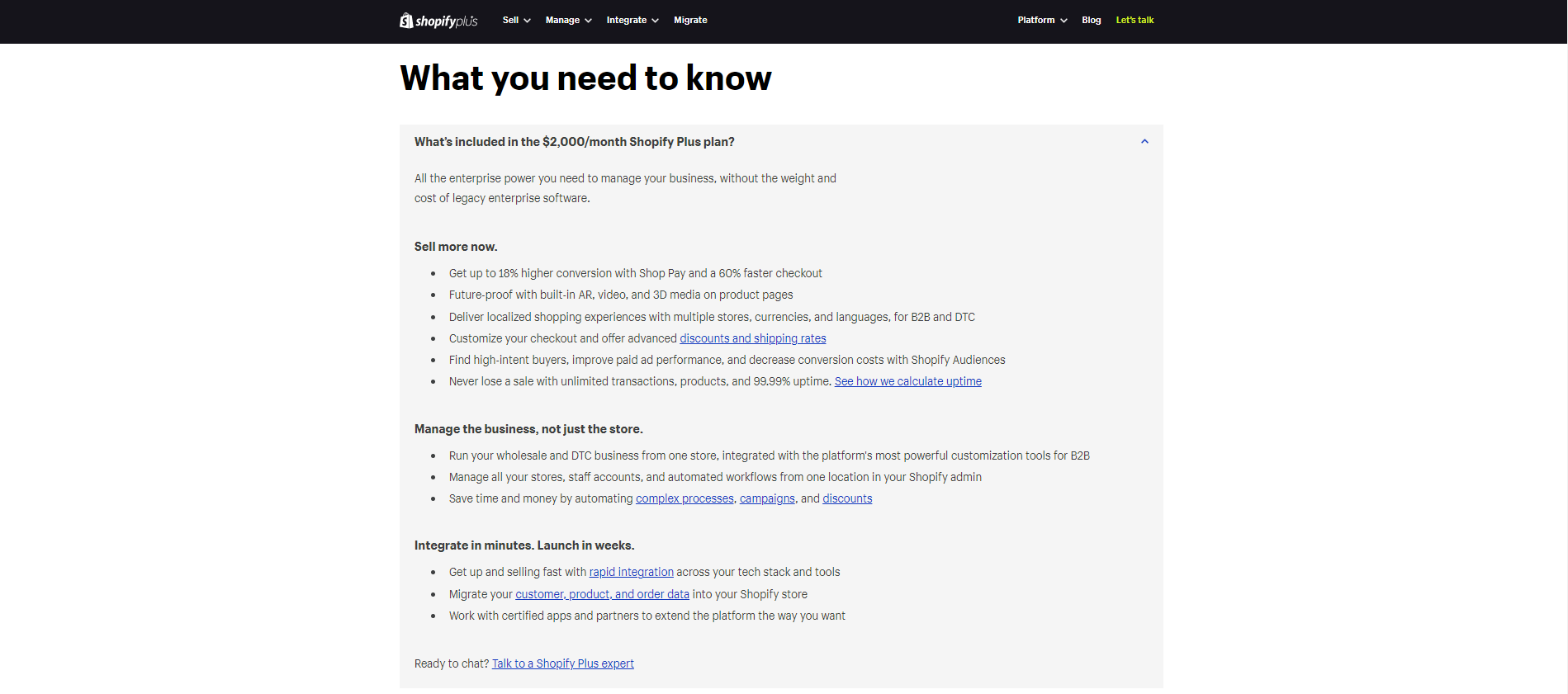 Create Your Marketing Plan and Budget
Dropshipping is a great eCommerce business model because it gives you more time to focus on marketing your store and promoting your products. A well-executed marketing strategy will be vital to getting your first sale and continued success with dropshipping. With many online stores selling similar products, standing out from the competition is a must.
While there are many ways to market your Shopify dropshipping store, it's crucial to create a marketing budget and stick to it. There are free marketing tactics you can utilize, such as:
Social media platform posts on Twitter, Instagram, and Facebook
Content marketing through blogging, articles, and guides
Email marketing through Mailchimp, HubSpot, Moosend, or ActiveCampaign
SEO to rank your Shopify store in Google organically using tools like SEMrush or Ahrefs
YouTube videos on a YouTube channel or video marketing in general; in a Wyzowl report, they surveyed businesses, and 86% say they are incorporating video into their strategy.
Some businesses have taken to answering questions on common forums like Reddit and Quora to help build trust and authority in their niche.
Some of these methods are long-term solutions and take time to establish. Paid marketing methods are also effective but can be expensive if you're not careful. Some popular paid marketing methods include:
Facebook Ads – Facebook Ads are one of the most popular paid marketing methods because they allow you to target specific audiences based on interests, demographics, and behaviors.
Google Ads – Google search accounts for over 90% of the market share globally, so it's a good reason why dropshippers would want to leverage the value here to gain top positioning for their online store and products.
Influencer Marketing – Influencer marketing is when you partner with someone who has a large following on social media or use their blog to promote your products.
Paid marketing can be very effective, but tracking your results and ensuring you're getting a return on your investment is vital. Otherwise, you could quickly burn through your budget with little to show.
Start small (maybe $100/day) when creating your marketing budget and scale up as you see results. Also, keep going even if you are still waiting to see sales. It typically takes six months to build a successful dropshipping store.
Decide How You're Going to Price Your Products
It should be no surprise that product pricing is a fundamental decision for any Shopify dropshipping business. After all, your prices will determine how profitable each sale is and your level of success.
Pricing affects dropshippers and consumers differently. It's best if a dropshipper understands that customers are price sensitive because they are more informed by their purchases.
When it comes to Shopify dropshipping, there are two pricing strategies you can use:
Cost-plus pricing
Competition-based pricing
The cost-plus pricing strategy is the simplest way to determine a product's retail price. First, you calculate the costs associated with sourcing, manufacturing, and shipping the product. Then, you add a markup percentage on top of that cost to determine the final price. The markup percentage is the percentage of the product cost that you want to make in profit.
The competition-based pricing strategy involves setting your prices based on your competitors' prices for similar products. To do this, you'll need to research your competitor's prices and find a balance between being competitive and making a profit. Each pricing strategy has pros and cons, so it's ultimately up to you to decide which makes the most sense for your business.
Decide Where You're Going to Advertise Your Dropshipping Store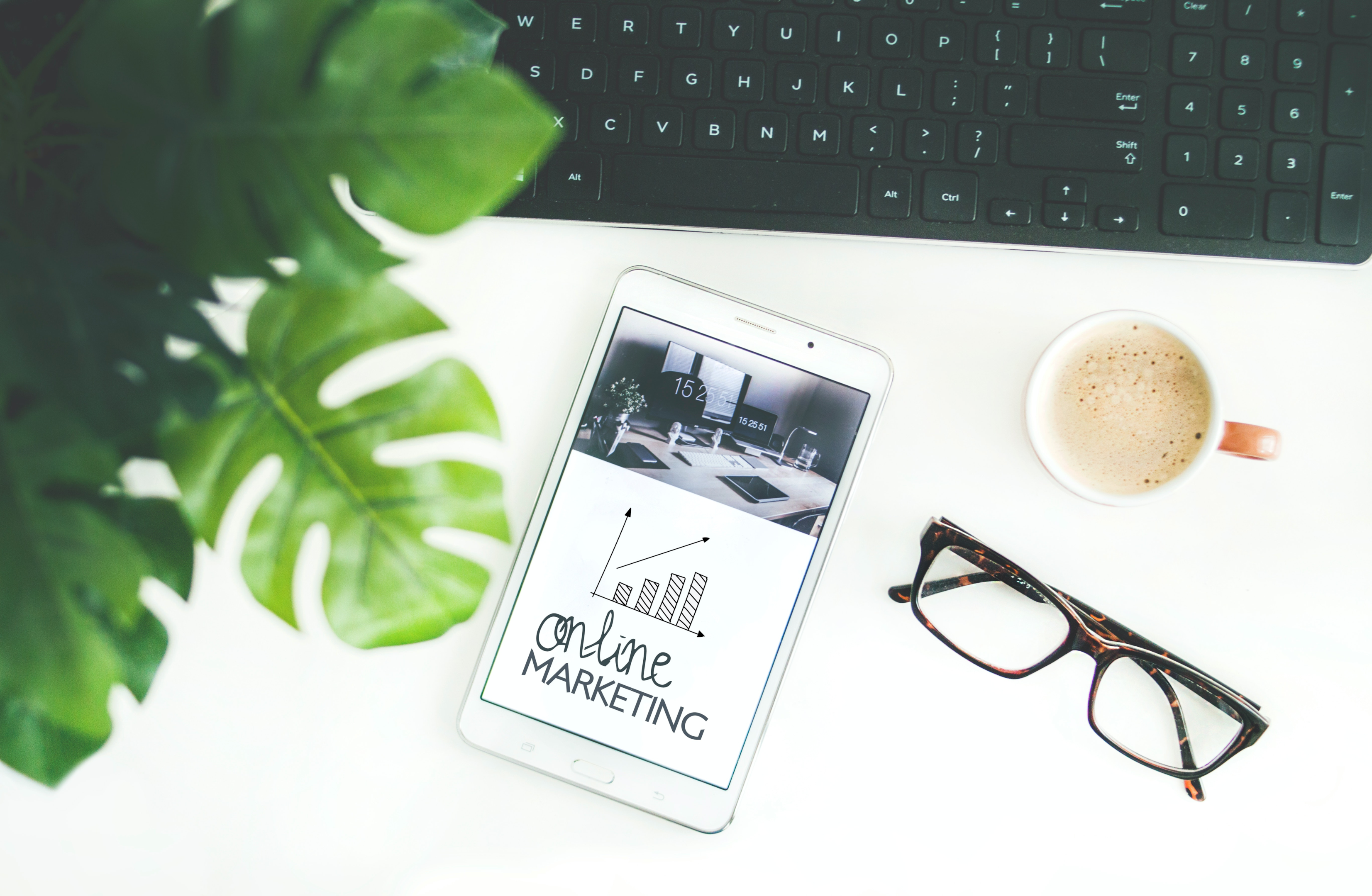 Now that your Shopify store products are appropriately priced, it's time to increase your traffic. Advertising is a great way to get people to your dropshipping store and start making sales. While you can use many advertising platforms, we recommend starting with one and scaling up later.
As mentioned earlier, some of the most popular advertising platforms are:
Google Ads – Google Ads is a paid advertising platform that allows you to place ads on Google.com and millions of other websites across the web.
Facebook Ads – Facebook is the most popular social network globally, with over two billion monthly active users. Use it for personalized content and ads based on past behavior.
There are other methods, with email marketing being the best because it has a potential ROI of $36 or more for every $1 spent. Furthermore, nearly 40% of businesses have increased their email budget this year to leverage this marketing channel. Email lists must be curated over time, so you're not likely to be able to start with email marketing until you grow your subscribers.
7 Steps to Start Dropshipping on Shopify

Now that we've gone over the basics of Shopify dropshipping let's get into how you can start your own Shopify dropshipping store.
Step 1: Create a Shopify Account
Start your dropshipping on Shopify journey by registering for an account on the website. First, it's best to know your dropshipping store name. The website will ask questions in its questionnaire, such as "What type of business do you have?" and "What products do you plan to sell?"
It will also ask if you plan to dropship and want to sell on platforms like Google and Amazon. Then, if you still need a store name, Shopify will give you a temporary one until you're ready to name your store.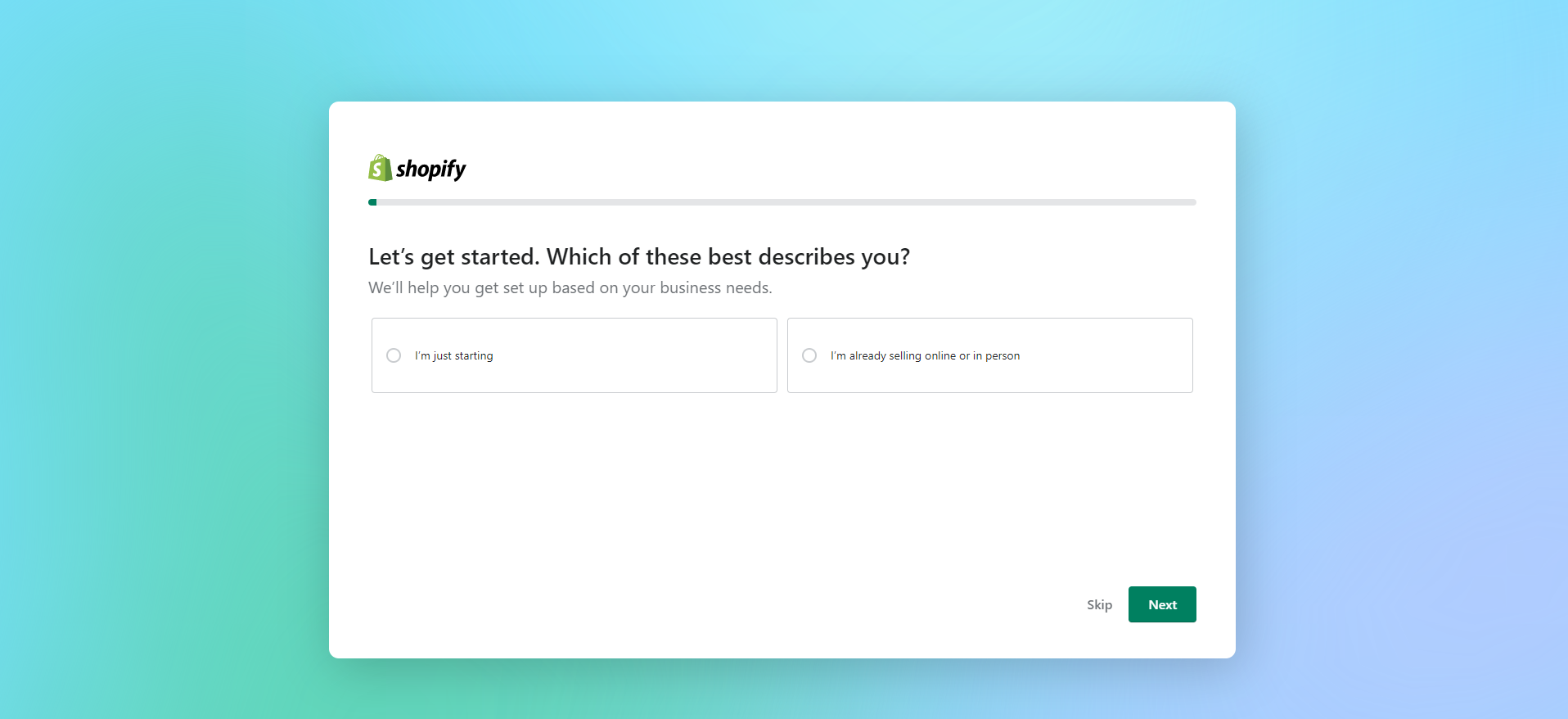 Once you've registered for the service, Shopify will bring you to your store's backend dashboard, where you can begin setting up your shop. Your URL will follow the format "Your-Store-Name.myshopify.com/admin."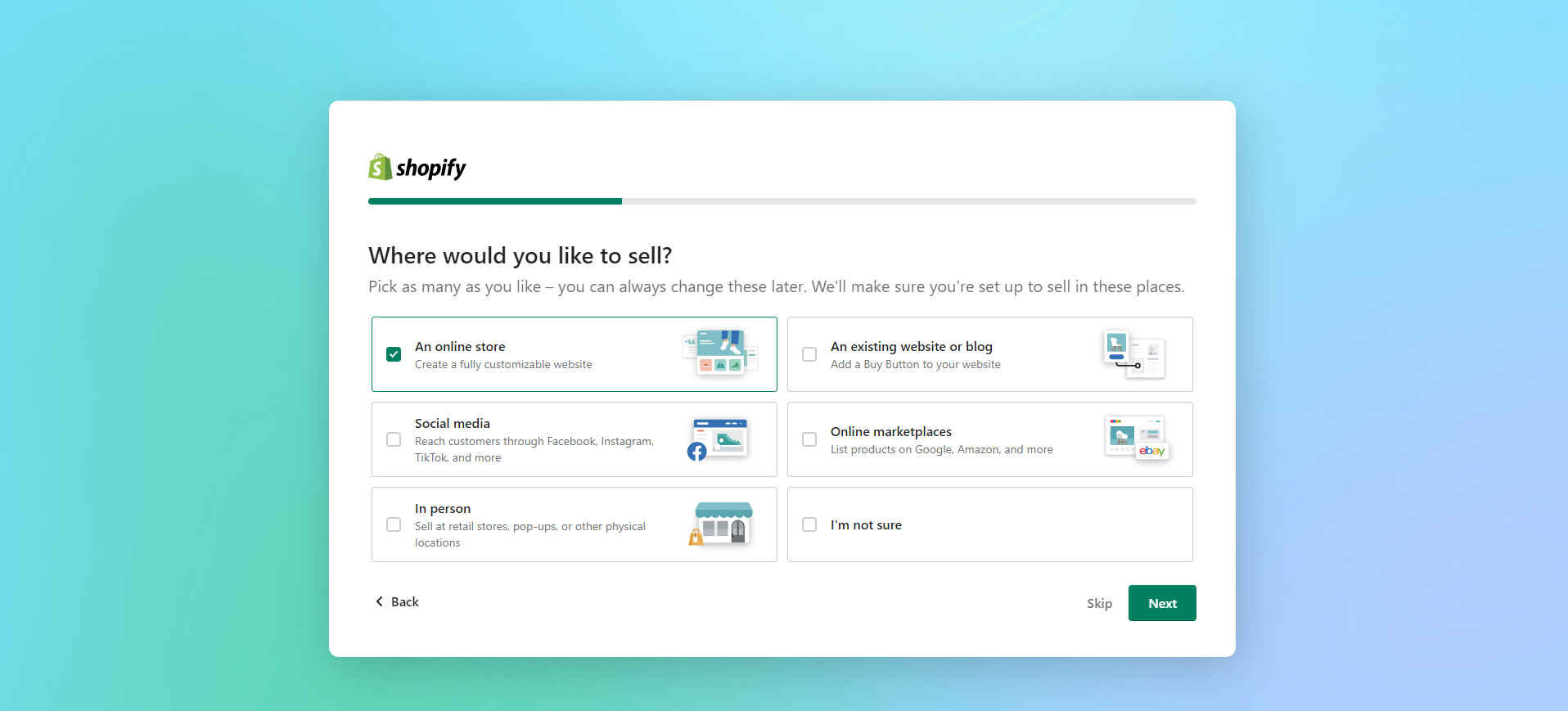 Step 2: Add Products
After you set up your account, you'll be able to view your dashboard. We recommend you start by adding products to your Shopify dropshipping store.
Import Products From Your Dropshipping App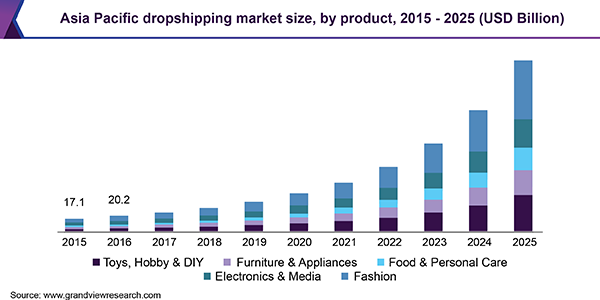 There're a few reasons why you want to start by adding your products:
It Gets You in the Process of Store Creation – Adding products to your store through Shopify is simple, and doing so will build momentum and keep you on the right track.
It Will Make the Design Process Simpler – Designing your Shopify dropshipping store around the products you intend to sell is much easier than starting from scratch. In other words, you can easily picture what your store is supposed to look like and add themes and templates to complement your products.
Depending on the dropshipping app, you can import products to your store in just a few clicks. This is where you'll sync your current accounts with apps like Spocket, Printful, DSers, or SaleHoo.
Editing Product Details
Adding product details and creating product collections will allow customers to browse your store and make purchases. The Shopify dashboard is simple to navigate, and once you've added all the products, you can navigate back to each product and edit their details manually.
Beware that these product descriptions are overloaded with keywords by default, so you must take the time to edit these descriptions. Adding creative and unique descriptions will help improve SEO. If you're a solid copywriter, this is a fantastic opportunity to show off your skills.
Setting up Your Collections
Product collections are like categories on Shopify that help you organize your store and make it easier for customers to find what they need. Dropshippers have the option to create automated and manual collections.
Automated collections are generated based on conditions you set, such as "all products" or "products with a certain tag." For dropshipping stores, we recommend using manual collections as they give you more control over which products are featured. Manual collections work best if you have a small, curated catalog.
Step 3: Set Up and Design Your Store
Once you've finished adding your products, designing your store is the next step. To get your storefront looking the way you want it to, start by choosing your theme.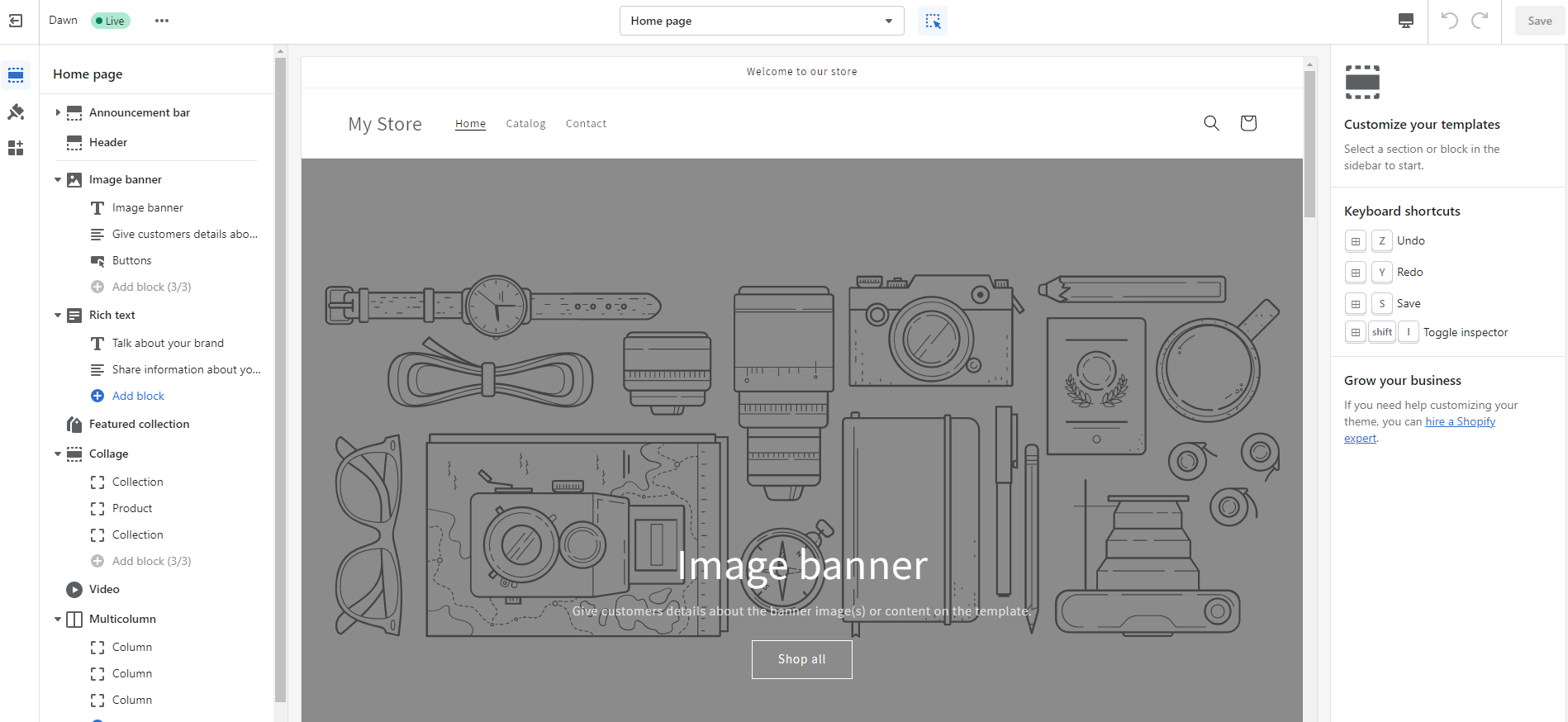 Choose a Theme
Shopify's theme builder may look complicated, but it is relatively simple. The theme builder is similar to what you might find on other CMS theme builders like Wix, Weebly, or WordPress.
The Shopify team has a fantastic support article on how to use their theme builder. Dropshippers should consider a theme's conversion rate, which is the percentage of visitors to your store that take the desired action, such as making a purchase.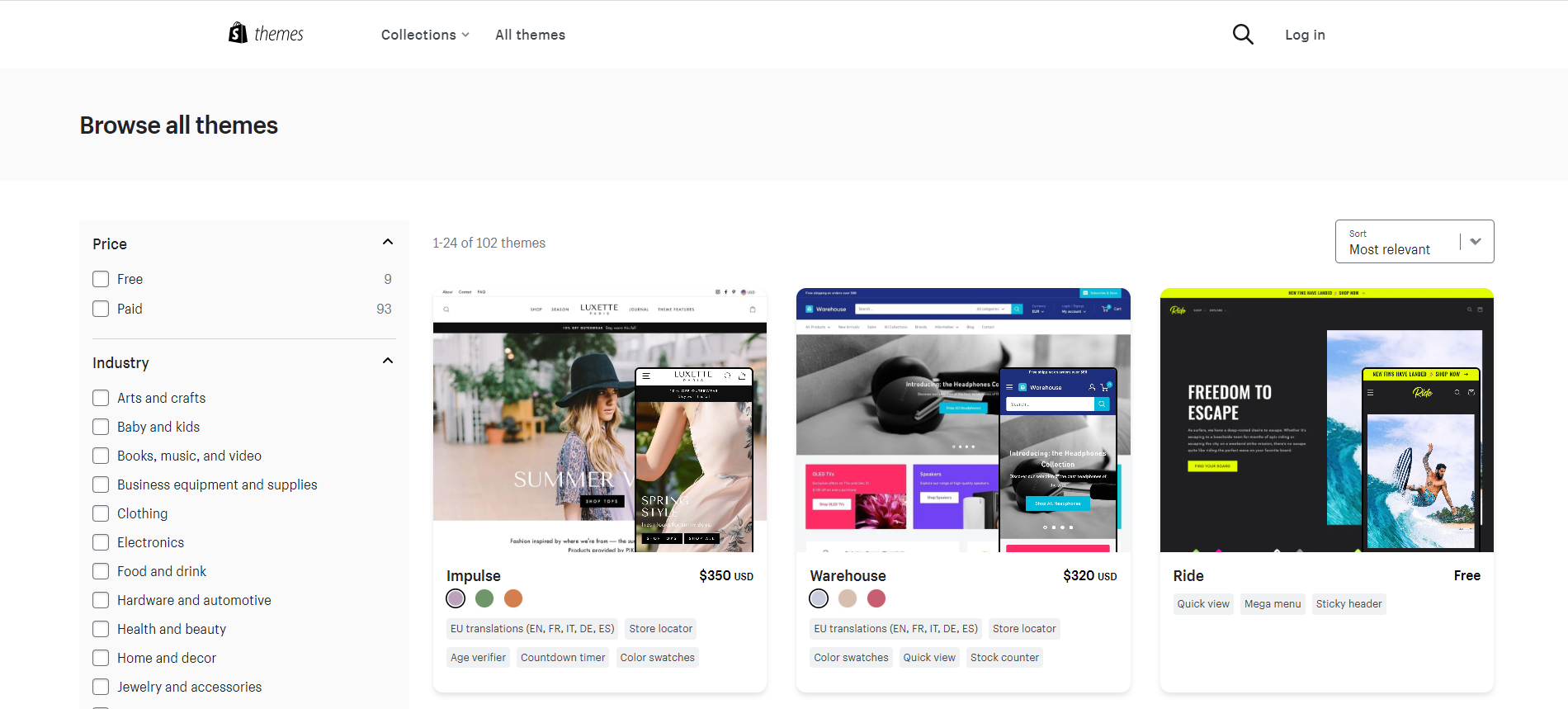 Design themes are customizable, and Shopify offers both free and paid themes. We suggest using a free theme to start your store if you want to save some money. Paid themes vary in cost but are typically $100 or more. You can filter the results if you have specific needs for your theme.
Customize the Look and Feel of Your Site
Shopify makes it simple to customize your site's colors, fonts, and overall layout without coding. Navigate to the theme settings tab, and you'll be able to make changes to your site with the drag-and-drop interface. On the left sidebar, you can see the home page and the "content blocks" of your pages. You can edit, remove, and add content blocks as needed.
Add Pages
Besides your home page, you'll need to add other pages to your Shopify store. Shopify has a page builder to add these pages without any coding required.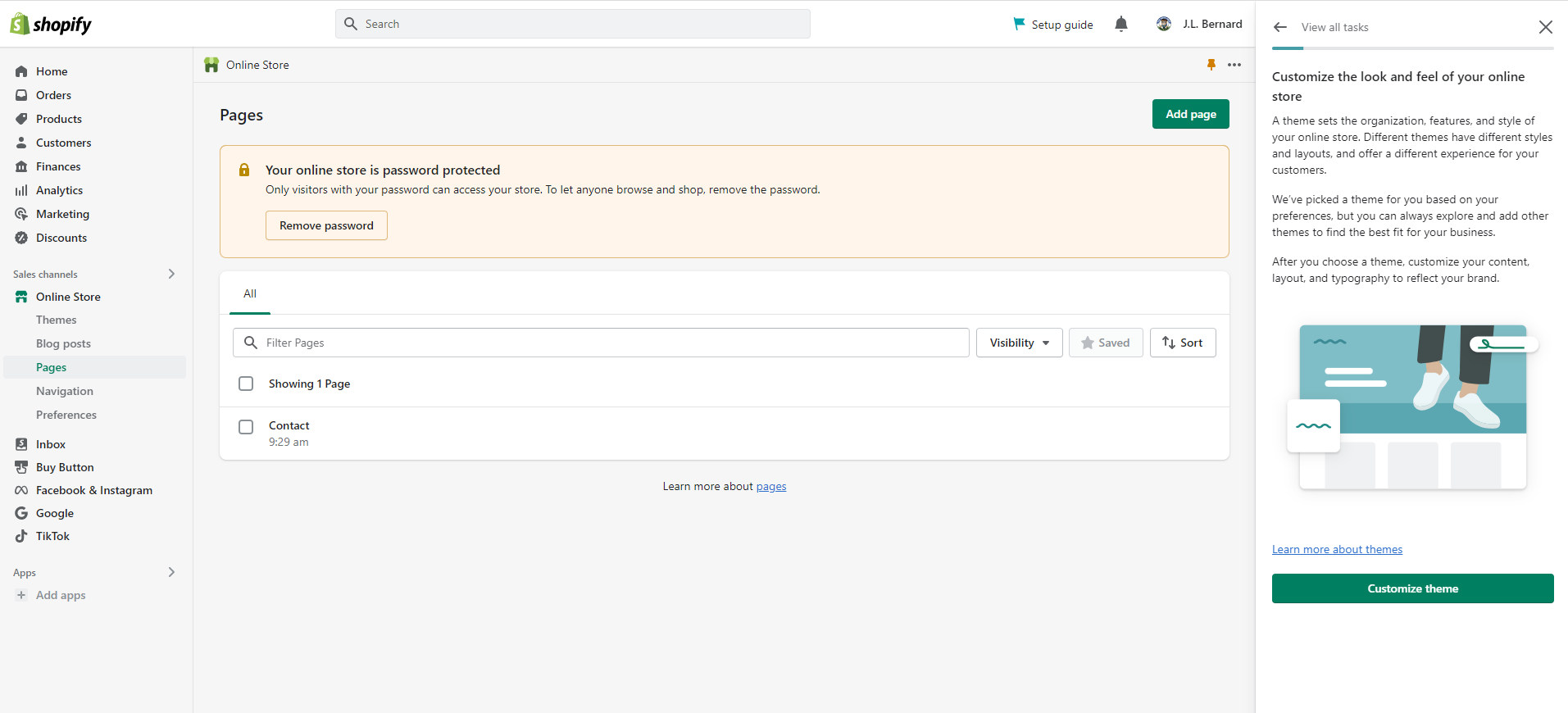 You'll want to navigate to the main dashboard and skip down to the sales channels of your online store. The menu is broken down into categories, but you should see pages; click that menu option to begin changing and adding more content pages to your store.
If you're versed in SEO, you can incorporate your keywords into your title, meta descriptions, and page URLs. This will ensure that search engines index your Shopify pages when potential customers search for products you carry. If you want to set up your store and make it functional, it should at least have the following:
Homepage
About page
Category pages
Product pages
Policies/Terms pages
Services pages
Contact page
FAQ page
Set Up Your Navigation
After you've added your pages, Shopify quickly adds them to your navigation menus. Shopify's navigation builder is in the Sales Channels tab under the Online Store category. With the drag-and-drop interface, you can add, remove, and edit your store's menus and add sub-menus.
So how can you help your customers find the products they want with the least effort? Ultimately, you need to determine each page's value to your customers and decide which ones should go in the menu and which ones you should place in the footer.
Step 4: Set Up Payments
Of course, you'll need to set up payments before Shopify can start processing customer orders. Shopify offers a few different options for payment solutions; when establishing your payment options think about how you can be most convenient to your customers. Fortunately, Shopify has many well-known payment solutions.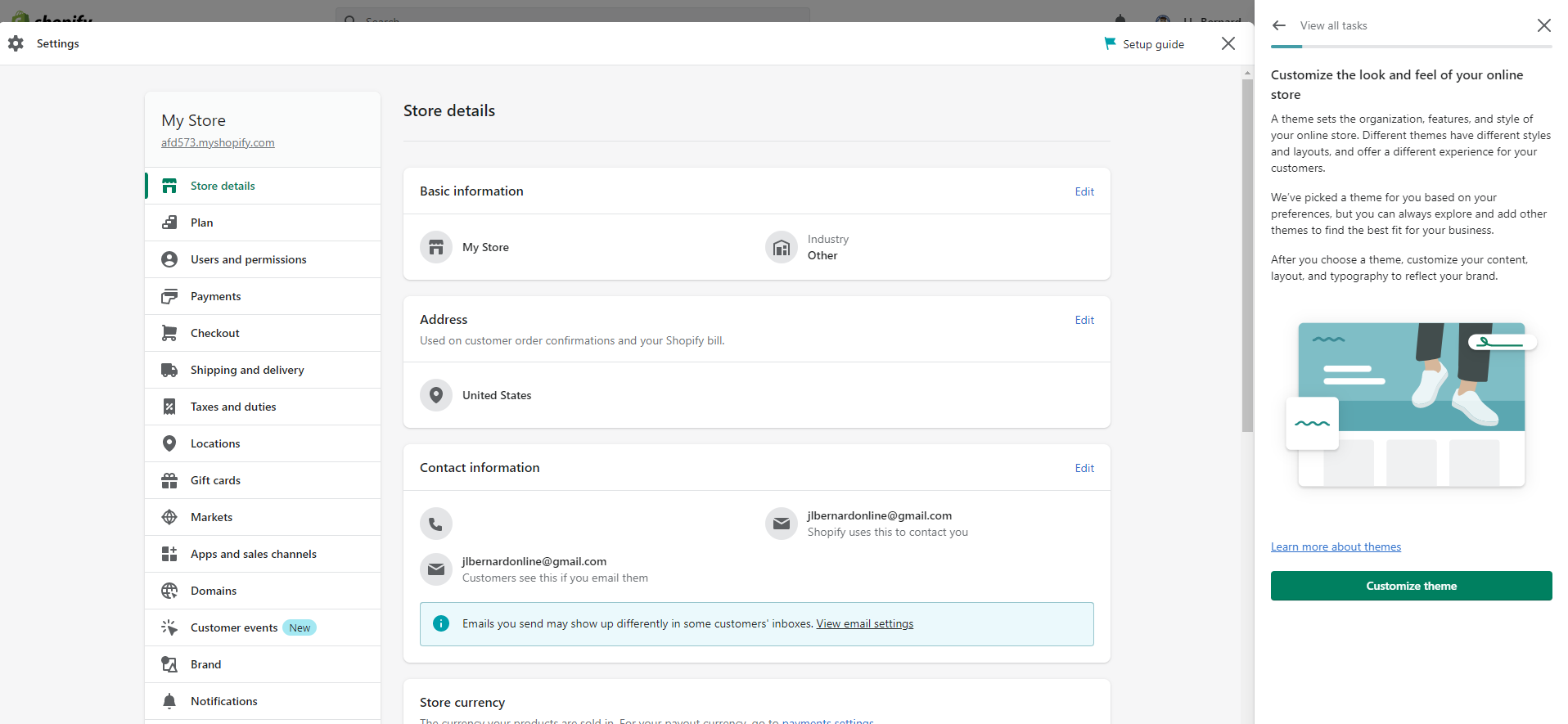 Click "Payment Providers" and choose from the various payment options. When setting up transactions, you can accept payments through:
Paypal – When you create a store with Shopify, it automatically sets up a business Paypal account for you so that you can start accepting payments immediately.
Shopify Payments – The default payment option is integrated with the platform and allows customers to pay using any major credit card. The significant benefit is a faster, more secure checkout.
Manual Payments – It allows payments via bank deposit, cash on delivery, external credit, gift cards, and more.
Third-party Payment Providers – While Shopify Payments seems the best provider, it might only work for some. You can still use any third-party payment providers available to process payments. Just note that Shopify will charge a transaction fee when using them as opposed to Shopify Payments.
Step 5: Optimize Your Store's Settings, Policies, and Rules
After establishing your Shopify store's design and navigation, you'll want to move on to the settings. These settings manage the security and functionality of your Shopify website. The first settings you'll want to adjust are your Shopify website's general settings, which include your:
Store name
Domain
Contact email address
Address
Country
Ultimately, you'll also want to address the policies for the website's use of data. A policy on using cookies and data is good but not enough. Fortunately, Shopify offers great policy templates you can use as a starting point. Here are some Shopify policies you might want to consider:
Privacy policy
Refund policy
Shipping & Returns policy
Terms of service
You can adjust your policies in the main Settings menu under the "Policies" tab. If you want to use Shopify's policy templates, click "create from template." If you're going to replace them with your own, you can try policy generators like Termly, Rocket Lawyer, LegalZoom, or LegalTemplates.
Step 6: Select a Paid Plan and Launch Your Business
While exploring the app, you should be able to find a business plan that has pricing to meet your needs. Shopify has a 3-day free trial, but more time is needed, even though you can create your store, install tools, and set up integrations.
You can only sell products or services once you commit to a paid monthly plan. If you need more convincing that Shopify is for you, then the Starter plan may be the best option. Of course, you can always upgrade to the next plan as you expand your business, and that may be the right path for some dropshippers who want to scale up gradually.
Add a Custom Domain to Your Website
It's possible to run your store without your domain name and leave it as the default Shopify URL. However, it looks unprofessional and needs to be better for SEO purposes. In addition, a custom domain will make it easier for your customers to remember your website and find it again.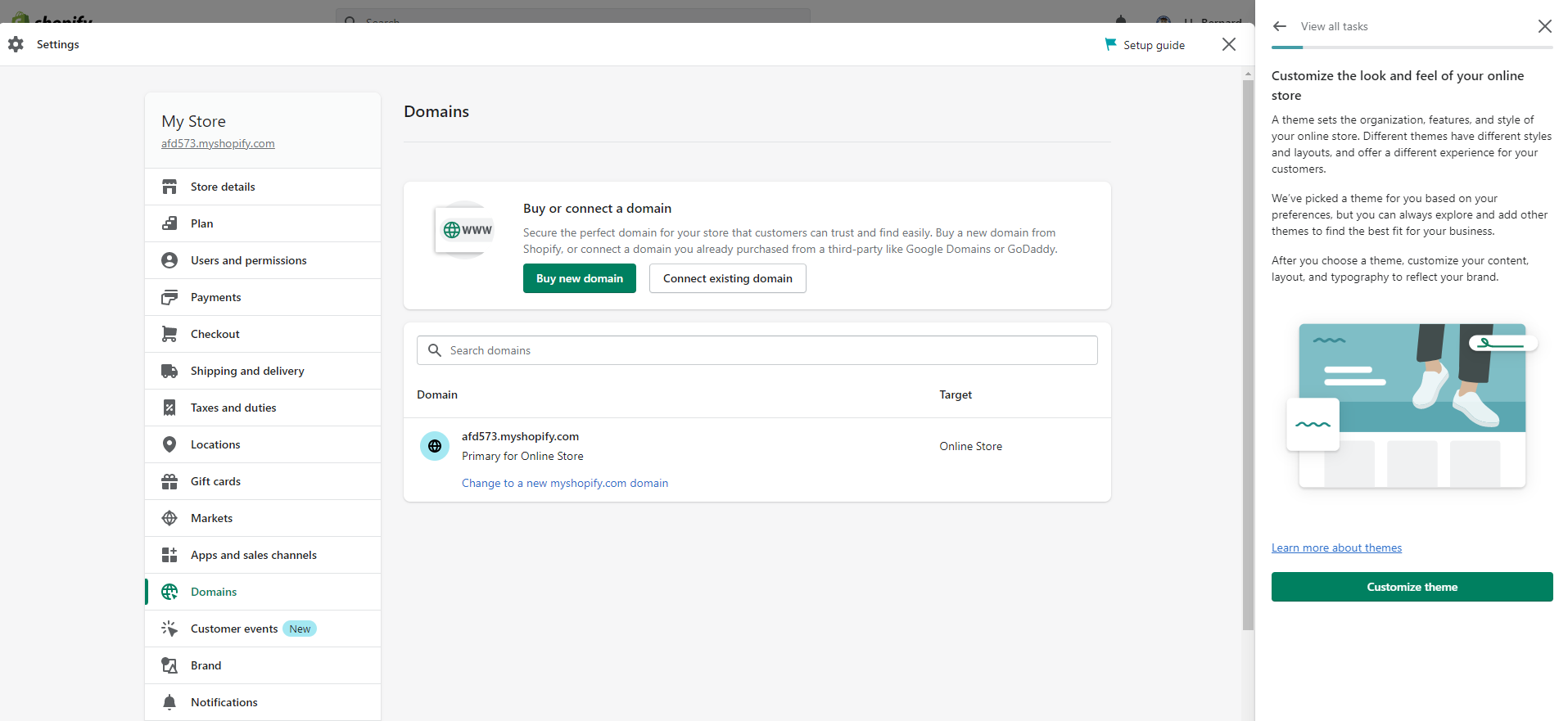 There are three ways you can add a custom domain to Shopify:
Purchase a New Domain – Shopify makes it easy to buy a new domain name directly through the platform. Shopify will walk you through the process if you decide to go this route. Domains purchased through Shopify that end in ".com" start at $15/year.
Transfer an Existing Domain – You can also use an existing domain name. Domain management can be tricky; we advise checking the guidelines with your current registrar and Shopify. Doing so will ensure you successfully transfer your domain to Shopify by changing the DNS.
Connect a 3rd-party Domain – If you're already using a domain provider like Namecheap, DreamHost, or NameSilo, you can connect your domain to Shopify. Again, you'll need to check your provider's policies on this process or Shopify's help page.
5 Tips for Running a Dropshipping Store After Launch
Shopify does an exceptional job preparing dropshippers for the before, during, and after processes involved in opening a Shopify dropshipping store. Below are some post-launch tips.
Make Use of 3rd-Party Apps
A huge convenience of using Shopify is the availability of third-party apps that optimize conversions and sales. In addition, Shopify has an app store similar to that connected to a smartphone and boasts various apps designed to help Shopify store owners run their businesses more effectively. Tools like email automation, social selling apps, or CRMs to manage your customers are just a few of the Shopify dropshipping apps available.
Manage Relationships with Suppliers and Dropship Vendors
For Shopify dropshippers, supplier and vendor management is critical to maintaining a healthy business. If you have a terrible relationship with your supplier, it will show in the service you provide, and your customers will be able to tell. So, you must ensure a good working relationship with your suppliers and vendors; communicate often and keep them updated on your needs.
It's also important to remember that you are not the only dropshipper your suppliers and vendors are working with. They have other customers, so you must be respectful of their time and be sure to communicate effectively. If you're using solutions like Spocket, you won't work with vendors directly, but sometimes it's necessary to talk to them.
Consider What Will Happen with Returns and Refunds
No dropshipper wants to think about it, but eventually, you will have to deal with returns and refunds. Shopify makes it easy to process returns and refunds, but as a business owner, you need to consider how you will handle them and have policies in place.
This is one of the main factors that may determine which dropshipping supplier you choose.
For Spocket users, suppliers generally do accept returns, but it's on a case-by-case basis. Sellers can choose from three different policies:
No returns allowed
15-day return period
30-day return period
It's up to the supplier to govern their returns and damages. Still, it's important to note that if Spocket feels that the customer isn't getting the service they should or the policy is unfair, it reserves the right to overturn a supplier's return policy. Therefore, your return policies must be fair to your customers but keep your business profitable.
Invest Heavily in Marketing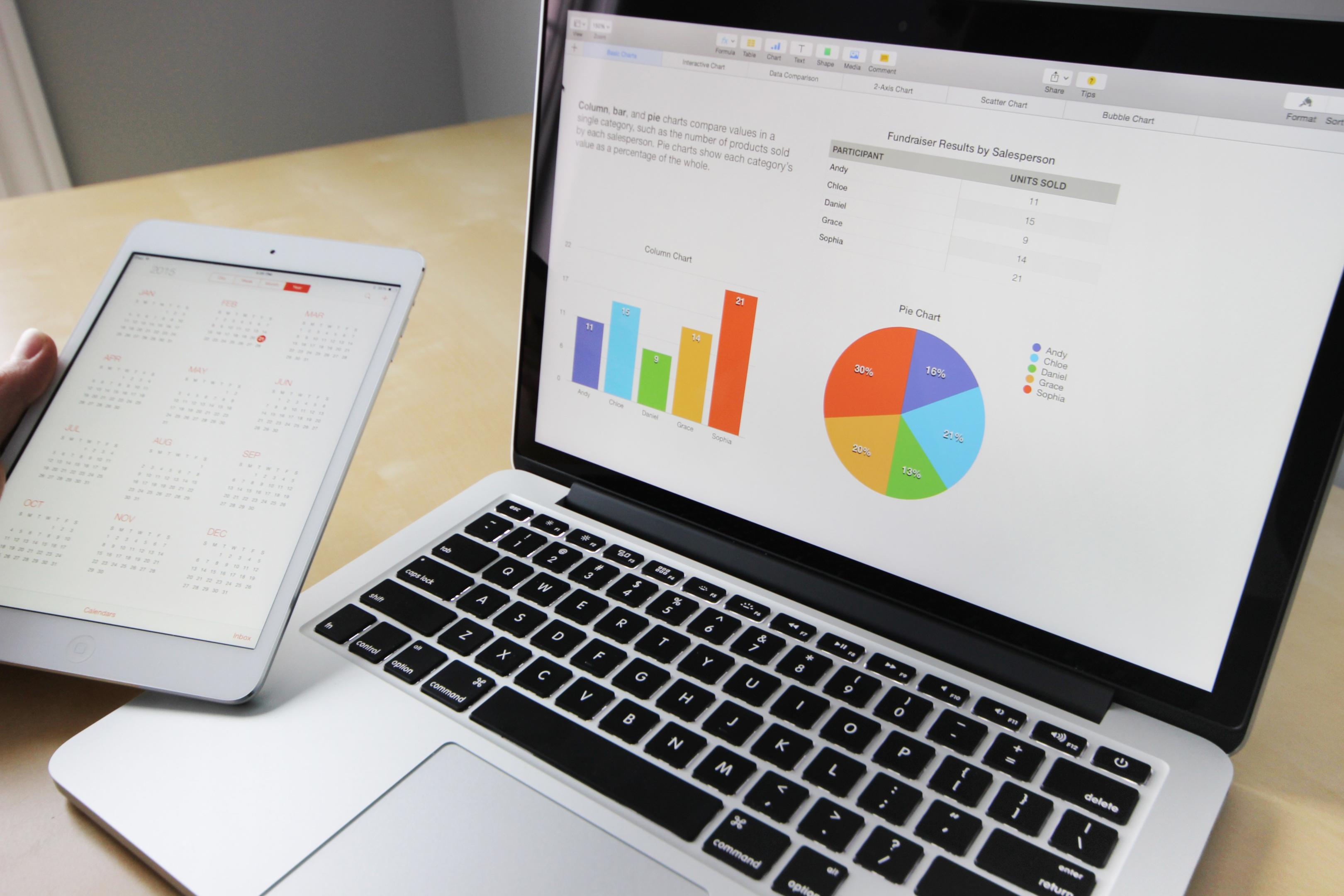 We've mentioned marketing and advertising a few times throughout this guide, but it's worth reiterating their importance. Marketing should be one of your top priorities when running your Shopify dropshipping business. It will help you to find creative ways to reach your target market and get them interested in your Shopify dropshipping store and products.
Dropshipping offers unique benefits to sellers that traditional selling methods don't. Dropshippers can focus on marketing their business and experimenting with what works. Several marketing apps are available to help you with this, but it's important to remember that you'll need to work to see results.
Your sales are proportional to the time and money you invest. Make a habit of doing some marketing for your store every day – it's necessary to understand the advertising-to-sales ratio to be successful in Shopify dropshipping.
A high ratio shows that the advertising needed to be more successful.
A low ratio implies that the advertising campaign was very successful.
You can use endless marketing strategies and tactics to promote your Shopify dropshipping store. The important thing is to track your results, so you know what to reinvest in and what to avoid.
Decide on a Business Structure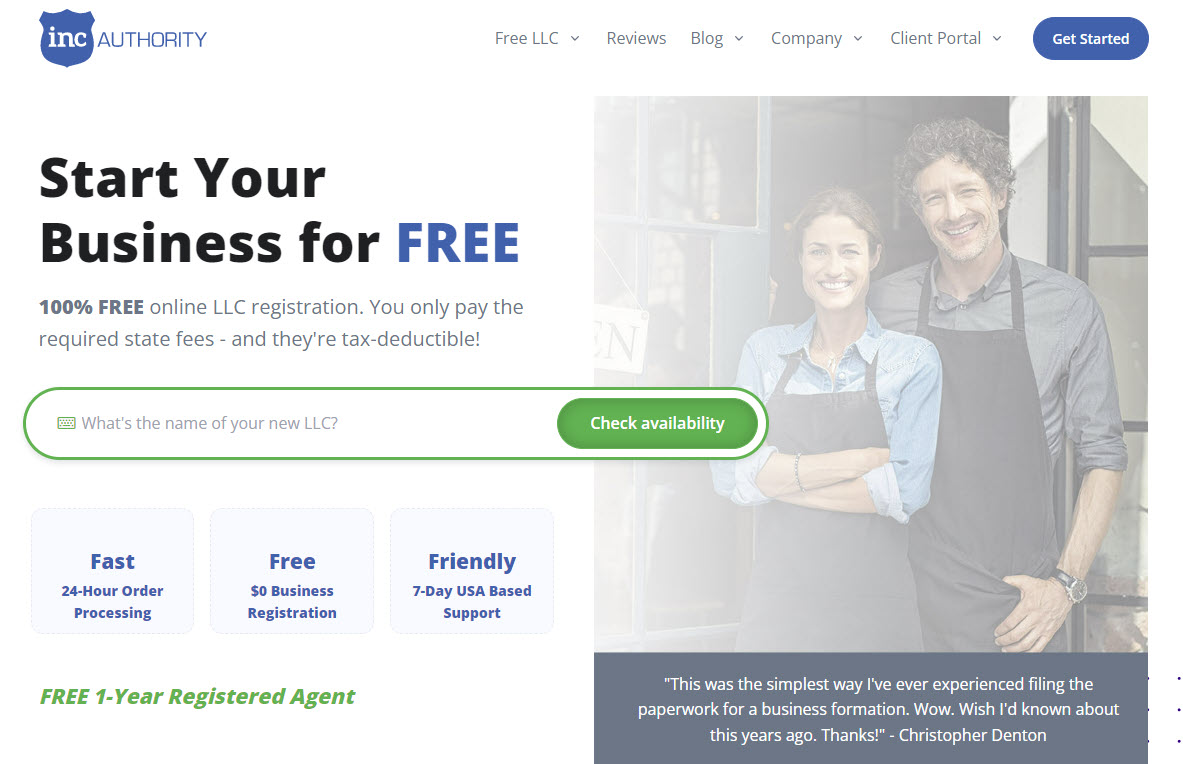 You should establish a legitimate business entity if you're committed to your enterprise. We can't provide legal guidance, but we can review three commonly used business structures.
Sole Proprietorship
If you choose this business structure, understand that it offers no personal liability protection. If your company is sued, your assets are also at risk. The good news is that filing requirements are minimal; you only have to report your business's earnings on income taxes.
Limited Liability Company (LLC)
By establishing your business as a separate legal entity through an LLC, you get increased protection of your assets. While no liability protection is ever foolproof, corporations provide more safety than sole proprietorships. However, consider those additional filing requirements and fees for incorporation and maintenance that may apply.
S or C Corporation
These are the most popular type among major businesses because they offer more protection against liability. But on the other hand, an S or C corporation tends to be incorporated at a higher cost and suffers from double taxation since income isn't passed along directly to shareholders.
Request an EIN Number for Your Business
An employer identification number is essential for any business-related filings with the IRS – think of it a Social Security number for your company. Applying for an EIN is easy and free; you can do it online.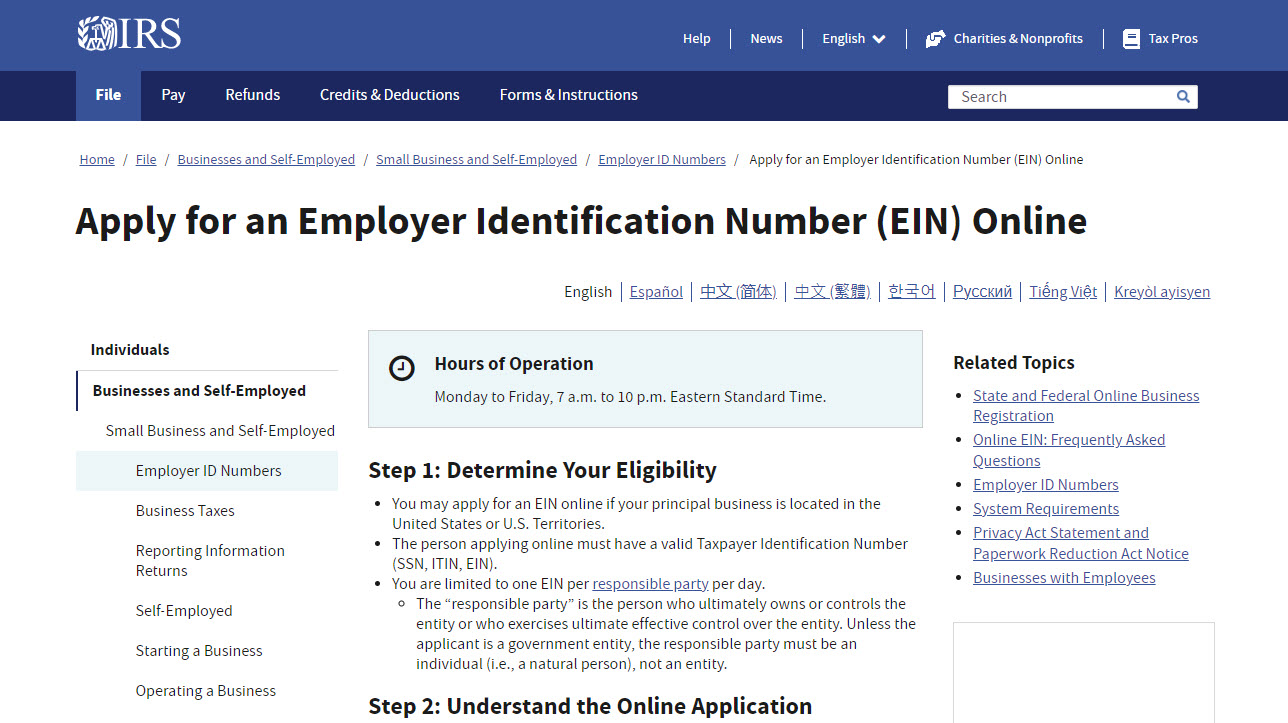 So which structure should you choose? We advise you to consult with a lawyer before making any incorporation decisions, but most small entrepreneurs go with either a sole proprietorship or an LLC.
Remember that when you register as an LLC, you can choose to pay your taxes as a partnership, corporate or sole proprietor. In the past, LLC owners have complained that they pay excessive taxes, so understand the different options and what will work best for your business.
For additional legal guidance, we suggest Inc. Authority, LegalZoom, or Rocket Lawyer; all have documentation and counsel.
Get Your Finances in Order
Now that you've chosen your business structure, it's time to get your finances in order.
Business Checking Account
A business bank account is essential for keeping your personal and business finances separate. This will make bookkeeping and tax preparation much easier come tax time. In addition, your business should draw all revenue and expenses from it.
Collect Sales Tax
You'll only need to collect sales tax if your state does and someone places the order in your state. However, you don't have to collect taxes from another state's residents if you're a small online merchant. To find out how often you must submit the collected taxes, contact your State's department of commerce and register as an online retailer.
Local Business Licenses
Many cities have a business license requirement for businesses to operate legally. Dropshipping companies may be exempt from this rule when operated from home offices, but it is best to check with local laws and regulations.
Credit Card
A business credit card is necessary to handle large inventory purchases or charge expenses. In addition, applying for a business credit card can help you build business credit and take advantage of rewards programs.
When choosing a business credit card, compare the interest rates, annual fees, and rewards. It's also important to read the fine print to understand the terms and conditions of the card.
Automated Software
Dropshipping businesses should also consider using automated software to manage their finances. For example, automated software can help companies to keep track of inventory, orders, and customers. Ultimately, automated software can provide the following:
Where to Find a Shopify Dropshipping Business for Sale?
Why would you want to buy a drop shipping business if you can start your own? The simple answer is that purchasing an existing dropshipping business is much easier and faster than starting one from scratch.
When you're starting a Shopify dropshipping business from scratch, there are many things you need to do, but with an established business, you start selling from day one. In addition, you'll get access to the following:
A customer email list
Social media followers
Existing supplier relationships
If you're interested in buying an established company, we advise caution. According to Startup Genome, 9 out of 10 startups fail within their first year. So if you go this route, you must understand a few things.
Decide What Type of Business to Buy – The first step is deciding the type of Shopify business you want. What are your skills and strengths? What are you interested in?
Understand Why They're Selling the Business – Next, understand why they are selling the business, which will help you make an informed decision. You don't want someone else's debts and liabilities. You must also refrain from taking over a business with poor quality or broken equipment, no supplies, and no capital.
Calculate the Market Value of the Business – The third step is to calculate the market value of the Shopify business. This will help you determine if the asking price is fair and whether you're getting a good deal. Look at the industry value, determine the status of its finances, check on the assets, and consider its liabilities.
Research Shopify Businesses for Sale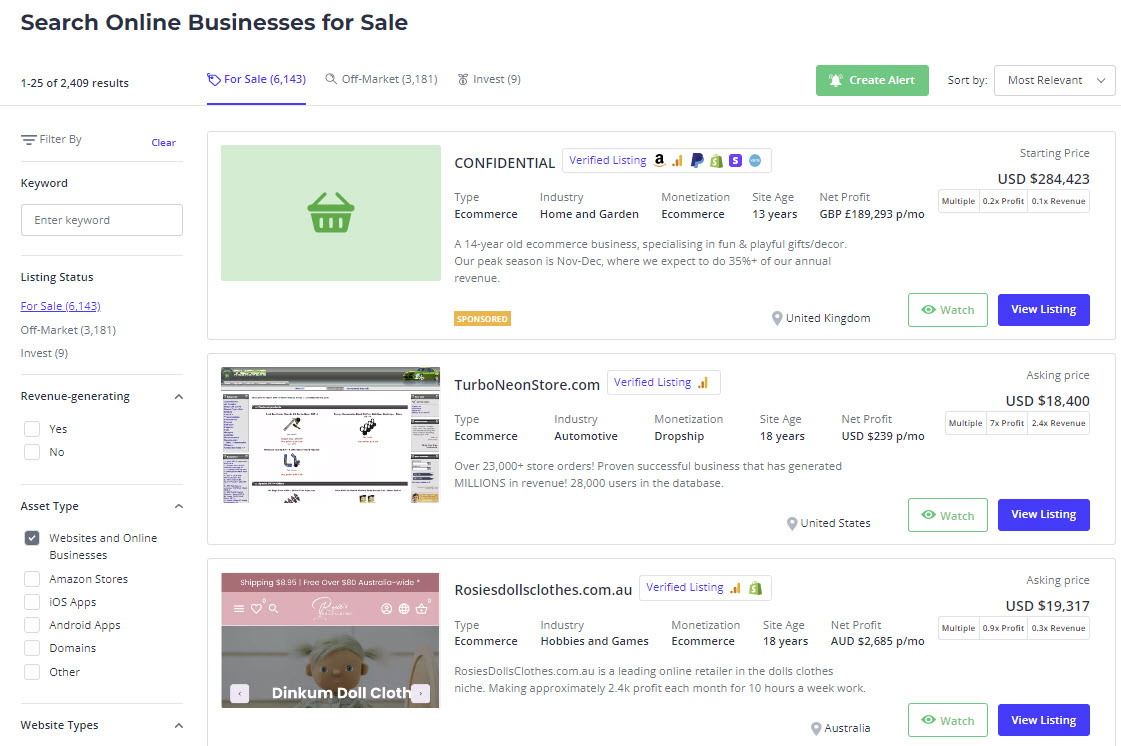 The next step is to find Shopify businesses that are up for sale. Online marketplaces like Flippa, MotionInvest, and EmpireFlippers list Shopify businesses that are up for sale. These platforms allow you to buy and sell businesses by signing up for their platform
Each platform has its benefits and integrations that give detailed business information. For instance, Flippa has integrations with popular companies like SEMrush and Google Ads, which can provide insights into how the business gets its traffic and customers.
Read the Flippa Review: Is Flippa The Best Website to Buy & Sell Online Businesses?
Evaluate Shopify Businesses Carefully
Once you've found a Shopify business you're interested in, it's time to take a closer look and evaluate it carefully; you need to put on your detective hat and do some digging. When assessing the business, consider its business model's sustainability. You must ensure that the Shopify business you're buying has a solid foundation and can be profitable in the long run.
Next, take a look at the Shopify business's traffic and customers. The goal is to find a Shopify business that has a solid foundation, is profitable, and has engaged customers. Once you've found the company that checks all of your boxes, make an offer.
How to Start a Dropshipping Business On Shopify Wrap-Up
Starting a dropshipping business is exciting. Purchasing an existing Shopify business can be a great way to get started in eCommerce. Shopify businesses for sale come with an existing customer base, products, and supplier relationships. You don't have to start from scratch, which can be a huge time saver. Do your due diligence when evaluating Shopify businesses to get a good deal on a solid business foundation.
A Shopify dropshipping business is a fantastic opportunity for entrepreneurs at any stage, as it's low-risk and not very costly to get started. Furthermore, thanks to an increase in third-party apps and marketing automation tools, running your business has become much more straightforward. We hope this guide motivates you to achieve success and financial freedom like many other eCommerce entrepreneurs.
How to Start a Dropshipping Business on Shopify & Guarantee Success