If you want an easy way to learn how to download YouTube videos, you're in the right place. This article shows you step-by-step instructions for downloading a youtube video on a PC or mobile device directly from YouTube, using a Chrome extension, or with free and premium tools.
Let's agree watching videos on YouTube is a great way to waste time, but figuring out the best way to download YouTube videos can be a pain. So, we're here to show you how to download videos from YouTube quickly and easily in HD quality, convert them to mp4 format for offline viewing, and even protect them with a password. Whether you're using a computer or a website service, we've got you covered!
Ways to Download YouTube Videos
YouTube was founded in 2006, and since then, it has become the largest platform for sharing videos online, covering a wide range of topics from news to entertainment and tutorials. Approximately 5 billion videos are watched per day. However, it's 2022, and users want to enjoy their video content in their own way.
Depending on your software preferences, there is more than one way to download a YouTube video. You can use one of the following methods to accomplish your mission; we'll walk you through each. Or you can click on the link to follow the appropriate steps.
Video download tools (service or converter)
Download using a Chrome extension
Download using YouTube View later feature
Download on a PC or Mac
Download on an Android or Apple device
Steps to Download Videos from YouTube Using a Website Service
Finding the best service to download YouTube videos can seem daunting as there are so many, but not all services are equal. When evaluating a YouTube download service or platform, you must look for specific features. When using a website service, we recommend looking for the following features:
Ability to select the video quality you want
Ability to download multiple videos at once
Compatibility with all major browsers
Option to convert the video into other formats
Speed of the download and conversion process
Option to password protect your video downloads
Once you have identified the service with the features you need, the download process is simple. Most websites have a few general steps to follow:
Step 1: Copy the video URL – a simple action where you copy the URL of the video you want to download.
Step 2: Enter the video URL – usually, a website service has a toolbar where you can paste the copied URL for download.
Step 3: Click on "Download Video" – the next step is self-explanatory. Click the "Download Video" button or Hit Enter on the keyboard to start the download process.
Step 4: Choose the video quality to Download – many website services can provide several video-quality formats. Choose the one that works the best for you.
Step 5: Click on the Download button – To download the video file, click on the "Download" button with its specified size, and you'll be redirected to a new page. Once there, look out for three dots vertically arranged – tap them, and voila! The video is yours to enjoy.
Best Options: SnapSave.io or Y2Mate.in
Both free options have input fields on their websites for the video URL. Both allowed for adding letters in the URL string, but it appears both sites are not working in that manner as of this article's publish date.
You can head over to Vimeo to check out the quality of a download from Y2Mate and SnapSave for comparison.
Y2Mate 480p Yule log – https://vimeo.com/783406911
SnapSave 480p Yule log – https://vimeo.com/783410882
How to Download YouTube Videos Using a Converter
Downloading videos using a converter is very similar to a service. The difference being you often get the file you provide via URL converted to the file type you desire during the download process. Y2Mate is an excellent example of a service that also converts. You can select from MP3 or MP4. You first convert the file, and then you download the video.
How to Download YouTube Videos on a Mac
To download videos on a Mac, you'll need software. The software will do all the work to download videos and convert them into your desired file type. The process for a Mac and PC will be virtually the same based on your chosen software.
How to Download YouTube Videos on a PC
Don't waste any more of your time downloading low-quality videos. With a few simple steps, you can download videos of high quality for offline viewing. This can be accomplished using website services. The steps to download are below, and two of the best options.
Step 1: We'll use WinX for this demonstration; once you've installed the program, you'll click Add URL.
Step 2: Paste the YouTube video you want to download in the text box; at the top of the menu, click the Analyze button to the right.
Step 3: The app will check over the video to determine the quality of the video. Once done, you can choose from a list of download formats.
Step 4: Decide what option you want and what extension and quality you need to download.
Step 5: Consider the purpose of your video; this should help you figure out which download option to choose. After you've decided on the quality, then click Download.
Best Options: 4K Video Downloader or WinX HD
Both are free options that provide low to mid-quality downloads. However, it's worth the upgrade to the paid versions to access 4k and 8k and numerous other features, as the cost is minimal.
Media Types – 4K Downloader supports many standard formats like MP4, FLV, M4A, 3GP, MKV, and OGG.
Websites you can download from – 4K Downloader lets you pull from many supported sites like Facebook, Vimeo, Dailymotion, Twitch, TikTok, Flickr, SoundCloud, and more.
Quality – 4K Downloader allows for 3D, VR, 4K, and up to 8K quality.
Price – The service includes several pricing tiers, from a free version to a Pro plan. The Starter plan is free, the Lite is $10, the Personal plan is $15, and the Pro plan is $45.
Free Trial – because of the Free plan availability, no Free Trial is available
Media Types – WinX HD can support up to 45 different media formats, including MP3, AVC, AVI, M4V, FLV, MKV, MP4, WAV, 3GP, and WMV HD.
Websites you can download from – WinHD has been around since 2010, so it supports many mainstream websites like Vimeo, Dailymotion, Vevo, Break, Facebook, and more.
Quality – The software can support 1080p, 4K, and 8K video quality.
Price – the Premium plan costs $29.95, and the Lifetime plan costs $39.95; over time, these costs vary, especially during the holidays. If you need multiple licenses, they also have the option to buy for an organization.
Free Trial – Yes, WinX HD has a Free Trial version, but it's limited to 5 minutes videos.
Features Needed in a YouTube Downloader & Converter App
Download Speed
Video File Types
Video Quality
Batch Downloads
Subtitles
Video Editing Capabilities
How to Download a YouTube Video Using a Chrome Extension
Downloading YouTube videos using a Chrome extension is a straightforward process; with Chrome updating continuously, these extensions need to be flexible and versatile enough to stick around.
Fortunately, even if these options aren't well-designed, there are other terrific options like Video Downloader Professional, which has a high-rating and user base. In addition, there are many options for downloading videos, and these extensions go beyond the platform to assist with downloads on sites like TikTok, Instagram, Facebook, Vimeo, and many others.
Step 1: Like most Chrome extensions, adding Video Downloader Professional to your browser extensions is relatively easy. First, click the puzzle piece, which will open a drop-down menu. Click on Manage Extensions.
Step 2: Search in the Chrome Web Store for the extension you're looking for; in this case, we would type Video Downloader Professional into the search bar, which will bring up this option. To download the extension, click Download; adding extensions is a quick process and shouldn't take a minute.
Step 3: Once you've downloaded the extension, it should show up in your extension toolbar, click on the extension icon and open the software.
Step 4: From that point, Video Downloader can access the site and sites like YouTube, Dailymotion, Vimeo, and more. Click the green arrow to download your video and follow the prompts.
Step 5: Video Downloader can save videos quickly, and the best part is there are no ads, spyware, or malware to infect your computer.
Both are free options with impeccable ratings on the Chrome Web Store. Video Downloader Pro has a 4.5 rating with over 200,000 ratings, and Video Downloader CocoCut has a 4.8 rating with over 6,900 ratings.
Each allows downloading by clicking a button and initiating a download from almost any website. It's important to note that Chrome extensions will not work on YouTube as they come from the Chrome Web Store, owned and operated by Google.
Fret not, as you can flip over to Firefox or another browser and install the addons from the respective stores. Firefox has both extensions listed above but even better-rated add-ons, Video DownloadHelper and Easy Youtube Video Downloader.
Head over to your favorite video site and start the download with one click. You'll be asked to select the quality and format, mp3 or mp4, and associated resolution, from 144p to 1080p.
How to Convert YouTube to MP4
Fortunately, converting YouTube videos to mp4 is straightforward; you can do it on a Mac or Windows device. However, suppose you're trying this out on a Windows PC and need to know how it works. Fortunately, any way you try, it should have the same outcome.
Step 1: YouTube videos are in FLV format, so you'll need to convert them to MP4. Pick your converter, download a copy onto your computer and copy the YouTube video's URL that you need.
Step 2: Paste the copied URL in the address bar or menu.
Step 3: Select your preferred MP4 format and click the download button. After that, your MP4 is ready.
Three options will help you convert videos to mp4 or any other format. In addition, these powerful tools allow an impressive number of conversion options outside of mp4.
CloudConvert – Go beyond video files to convert video into over 200 file types. Twenty-five free conversions per day.
Online Convert – An astounding number of conversion options for video across multiple formats and quality settings.
FreeMake – If you prefer to download a conversion program, FreeMake allows conversion for over 500 file types.
How to Download YouTube Videos for Offline Viewing
There's nothing better than being able to watch your favorite videos offline without having to worry about data charges. YouTube has taken a page from Netflix's book and made it possible to download and watch videos later.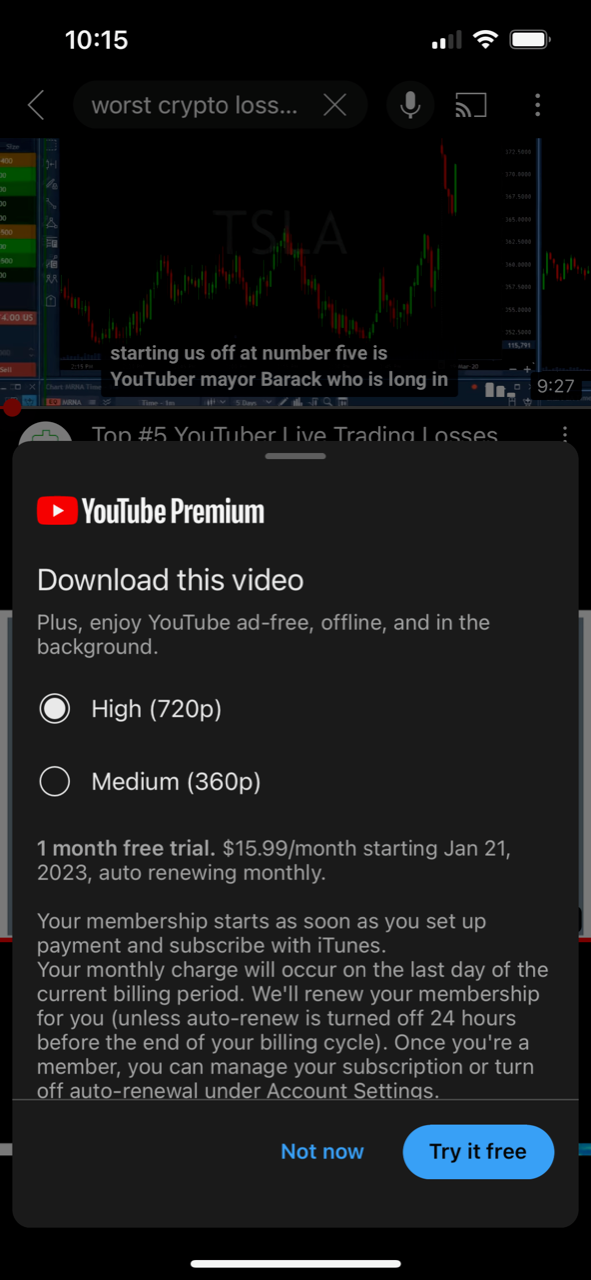 A feature like this works wonders when you have to go somewhere without internet service and don't want to use data. Generally, users can save YouTube videos on their Android or Apple devices. You have a few free app options if you have an Android device. We like InsTube because it makes the process simple.
You'll need to join YouTube Premium for $11.99/month if you use an Apple device. It's not that expensive, and it is the best option with the best quality. Let's walk through the process on an Apple device in this example.
Step 1: Ensure you have the YouTube app installed on your device. At this point, you'll also need a YouTube Premium account to get started. Once you have access, open the app and go to your favorite YouTube channel.
Step 2: The YouTube app has an easy-to-use interface, so it should be easy to find the video. In this example, we want to download a sample from RothStreet Finance.
Step 3: You'll click on the three vertical dots icon to download high-quality videos from the app. You'll get a list of options; here, you can build a YouTube playlist, watch an interesting YouTube video later, share the video, and even let the app know that you're not interested in the video selection.
Step 4: The premium version of the app lets you choose the quality of your downloaded video, and you can ask that the app remember your selection for all the videos you'll need.
Step 5: Confirm your selection by clicking the Download button; you'll see a message that essentially states that the YouTube app will keep your video as long as you have an internet connection every 30 days.
Much like Amazon Video or Netflix, you have to refresh your downloaded videos, or they won't be watched offline.
How to Download YouTube Videos the Safe Way
YouTube videos are an engaging way to learn new things or watch videos you may have missed the first time. Unfortunately, when you're using a YouTube video downloader, it comes with risks. However, there is a way to download your favorite videos without worrying about copyright issues. As discussed in the previous section, you'll need a YouTube Premium subscription to download videos safely.
YouTube downloader apps are plentiful, but even if the service wasn't against YouTube's Terms of Service, it might be against Google's. Video downloaders are popular because they allow you to manipulate the video format to your liking, and you can still download videos directly to your favorite device. As convenient as it is, we suggest you stick to enjoying your downloaded videos on YouTube Premium.
Related Article: The Best Screencasting Software Ranked & Reviewed
How to Download YouTube Videos Wrap-up
There's no denying the appeal of downloading videos so you can enjoy them on your schedule. However, depending on the type of device and operating system, users may need to opt for a third-party application or website to access their favorite content from YouTube. In addition, remember that downloading copyrighted material without permission from its owner is illegal.
Users should also be aware that some applications may contain malicious software or spyware, so it is wise to be cautious when using any third-party application. Downloading YouTube videos can be easy and enjoyable to consume your favorite content without streaming it.
If you're going to use a YouTube video downloader, we suggest WinX HD or 4K Downloader because of the versatility, formatting options, and intuitive dashboard, or stay with YouTube Premium. YouTube Premium is ad-free, a stable app that already uses a UI that consumers are used to, and it has no third-party banners or search ads.
How to Download YouTube Videos the Easy Way (PC, Mac & Phone)