When it comes to information about website hosting costs, it's easy to get information overload. Have you found yourself searching the question "how much does it cost to host a website?" on your favorite search engine, only to come up with confusing results?
Do you need a website for your new or growing business, but are you unsure if you can afford it? Are you looking for clear, digestible information about web hosting?
If this sounds familiar, then you are in the right place. This article provides detailed information about website hosting costs, gives you tips for getting the best deal possible, and shows you what to look for in a reputable hosting provider.
Website Hosting Deals for Black Friday & Cyber Monday
To get a jump on your holiday web hosting shopping needs, check out these deals going on now at some of the top web hosting providers.
Hostinger – Save 80% on 4-year hosting plans plus a free domain and SSL certificate.
Namecheap – Save 65% on the Stellar hosting plan or the Stellar Plus with a 2-year commitment.
Bluehost – Save up to 75% on shared hosting and 70% off on WordPress hosting and get $10 back with Rakuten.
DreamHost – Get WordPress hosting starting at $2.59/month, a 67% savings, with their Flash Sale going on now. Save on domain registration too.
A2 Hosting – Save up to 80% on the Startup Shared plan, that's $1.99/month. All other plans on sale as well.
Siteground – One of our top WP managed hosting providers is offering 80% off WordPress hosting, that's $2.99/month, originally $14.99/month.
Liquid Web – LW is offering 60% off 4 months on monthly plans and 75% off annual plans for their VPS hosting. Use code BFAVPS22
HostPapa – Seriously cheap hosting with the HostPapa Black Friday deal happening now until 11/30/22. The Start Plan subscription is 90% OFF for 1 year – now at $0.95/mo (regularly $8.95).
What is Website Hosting?
As a small business owner or aspiring entrepreneur, achieving success is virtually impossible without a website. Your website is how prospective customers interact with your brand, learn about your business, and purchase your products or services.
In order to launch and maintain your website, you need to store all of its various data files on a server. However, managing your own server is incredibly cost-prohibitive and, these days, largely unnecessary.
You, and most website owners, will partner with a web hosting provider to store your website data on their servers.
A web host is an entity that maintains servers that contain website files. A web host will allocate a specific amount of space to your site based on the service agreement you enter into.
When selecting a web hosting provider, you can choose between several different types of hosting. The format that you select will have a direct impact on website hosting costs. Of the many hosting types you will encounter, the two most common are dedicated and shared hosting.
Business website hosting costs can vary wildly between plan types and providers. Sometimes you can score a deal if you plan to pay your website hosting charges per year or annually vs paying monthly. Deals can be had for up to 80% off. Make sure you do a website hosting cost comparison with your top options to determine best which company to go with before you purchase your plan.
Shared vs Dedicated Web Hosting
As the name suggests, "shared hosting" involves sharing space with other website owners. This approach minimizes website hosting costs because you are not renting dedicated space. The host will utilize several different tools to manage the allocation of storage space and computing power on their shared servers.
Many web hosting providers provide shared hosting to their users at a very affordable price. Shared hosting is popular among small business owners because the hosting plans typically meet their needs.
Dedicated servers are assigned solely to your website and its data. This setup means your site does not share computing power or storage space with other domains.
Many web hosting providers also offer multiple hosting plans for dedicated servers. As you would expect, dedicated hosting costs much more than shared hosting.
For many small businesses, shared hosting is the most pragmatic approach. Small businesses and emerging entrepreneurs typically do not generate enough web traffic to warrant investing in a dedicated server.
The advantage of dedicated web hosting over shared hosting is that the resources are not pooled and shared with other companies, allowing for optimum speed, performance, and scalability during busy periods of website traffic.
Both dedicated and shared hosting offer multiple hosting plans that claim that you can host as many websites as you want on their server. But, the problem with shared hosting is that even if you can host multiple websites, the amount of traffic you will be able to receive may have to be shared across your sites.
If tens of thousands of people start visiting simultaneously on your shared hosting website, it may crash. On the other hand, dedicated servers, although pricier, can scale to meet the traffic demands and provide you with better performance.
For small business websites, shared hosting is an obvious choice. As your business grows, upgrading to a dedicated server may be necessary to ensure optimized website performance.
What is VPS Web Hosting?
VPS, also known as a virtual private server, is a type of web hosting where your web files are not stored in a dedicated server but offer you better speed and performance than shared hosting.
VPS hosting is preferred by business owners with moderate traffic who need more stability but don't want to take on the cost of a dedicated server. VPS hosting sits in between shared hosting and dedicated hosting.
Many popular hosting providers offer VPS hosting plans at a reasonable price. Many hosting plans offer unlimited bandwidth with VPS hosting, which makes it possible to handle traffic in bulk, which you can't do with shared hosting plans. The best thing about VPS hosting is that you still pay affordable web hosting fees.
How Much Does it Cost to Host a Website?
How much does it cost to host a website? The answer may surprise you.
Many small business owners are hesitant to explore website hosting services because they are worried they cannot afford them. Fortunately, this is simply not the case.
While partnering with a world-class site developer and purchasing a premium dedicated hosting service will cost a pretty penny, entry-level hosting solutions are shockingly cheap.
Depending on the needs of your business, shared website hosting may be as little as a few dollars per month. If you need additional space and computing power, the hosting cost may fall somewhere in the $20 to $30 range. This figure does not include web design services, but still, it is an incredibly low fee.
If your business reaches the point where you need to upgrade to a dedicated server, your website hosting costs will be notably higher. Dedicated hosting services start at around $100 per month and increase depending on how much computing power you need.
Still, dedicated hosting is the best way to ensure consistent site performance when experiencing massive traffic volumes.
If you want the best of both worlds, you can choose VPS hosting, which outperforms shared hosting in terms of speed and traffic management. VPS hosting plans start at $20-$50/month, which is very affordable compared to dedicated server pricing.
Many reputed VPS hosting providers are available if you want to choose VPS hosting over dedicated and shared hosting.
7 Tips for Finding The Best Cheap Web Hosting Plans
While having a robust online presence is essential to the success of your business venture, web hosting costs do not have to break the bank. By leveraging the tips outlined below, you can find excellent web hosting services that meet your needs and fit within your budget.
1) Shop around
While it may be tempting to jump at the first great deal you encounter, resist the urge. During your research, make a note of any reasonable pricing options you encounter so that you can revisit them later. We recommend exploring a handful of web hosting services before settling on a web hosting company.
If you want access to the best options without the research, read our article on the Best Web Hosting Providers in 2022.
Keep in mind that price isn't everything when it comes to choosing the best web hosting companies. Paying a few extra dollars for your web hosting services might grant you access to important tools and features that will help you grow your business.
The best way to shop around is by selecting 5-10 web hosting companies and comparing their various hosting packages. The first step is to determine what kind of hosting you want for your business.
For example, if you are sure that you want a shared web hosting plan, you only need to compare the shared hosting plans offered by various web hosts.
2) Do your research
The beauty of the Internet is that you can find consumer reviews on just about any product or service, including website hosting. Check out review forums to learn more about top hosting providers.
Take these reviews with a grain of salt, as one or two bad experiences may not reflect the web host and their services. However, if you notice a trend, this may indicate a shortcoming in the service or support they provide their clients.
3) Look for deals
Like many other businesses, website hosting providers often run deals and sales throughout the year. While we do not suggest waiting months to launch your own website to save a few bucks, looking for deals can help you choose between two similarly rated web hosting companies.
4) Pay annually
A common practice in digital services is offering clients monthly and annual pricing options. Typically, you can unlock significant discounts by paying for a year's worth of services. If this is not an option due to budgetary constraints, don't worry; the other tips on this list can still help you minimize your web hosting cost.
Most annual hosting packages include a free domain name and a free SSL certificate for your website. Getting a custom domain name is very important for your website.
Some website hosts will also provide significant savings if you purchase multi-year hosting for your initial purchase. If you can save by registering for two or three years, you can save quite a bit of money.
5) Choose a web builder tool
Selecting from among the numerous web builder tools available, you'll find that some offer free hosting and a free domain name with the purchase of the builder tool. Some providers also have excellent builder tools to offer, so signing on and getting the freebies is not a bad idea.
Make sure you read ratings and reviews of any free web hosting options, as many companies that offer free web hosting might have a catch. You don't want to pay for free hosting in some other way by partnering with a hosting company that is not reputable.
Our article on the Best Website Builders outlines some of your options for free hosting with a web builder.
6) Piggyback your hosting
Did you know you can have numerous websites on a shared hosting plan?
If you choose the correct plan with the correct provider, you can piggyback on your hosting with multiple sites. Some hosts offer unlimited websites.
You likely can't do that with a good Managed WordPress hosting plan, but you can with shared hosting, cloud hosting, reseller hosting, and virtual private server.
If you opt-in for one of these, ensure you have the proper control panel access to set up parked or add-on domains, and then point your A record to the IP. Voila, you have two sites running with a single hosting cost.
7) Get money back
Use browser extensions like Rakuten, which provide discounts and cashback options for shopping at sites you would likely shop anyway. Some hosting companies partner with Rakuten and offer a % off or cash back when you purchase certain services.
When signing up for Rakuten, make sure you get the Chrome extension. This is a seamless and easy way to ensure you stay apprised of opportunities when shopping for services and products. Sign up for Rakuten today to get started.
Download the Firefox extension
What to Look for in a Web Host
Now that we have discussed the ins and outs of website hosting costs let's review what you should be looking for in a hosting provider:
Customer support resources
No matter which web hosting service you choose, you will eventually encounter issues with your site. While website problems are unavoidable, choosing the right web hosting provider can limit their impact on your business.
We suggest looking at prospective providers' online help centers to see their self-serve options. In addition, see if they maintain a forum for existing clients. These forums allow customers to discuss common issues they have encountered and explain how they resolved them.
Most importantly, website hosting providers should provide multiple channels, like phone support, for connecting with their support staff. If you have trouble locating contact information for the hosting provider, you may want to move on to the next candidate on your list.
It is better to find a web host company with customer support available 24/7. You can read reviews online to know more about the customer support of a web hosting company.
A price that fits your budget
While price isn't everything, there is no point in exploring hosting options outside your budget. We recommend reviewing providers' pricing options before spending too much time researching their services.
Go through the hosting package of several web host providers and shortlist the hosting plans that you find suitable. Finally, compare their hosting package's added benefits and choose the best web host.
Flexible hosting solutions
The best website hosting providers offer shared hosting, cloud hosting, virtual private hosting, and/or dedicated hosting. Even if you are only looking for a shared hosting service, selecting a partner with multiple options is more pragmatic.
As your company's needs grow, your hosting partner can scale the level of service they provide. This scaling will prevent you from enduring the headache of switching to different hosting providers.
Features that add value
Every business faces a unique set of challenges as they seek to grow. As such, there is no singular web hosting solution that works for everyone. When searching for your partner, consider what features and attributes are most important to your business.
Some of the questions you might ask yourself are:
Do I need a lot of storage and bandwidth?
Will I need hosting services for multiple websites?
Does the provider offer free data backups?
Does the provider have Linux or Windows servers?
Answering these vital questions will help you find the ideal provider for your business.
Some of the common features that you should look for are a free domain name, multiple hosting options, a free SSL certificate, unlimited storage, unlimited bandwidth, unlimited domain parking, a free website builder, WordPress hosting, and many more.
Adequate security
Cyberattacks seem to be increasing almost daily in both sophistication and frequency. In light of this concerning trend, it is essential that both you and your hosting provider take data security seriously. Otherwise, your valuable client data could be exposed during an attack.
When searching for a hosting provider, ensure that your top candidates utilize security measures such as firewalls, virus-scanning software, etc. These tools will reduce your vulnerability to cyberattacks.
Exemplary speed and reliability
When consumers navigate to your website, they expect to enjoy a rich and reliable browsing experience. If your site is clunky, unresponsive, or otherwise tedious to use, this will have a negative impact on your brand image.
To make matters worse, poor website performance will impact your search rankings, reducing your visibility online.
A great website hosting service provider will allocate appropriate storage space and computing power to your site to ensure it performs optimally. This allocation will help you avoid the common pitfalls associated with poor site performance.
Best Cheap Web Hosting Providers
To make your job easier, we've compiled a list of the three best and cheapest hosting providers that will allow you to run your own website or online store smoothly and provide the ability to scale over time if needed.
Bluehost offers very cheap web hosting packages to its users. Even though their pricing is very affordable, their services are top-notch. WordPress officially recommends Bluehost. They offer multiple hosting packages, and free SSL certificates are included with any of their web hosting plans.
You get a free domain name with any of their annual web hosting plans. They offer multiple shared hosting plans that are perfect for a business owner. They offer shared WordPress hosting for small business owners, and you can choose a cloud hosting package, VPS, or a dedicated server if you run a successful online store or website with lots of traffic.
Features and Benefits
You get a domain name for free with their annual plans
Free CDN and SSL certificate is included in their plans
They offer a free website builder
Cloud hosting package
They are officially recommended for WordPress sites
Advanced shared hosting plans include unlimited storage and unlimited domain parking
Pricing
Bluehost offers 4 shared hosting plans, 3 dedicated, and 3 VPS plans. Their cheapest plans start at only $2.95/month, with which you can create one website. You can host unlimited domains even with their cheapest plan. You also get a domain name for free with any of their plans.
If you are looking for better performance, you can choose their dedicated plans, which start at $79.99/month. They offer 3 plans for dedicated hosting. You can host unlimited websites on the same server.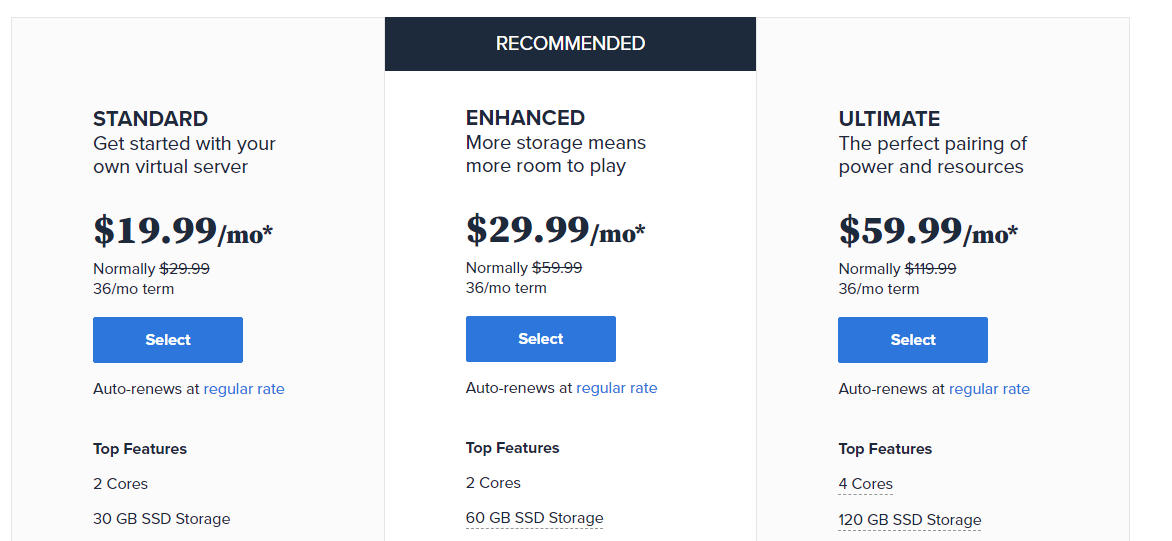 If you want VPS hosting, they start at $19.99/month. Bluehost offers 3 plans for VPS hosting, and the highest one costs $59.99/month.
A2 Hosting started its journey in 2001, but not many people know about them. A2 Hosting is still one of the most underrated players in the web hosting space. They are popular for providing optimum website speed.
Compared to most web hosts, they have remarkably decent uptime and page loading speed. They offer a special WordPress hosting package to their users. All their plans come with a 30-day money-back guarantee. If you are looking for a cheap web hosting provider with optimum performance, A2 Hosting is your answer.
Features and Benefits
Free SSL certificate and site migration with all their plans
Fast and reliable web hosting service
Special plans for WordPress hosting
Responsive and quick customer support
24/7 malware scanning keeps your website safe
Discounts for non-profits
Cloud hosting options
Pricing
Compared to many web hosts, the hosting prices of A2 Hosting is very affordable. They offer 4 plans for shared web hosting. The lowest plan starts at $2.99/month, a bit higher than Bluehost. No free domain name is included in this plan, and you can only host one website.
The higher shared hosting options offer unlimited disk space and automatic backups. They offer managed and unmanaged dedicated hosting starting at $155.99/month and $105.99/month, respectively. If you are looking for VPS hosting, you can get that at the lowest price of $33.99/month.
DreamHost has a solid reputation and is one of the least expensive options for quality website hosting. Website hosting costs with DreamHost start for as little as $2.95/month (conditions apply).
The DreamHost shared hosting plans are easy to get started, provide 1-click WordPress installs, have a 99.8% uptime guarantee, and come with an industry-leading 97-day money-back guarantee.
To receive the lowest price, the caveat is that the commitment needs to be hosted for 3 years, paid for upfront. However, you can opt-in for the 1-year plan for $2.95/month or monthly at $4.95/month, all great deals.
Features and Benefits
Free SSL certificate included
Offers 99.8% uptime and 24/7 customer service
Every plan comes with a 97-day money-back guarantee
Free WordPress website migration
50 gig of storage on SSD drives
Email is available for purchase at $1.67/mo.
Shared unlimited starts at $3.95/mo for an unlimited number of websites
Pricing
If you are looking for shared web hosting, DreamHost has three plans for you. Their lowest plan for shared hosting starts at $2.59/month, cheaper than BlueHost and A2. You can only host one website with this plan.
You also get unlimited disk space and bandwidth when you opt-in for the Shared Unlimited plan for just a dollar more per month, a great deal considering the unlimited nature of everything.
DreamHost offers 4 VPS plans starting at $10/month and scaling to the Enterprise plan for $80/month. VPS Basic only offers 1 GB of Ram; we wouldn't advise opting into that plan. You'll likely need the VPS Professional at minimum, or you'll likely need to upgrade within a short period of time.
Dedicated web hosting starts at $149/month. DreamHost claims 100% guaranteed uptime if you choose a dedicated hosting plan. We think that's difficult for anyone to claim reliably, but let us know how you've faired in the comments.
Honorable Mentions for Cheap Website Hosting Costs
From time to time, we leave certain options off our top provider lists, but we like to mention them in our honorable mentions section in case someone is looking for something a bit different. Here are some noteworthy options if the three above don't quite work for you.
FastComet – Top-rated hosting and seriously good pricing. Shared hosting starts at $2.49/month.
Hostinger – Solid hosting and a great reputation to boot. Hosting plans start at $2.49/month. You can also get $20 back by using Rakuten.
Namecheap – Great for domain registration as well. Shared hosting starts at $2.18/month for the 1st year and renews at $4.48; still a great deal.
Additional Web Hosting Resources
Website Hosting Costs Wrap-up
Finding the best cheap web hosting takes time, as there is a greater need to vet all options to ensure they meet your needs both now and in the future. The time spent might not be worth it in the end.
Cheap hosting should likely never be the sole objective. There needn't be much risk assumed for something that costs so little. Quality web hosting is important, but other items are more important. The goal should always be to get the best web hosting plan suitable for your needs at the best possible price.

Website Hosting Costs – Tips To Find Affordable Solutions For Your Business