Website builders have become readily available in recent years – giving seasoned web designers and amateur web enthusiasts options when designing functional and stable sites within just a few clicks. The Hostinger website builder replaces what once was called Zyro but ultimately didn't prove successful on its own, away from Hostinger.
When you research and use website builder tools, you find that not all are created equal. Some are not necessarily friendly to use, with interfaces that confuse users who may not be tech-savvy. Some don't have all the features, and others are just not cutting-edge.
Let's dive deeper into Hostinger's website builder to see if it has the muster to be your next website builder tool.
What was Zyro?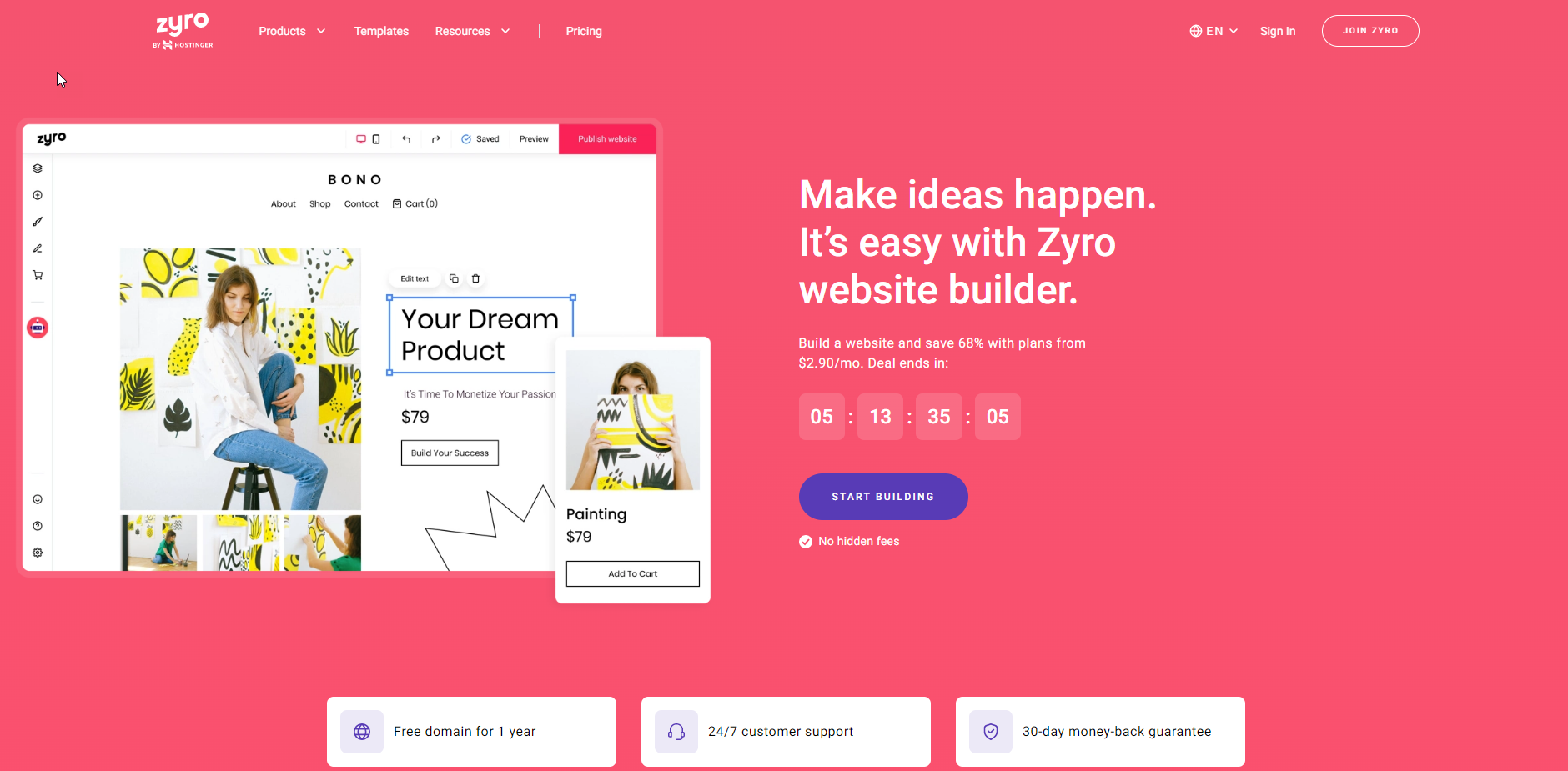 The Zyro website builder was a powerful tool anyone could use to design their online store, blog, landing page, or website. It was not a content management system like WordPress, but it shared many characteristics.
Hostinger brought it under the Hostinger brand and domain in late 2022.
Hostinger Web Builder Key Features
With Hostinger's website builder tool, there's no need to code your site; drag, drop, and you'll soon have a basic website to do business with.
But what if you want a business website with all the features and marketing tools to grow your online store?
This website builder can solve that equation with lots of features under the hood. Let's take a look.
Designer Made Templates
Whatever the purpose of your business website, the Hostinger website builder has over 100 templates in its library to help you create a website that caters to your specific needs.
Whether you're building an online store to sell or need professional features for event management, there is something right for you. Here are some of the categories with ready-to-use templates provided.
Photography – templates that include a photo gallery
Services – templates that grow as your business grows
Portfolio – templates t0 appeal to the creative spark in all of us
Blog – templates that allow for content creation to be found online
Music – templates that sing to us all (metaphorically) through the website's design
The good thing is that all of Hostinger's templates are free to use and lightweight. This means you need no technical skills to work with them as the drag-and-drop interface takes the heavy lifting.
If you're more inclined towards a minimalist aesthetic for your site, you'll find the templates for that purpose.
In keeping up with modern design practices to improve user experience, Hostinger's templates are designed to be responsive, so whether your site is accessed from a smartphone, tablet, or desktop, the template will automatically adjust to the screen size.
Responsive templates benefit search engine optimization (SEO). Website traffic is essential, and ensuring they engage with your site is important.
eCommerce Functionality
Hostinger offers a multitude of functionality when it comes to building an advanced store. From shipping integrations to connecting channels outside the site to setting up a CRM to conduct marketing activities, Hostinger has essential functionality for all online stores.
Search Engine Optimization
Hostinger offers best-in-class search optimization capabilities and is built using best practice coding practices and standards to ensure mobile-friendly websites, performance and speed, and auto meta tagging.
However, for those who like to get their hands dirty, you can take complete control of the meta tags and content and optimize it in whatever way you feel is best for search engine positioning.
Easy Drag and Drop Editor
Remember that the Hostinger website builder is for both seasoned and amateur web designers. You don't need to have the technical knowledge of a professional designer to design a classy site.
The drag-and-drop interface, referred to by Hostinger as their visual builder, is very easy to use.
Hostinger's web builder's drag-and-drop feature allows you to create your own website without needing a web developer. Add images, texts, and titles wherever appropriate by dragging and dropping them in your preferred location.
This website builder will handle everything without worrying about different formats.
SSL Certificates
Setting up and adding SSL to sites can be difficult for many people. Hostinger understands that, which is why it handles the setup for you. With Hostinger, your site will be SSL-compliant without needing input. You also get a free SSL certificate with any of the plans.
If you're new to web design and wondering how important SSL is to a modern website, keep in mind that while it may seem small, search engines have incorporated serving a secure site over a non-secure site into their algorithms.
Meaning that it could impact your organic rankings not to be SSL secured.
Default Cloudflare Inclusion
Most site builders allow users to integrate Content Distribution Network (CDN) services like Cloudflare. Hostinger goes further and has Cloudflare active and working by default for all sites.
That means that aside from making your website load fast, it also aids in its security by protecting it from DDoS attacks and other forms of intrusion.
This is an important feature that many web hosting companies don't offer out of the box.
Free Images
Everyone who's worked on a design project or created a website knows how important it is to have access to stock images.
Hostinger's website builder provides a resource you don't get from most website builders; an image repository from which you can find the right photographs for your site's needs.
Hostinger's image resource is from Unsplash, so you have lots of absolutely free-to-use photographs that can be cropped and resized to fit.
Also, if you already have specific images you'd like to use on your project, you can import or place them wherever needed.
Logo Maker
Hostinger factored in the possibility of needing a logo for your site. Hence, they provided a logo maker in their website builder to allow you to incorporate it into your professional website.
With over a thousand logo templates, you can pick one that suits your brand identity and customize it by changing colors, fonts, size, and text.
You'll own the commercial license, and the final design can be downloaded in a high-resolution PNG format.
Don't expect this feature to give you world-class professional logo designs. It's basic in the eyes of seasoned professionals, but this feature is gold for amateurs and users who want a website up and running.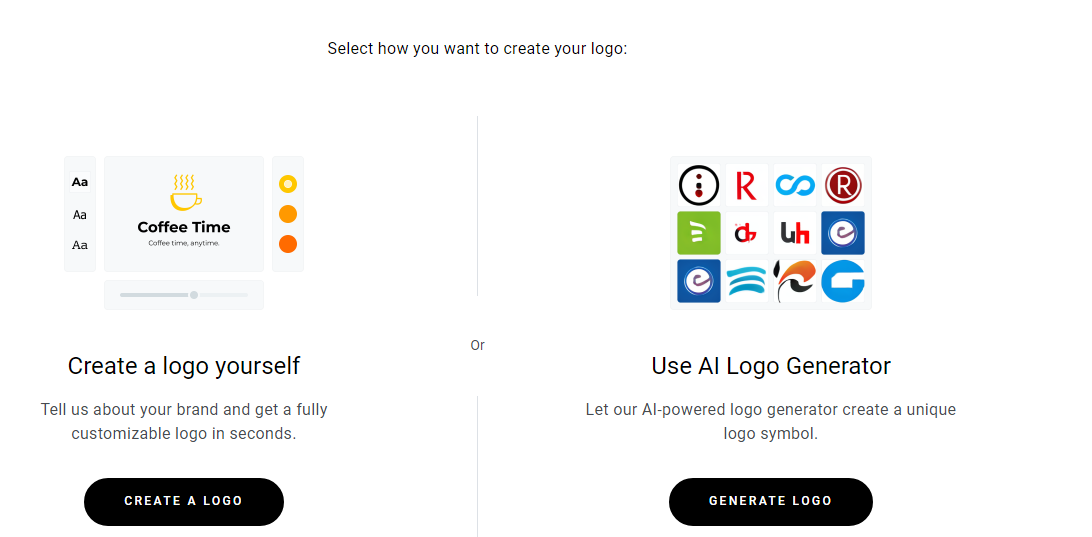 In addition, there is a Slogan Maker. Once you figure out your business tagline, type it in, and you're ready.
You can also leverage their AI logo generator tool to create a unique logo symbol that can be incorporated with your logo text or iconography.
Payment Processing Options
While it's common for most popular eCommerce site builders to have – by default – their own payment processing systems, using those is often limited to a handful of countries.
Although Hostinger does not accept online payments through a native processing system, it supports multiple online payment methods for eCommerce.
Hostinger accepts over 20+ online payment methods, making it easy to accept online payments for your online store from anywhere in the world.
The online payment methods include credit card payments through numerous payment gateways, PayPal options, and Stripe, which provide much-needed options for online stores and small business owners.
Website Importer
This feature of Hostinger is not designed to produce an entire site for you. What it will do for you, however, is import all the content you have from another site – then you can arrange and customize it just as you want to make it a professional website.
For people who have experience switching between services, moving content can be a chore, and if you find yourself in that situation, the Website Importer is a welcome relief.
AI Features and Tools
One of the best features of Hostinger's web builder is that it provides several AI tools optimized to help with various tasks related to website maintenance and business branding.
When you first create a website, you may find some things present more of a challenge than others. AI tools can help make these tasks more manageable.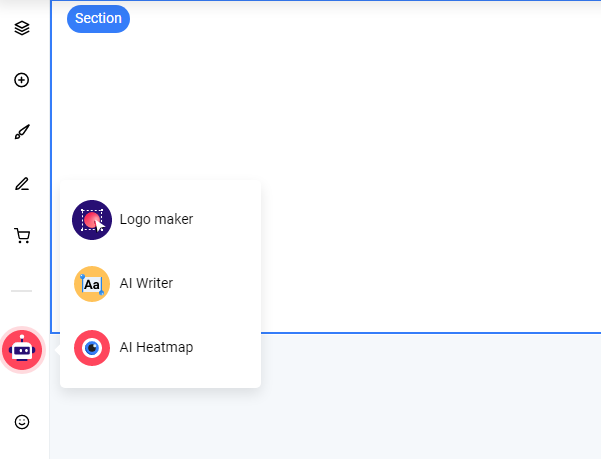 The logo and slogan makers mentioned earlier are AI-powered tools. Other tools will make your work easier and enhance your experience as you perfect your website's design.
For example, the AI Business Name Generator helps you develop a name for your business by providing you with keywords to play around with.
Hostinger's AI Tools
AI Writer – Don't beat yourself up if you have no major copywriting experience. The AI Writer is a content generator that helps you produce high-quality, SEO-friendly copy. With this tool, you won't have to write from scratch. And another piece of good news about this is that it's available in 11 languages. For small business owners, this tool saves a lot of money.
AI Post Title Generator – With the blog title generator, you can create content ideas to write about. You must pick a niche, and the blog title generator will have suggestions ready for you to choose and work on.
Photo Resizer – Don't have Photoshop skills? No problem! This tool allows you to change the dimensions of images so they can fit into website widgets. And the good thing is that the images get resized through lossless compression without compromising the quality.
Favicon Generator – The website builder offers a favicon generator. Choose an icon and modify its shape and color so that visitors to the site can instantly identify your brand in the browser tab.
Image Upscaler – Have only low-resolution images? No problem! Upload your photos to this Upscaler and have website-quality images in no time. Yeah, we don't know how it does it, either.
Background Remover – Every designer, at one time or another, finds him/herself wanting images with the background removed. Don't want to be bothered with Photoshop? Just upload the image to this tool to identify its background, and with one click, you'll have an image with transparent background ready.
AI Heatmap – The heatmap provides insight into the user experience; by predicting the part of your website attracting visitors' attention the most. The insight from this user experience tool can help you boost conversions.
Integrations
Functionality is essential when it comes to website design. Hostinger adds functionality through integrations with Facebook Messenger, Facebook Pixel, Google Analytics, Google Tags Manager, Hotjar, and WhatsApp.
These integrations are built to support marketing campaigns and tactics. The integrations and all the features available for the integrations to work with are a lifesaver for a small business owner.
Website Hosting & Domains
Hostinger is also a domain and web hosting provider. It is easy to see why this website builder offers free hosting, a free domain, and cloud hosting with automatic scaling.
You may have purchased a website builder but are getting access to sophisticated web hosting.
It's nice to take advantage of these features but keep in mind that if you already have a domain name, you can connect it quite quickly and be up and running with a domain name you purchased elsewhere.
Business Email Setup
Emails are an important feature for seamlessly running a business online. Hostinger's website builder plan comes with free email, an upgrade from when it was Zyro.
Hostinger Website Builder Pros and Cons
Like every product, there are pros and cons, and Hostinger's web builder is not exempt. Here, we'll learn the good and not-so-good parts of using this website builder. First, the Pros!
Pros
Easy-to-use drag-and-drop builder tools
Responsive design
Designer-made templates
Royalty-free image library
Built-in SEO tools
Multilanguage support
500 products for eCommerce
20 plus payment options
Cons
Larger entities might find it lacks sophistication
Renewal price is more than double the promotion price
Hostinger Web Builder Pricing
Hostinger is currently offering a really sweet deal for the website builder.
Free Domain ($9.99 value)
Free Email
eCommerce Features
Marketing Integrations
24/7 Customer Support
Website Builder
Up to 100 Websites
Unmetered Traffic (Unlimited GB)
Unlimited Free SSL Certificates
Web Hosting Included
The website builder and hosting are $2.99/mo with 3 months FREE!
Hostinger Web Builder Pluses
Hostinger's deal is unmatched in the industry as far as sophisticated web builders are concerned. The only comparable deal is to get GrooveFunnels' complete marketing platform for Free.
Hostinger Support
Hostinger offers industry-leading support and receives high remarks for its infrastructure, customer service, pricing, and add-on services.
The Hostinger Website Builder simply adds more value to an otherwise valuable suite of products and services.
Hostinger, Squarespace, and Wix: Comparable?
Many people want to be answered whether Hostinger's builder can compete or even compare with fellow website builders — Squarespace or Wix?
The website builder from Hostinger is a new option for those who want to build a website, and the vast array of features and AI-powered tools make it a formidable option for building and launching a website.
The comparison of these tools must also take into account the price and value. Hostinger's web builder has a lower price point than the other website builder tools and delivers incredible value overall.
Web Builder Comparisons
When you compare the Hostinger web builder with any web builder options available today, the Hostinger web builder earns a top spot for its offers.
We enjoyed using the AI-powered tools and playing with the logo maker. All-in-all, the overall value you get from the Hostinger web builder makes it a viable solution and one to check out if you are comparing web builder tools.
Check out our best website builder comparison for more detailed info.
Ease of Use
This website builder tool was developed with new and perhaps unsophisticated users in mind. Although it is not overly complicated, it may vary a bit from other site builders you may be used to.
This drag-and-drop set of tools makes creating your own website or an online store easy.
You'll find the learning curve brief here, depending on how easily you take to things.
In our experience, it took a little over an hour – and that was because we took our time to explore the interface and discover what we could do before getting down to designing and arranging elements in a site.
A previous experience with other builders can come in handy here as some processes are just standard. However, remember that your prior experience with other site builders can cause you to move slowly if you expect the Hostinger website builder to work just like all others you've worked with. You may need some time to adjust to Hostinger's system.
This tool is for beginners, so things shouldn't get too complicated. Commit to learning your way around, and you'll soon be able to create your customized site.
Even if it looks basic, that's just the beginning, and you should be fine. It shouldn't take too long to get comfortable navigating your way around.
Additional Website Builder Resources
The Hostinger Website Builder Wrap Up
The Hostinger web builder is a great drag-and-drop website-building tool for beginners. With its design features, it takes less time to set up a fully-functional mobile-friendly website for your business needs.
People who already own a domain will find Hostinger's web hosting cheaper than regular hosts on the market. Register with Hostinger and start taking advantage of the service.
The drag-and-drop feature makes this a lot easier and fun to work with. While your site or template is pre-generated, you still have a hand in its overall look, as you can start from scratch with forms, images, maps, text, and video.
With the free SSL certificate, free custom domain name, third-party marketing tools, and all features included in Hostinger's website builder, it is very easy to create a website as a business owner with limited resources.
Disclosure: We are a reader supported website. If you buy through links on our site, we may earn an affiliate commission. Learn more here.
---
Helpful Related Posts
---
Affiliate Disclosure: This website is supported by our readers. We provide honest opinions and are not endorsed by any of the organizations we write about. If you purchase using a link on our site, we may receive a small commission at no cost to you. You can read our full affiliate disclosure here. Thanks for your support.