Is Kinsta on top of the hosting contingent for 2023? There are so many options for managed WordPress hosting that sometimes finding the best for your needs can take time and effort. This Kinsta review seeks to do just that. We have done a deep dive into Kinsta to help you determine if it makes the grade for your application.
Overview of Kinsta Hosting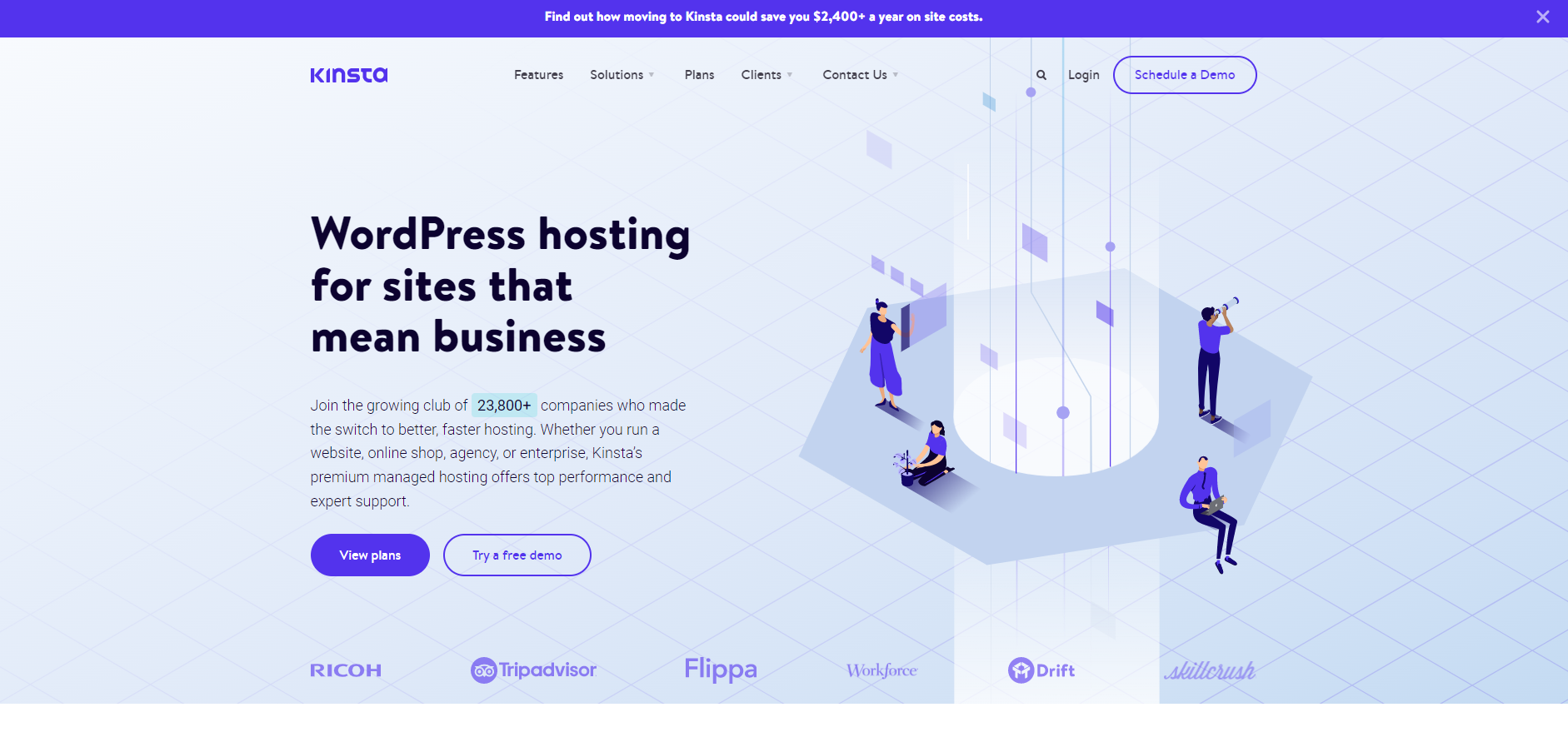 Kinsta is a top managed WordPress hosting company that's been around since 2013; it's known for its reliability, speed, and security. In addition, Kinsta offers managed WordPress plans with server power and optimization that's difficult to find anywhere else. The company also provides application and database solutions, e-commerce hosting, and enterprise WordPress projects.
Kinsta is a cloud-based service, meaning your website is tethered to a virtual server, which gives you the benefit of having a fast website that is always up and running. Some of the top companies in the world, like General Electric, Intuit, and Workforce, use Kinsta to host their websites.
The service leverages the Google Cloud Platform (GCP), one of the world's most reliable and secure hosting platforms. In short, Kinsta is a host that gives you the power and flexibility to grow your website.
What to Look for When Selecting a Managed WordPress Hosting Provider
WordPress has become the dominant force in the content management market, with over 60% of websites operating on WordPress. Take a look at some of the stats from BuiltWith.
Over 35 million live websites are currently using WordPress
29.25% of websites ranked in the top 10,000 of traffic volume use WordPress
There are over 3.7 million live sites in the USA on WordPress
Its popularity is due to WordPress's open-source, easy-to-use, customized platform. Since its inception in 2003, the platform has grown from a simple blogging tool to a full-fledged Content Management System (CMS). WordPress has grown in popularity, so there is a need for reliable, managed WordPress hosting providers.
A managed WordPress host specializes in WordPress websites and offers various services for WordPress users. Without a reliable web host provider, businesses will have to deal with poor site speed, frequent security breaches, crashes, and data loss.
Therefore, if you want your business to be successful, you must keep track of several characteristics of a potential managed hosting provider.
You Need the Right Type – Although subjective, your success depends on choosing the best type of managed hosting for your business. Fortunately, there are several types, including VPS, dedicated, shared, and cloud-based.
Needs Reliable Customer Support – One of the most critical factors in selecting a WordPress host is support. If something goes wrong with your website, you need to be able to contact someone who can help you fix the problem quickly.
Fits Your Budget – Pricing is always essential when selecting any service for your business. You need to find a provider that offers the features and services you need at a price that fits your budget.
Understand the Necessary Features – Not all platforms are created equal, and some will have fewer features than others. Once you know what you need, finding the perfect host for your business will be easier.
Security – WordPress websites are frequently the target of attacks. Ensure your website is secure by choosing a WordPress host with robust security features.
You Need Speed and Reliability – Website performance is a significant factor in ranking on search engines and conversion rates. You will likely lose visitors and potential customers if your website doesn't have the necessary site speed. Also, aim for a 99.9% uptime guarantee.
Kinsta Review – How to Get Started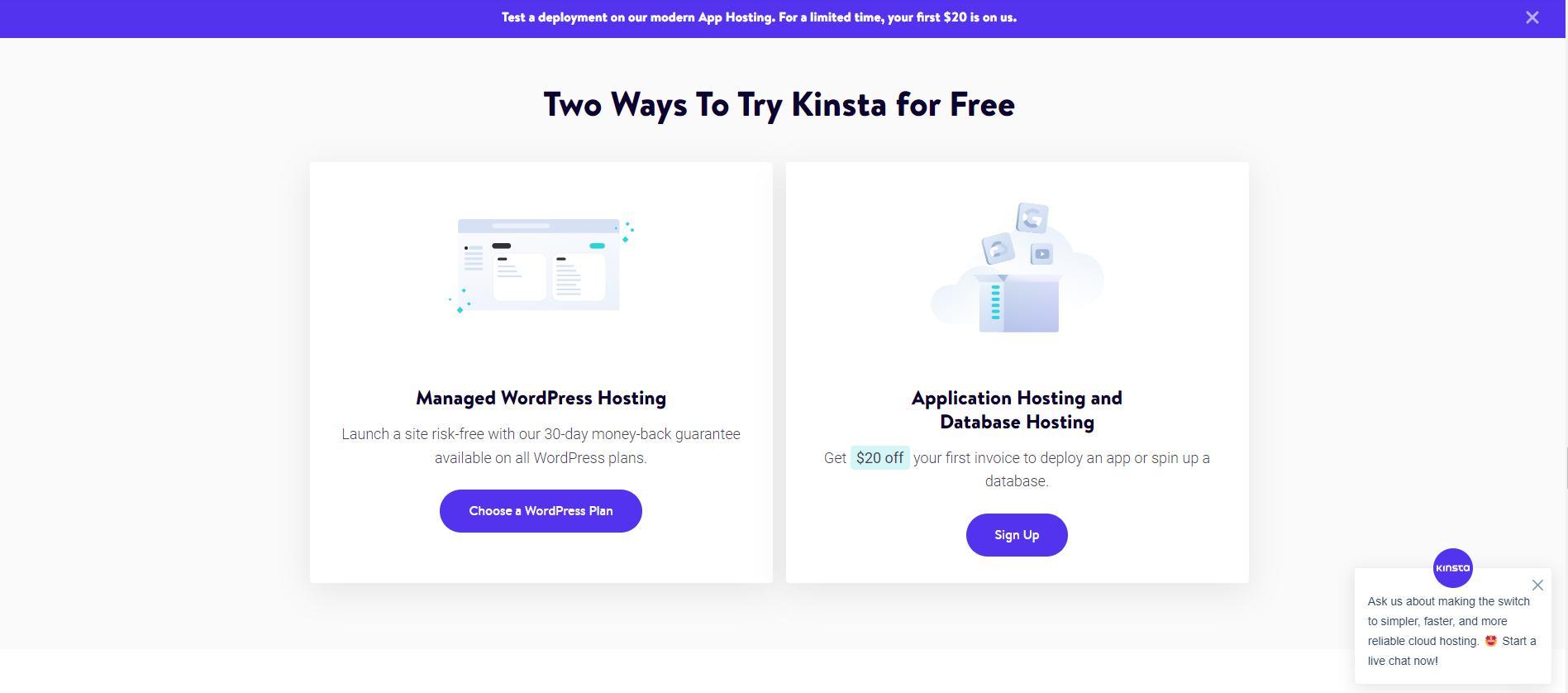 Kinsta offers a few hosting solutions for businesses using the platform for different purposes. Since this article covers managed WordPress hosting, we'll discuss this option moving forward. Kinsta has Starter, Pro, Business 1-4, and Enterprise 1-4 plans for ultimate flexibility.
The Kista hosting plans offer different levels of the same features to help businesses of any size; Kinsta's Enterprise plans assist companies with significant traffic. Once you've decided on a plan, you'll need to create an account.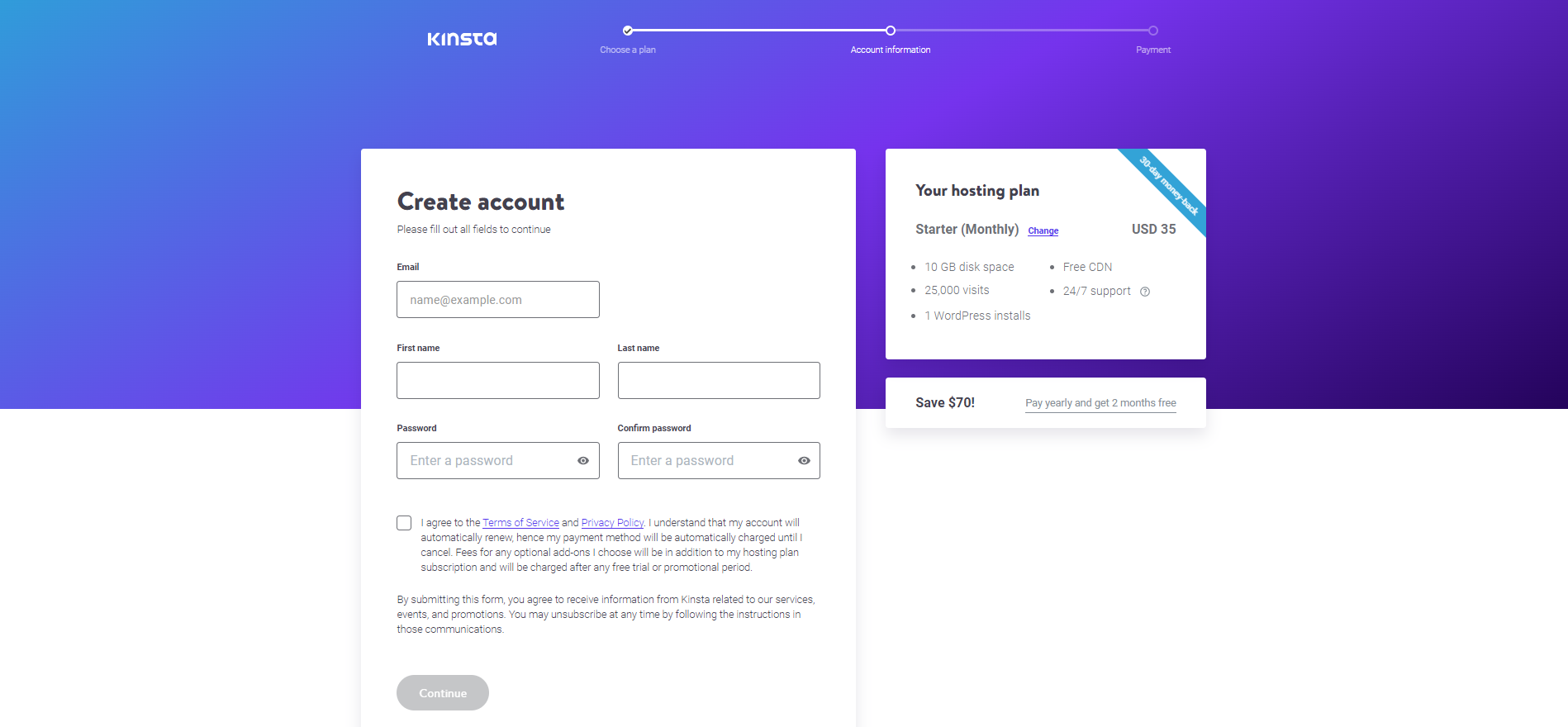 If you already have a website, you could migrate your existing WordPress site using the "Request a Migration" option, ensuring that you provide accurate details about your site. Kinsta offers a free migration service to take advantage of.
Then, if you've clicked "Add Site," the software will handle the rest and generate your site for you. Unless you have an established website with Kinsta, it'll take a bit for the site to propagate. However, as a managed hosting solution, Kinsta will automatically take care of a lot for you.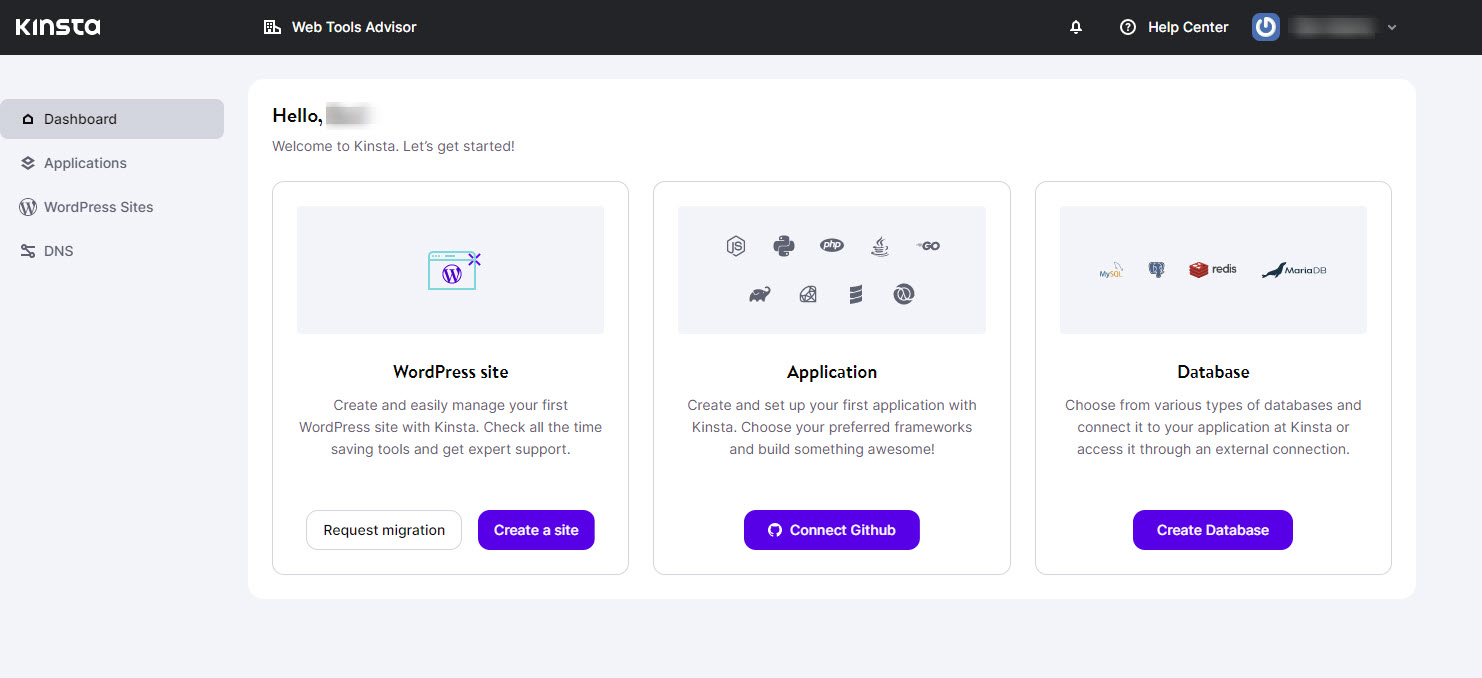 Kinsta Review – Hosting Features
As a WordPress hosting solution, Kinsta offers features that most managed WordPress hosting providers do, but includes others like:
A Custom Interface
The Ability to Choose a Data Center
Access to Key CDN caching and server-level caching
Site staging and access to one-click publishing
Insightful visitor analytics in the dashboard
24/7 live support and ticketing
Protection with blocked plugins
Kinsta Review – Ease of Use
Part of Kinsta's appeal is the flexibility of its software and features; it's designed for WordPress users of all experience levels. Kinsta's managed WordPress hosting plans are some of the most user-friendly in the business.
In addition, Kinsta's team of expert WordPress developers and support staff are always available to help with any issues. With its custom dashboard, MyKinsta, the company sheds any reliance on other control panels, like cPanel.
As Kinsta is focused only on WordPress solutions, the dashboard is optimized for users to get the most out of their Kinsta account. Kinsta's focus on WordPress also means that the company provides a more streamlined and cohesive experience, especially on mobile devices.
Users can access all the necessary features and tools through the dashboard, such as:
Sites
Migrations
DNS
Analytics
Billing
Settings
Activity Logs
Each category is organized into subcategories, so users can quickly find what they need. Furthermore, the staging environment allows your production site to stay active while you implement changes. Staging is valuable because you can view how changes may affect your website before you finalize them; in other words, it's a testing environment.
Kinsta's staging feature, Selective Push, is unique in that it allows you to push changes from your staging site to your live site with just one click. This is a valuable time-saving feature, as it eliminates the need to migrate changes manually. In addition, users can decide to only push files, databases, or all changes at once.
Performance Testing of Kinsta WordPress Hosting
We always like to test the performance of our web hosts to ensure we're providing you with the best options to satisfy your requirements. While we make no guarantees about the speed of your website as it relates to one of our preferred web hosting companies, we know you'll be satisfied.
Kinsta Performance Comparison Against Alternatives in GTMetrix
We ran tests using GTMetrix to review the specifics as it related to core web vitals and other critical site and page load times. As you can see, just like in previous tests, SiteGround outperformed all others.
But when it came to looking at the filmstrip results for fully loaded time, both Kinsta and SiteGround came in at 4.6 seconds, while Cloudways and Flywheel were 8.3 and 9.3 seconds respectively.
Kinsta Review – Specifications
Kinsta's servers are some of the best in the business, with features like PHP flexibility, no need for caching plugins, and a premium CDN. Furthermore, the company established its service using Google's Cloud Platform instead of other cloud infrastructure giants like Amazon Web Services or Microsoft Azure.
Google's Cloud Platform
Technically, Kinsta doesn't have any servers. So instead, Kinsta uses GCP to host its customers' WordPress websites. GCP is a cloud computing platform that provides Kinsta and other hosting companies access to resources that help them deliver their services. Essentially, it's a digital asset that provides cloud architecture for hosting web applications.
GCP offers Kinsta a few advantages. First, Kinsta's team of expert developers can utilize GCP's cutting-edge, constantly updated features. Therefore, Kinsta can offer its customers the latest in hosting technology. Furthermore, GCP is a pay-as-you-go platform, so Kinsta only pays for the resources it uses. This keeps Kinsta's costs low, which Kinsta can pass on to its customers in the form of lower prices.
Since its inception in 2008, GCP's infrastructure has grown and expanded to countries worldwide. Kinsta uses 35 dedicated data centers from GCP's network for businesses to establish their websites. Therefore, knowing the location of the bulk of your targeted audience is handy when deciding which data center to use.
APAC
Changhua County, Taiwan (asia-east1)
Hong Kong (asia-east2)
Tokyo, Japan (asia-northeast1)
Osaka, Japan (asia-northeast2)
Seoul, South Korea (asia-northeast3)
Mumbai, India (asia-south1)
Delhi, India (asia-south2)
Jurong West, Singapore (asia-southeast1)
Jakarta, Indonesia (asia-southeast2)
Sydney, Australia (australia-southeast1)
Melbourne, Australia (australia-southeast2)
EMEA
Warsaw, Poland (europe-central2)
Hamina, Finland (europe-north1)
Madrid, Spain (europe-southwest1)
St. Ghislain, Belgium (europe-west1)
London, United Kingdom (europe-west2)
Frankfurt, Germany (europe-west3)
Eemshaven, Netherlands (europe-west4)
Zurich, Switzerland (europe-west6)
Milan, Italy (europe-west8)
Paris, France (europe-west9)
Tel Aviv, Israel (me-west1)
LATAM
São Paulo, Brazil (southamerica-east1)
Santiago, Chile (southamerica-west1)
NA
Montréal, Canada (northamerica-northeast1)
Toronto, Canada (northamerica-northeast2)
Council Bluffs, Iowa, USA (us-central1)
Moncks Corner, South Carolina, USA (us-east1)
Ashburn, Virginia, USA (us-east4)
Columbus, Ohio, USA (us-east5)
Dallas, Texas, USA (us-south1)
The Dalles, Oregon, USA (us-west1)
Los Angeles, California, USA (us-west2)
Salt Lake City, Utah, USA (us-west3)
Las Vegas, Nevada, USA (us-west4)
Ideally, you'll want to use the one closest to your customers; however, you should also consider using tools like Cloud Harmony or GCPing to determine which data center better serves your business.
Kinsta Pricing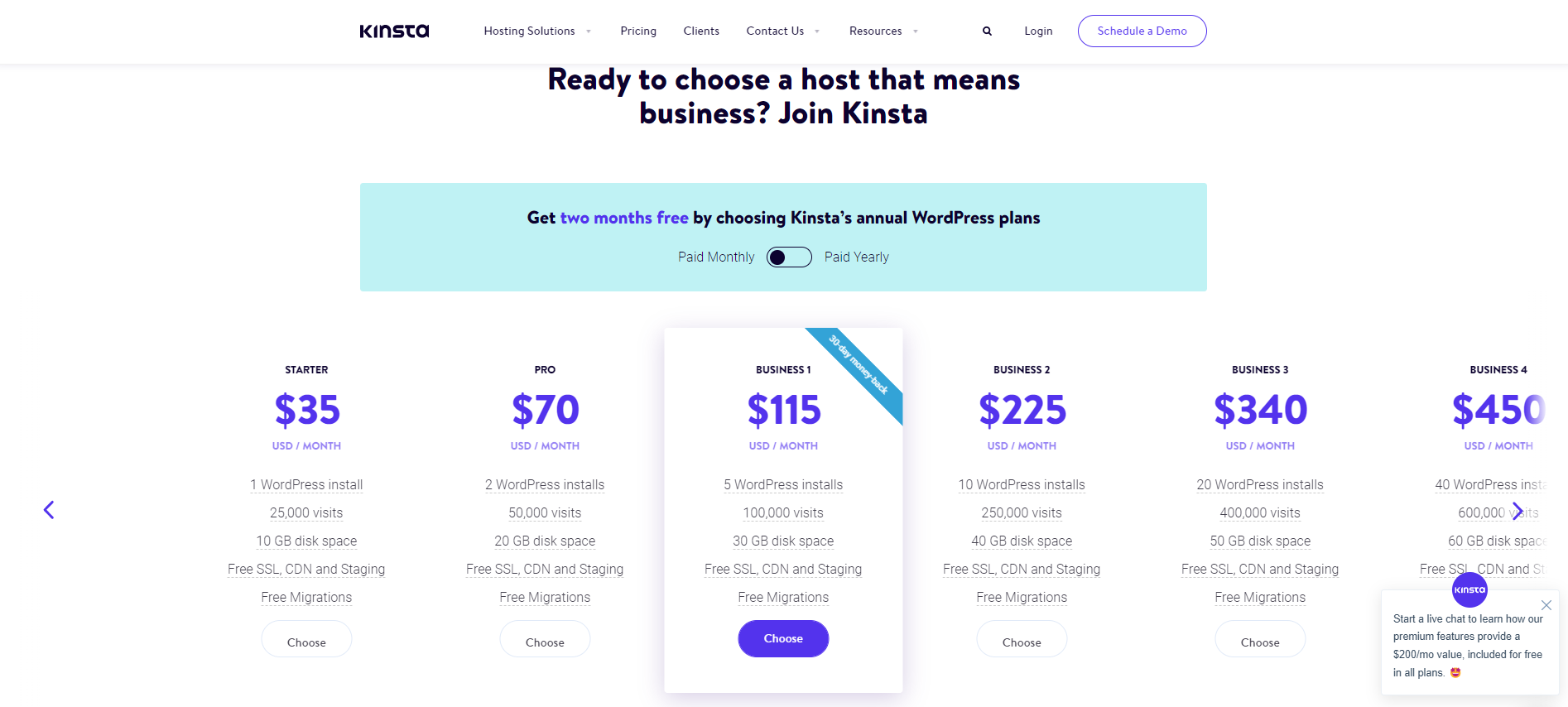 Let's get this out of the way first; managed hosting with Kinsta is only affordable for some. While Kinsta does offer two free months with annual plans, the cheapest plan starts at $35/month, which only gets you one WordPress install, 10GB of storage, and only 25,000 visits per month.
In addition, all of the platform's managed hosting plans come with access to Kinsta's expert support team. Finally, each program provides users with a free SSL certificate, a content delivery network provided by Cloudflare, free site migrations, system-generated backups, and the staging environment discussed earlier.
Businesses considering Kinsta will have to review the plans closely to determine if the cost makes sense for the value they receive. Monthly plan charges are:
Pro – $70/month
Tiered Business 1-4 – $115-$450
Tiered Enterprise 1-4 -$675-$1,650
With each step up, users will get exponentially more WordPress installs, visits and disk space to store their website's data. Unfortunately, Kinsta doesn't offer unlimited plans, but there is a customized solution for agencies needing more than the current plans.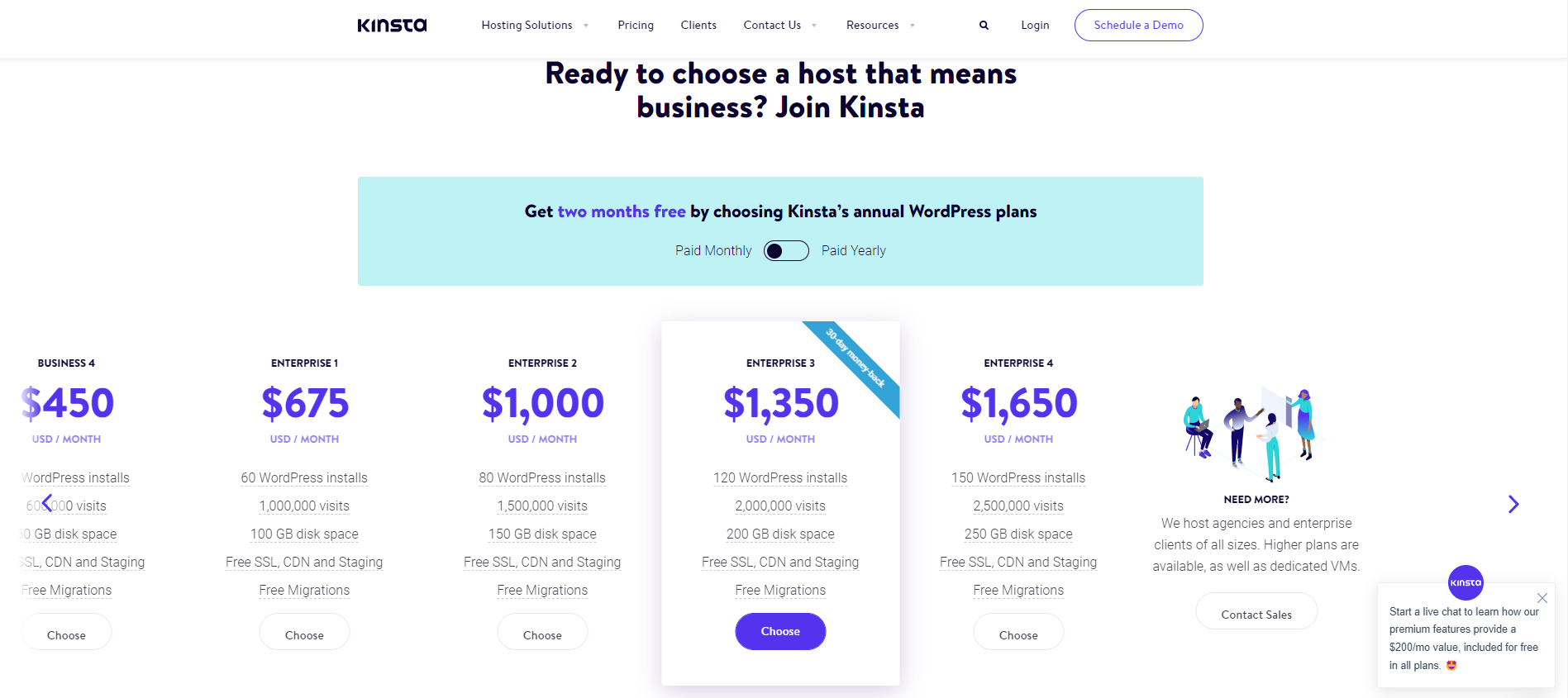 Kinsta Support
It's doubtful that many would disagree with this sentiment, but when you're paying for a premium managed WordPress hosting service, you expect an exceptional support team. As we said earlier, Kinsta's team of WordPress experts is available 24/7/365 to help with any hosting-related issues for their customers. Typically when users review the service, they reveal how seriously Kinsta takes customer service and support.

Kinsta boasts quick, mission-critical treatment for everyone via the MyKinsta dashboard and just one click away. The platform explicitly states that they offer speedy service for every company, no matter the size using live web developers and engineers only.
With Kinsta, the reliance on chatbots or scripted support replies is no more. Support members are WordPress experts and can help users with issues beyond traditional troubleshooting. For example, Kinsta's support team can help customers improve their website's speed or help with optimizing.

If for some reason, you're a DIY troubleshooter and don't want to rely on Kinsta's support staff, there are also available resources like:
Knowledge Base – Kinsta has an expansive Knowledge Base readily available with how-to guides, troubleshooting articles, and educational pieces on WordPress and Kinsta.
Blog – Kinsta's blog features content from Kinsta team members and well-known WordPress developers to inform site owners about the world of WordPress through tutorials and articles.
Help Center – The Kinsta Help Center includes popular articles from the Knowledge Base and a search bar to help users quickly find what they need.
To top it all off, Kinsta also has proactive site monitoring and daily automatic and on-demand site backups. Kinsta has your back at all times, so you won't need to rely on additional paid services like Updraft Plus to manage your backups. Although with new sites, you can implement Updraft Plus, one of the few accepted backup plugins, or you can perform manual backups.
Kinsta Pros and Cons
Every WordPress-managed hosting service has pros and cons, and Kinsta is no different. Kinsta's primary focus on WordPress sites and its use of Google Cloud infrastructure set it apart from other hosting companies, but let's discuss its advantages and disadvantages further.
Kinsta Web Hosting Pros
It's easier to define a hosting service as the best with a comprehensive list of pros and cons. But, aside from listing the service's merits, how could a company know if Kinsta's service was what it needed? Whether a service "fits" your business is about your goals, budget, experience, and overall expertise. Here are Kinsta's most significant advantages.
5-Minute uptime monitoring
Automatic Backups and one-click restore
Optimized speed using Nginx, PHP 8.0, LXD containers, and MariaDB.
Guaranteed uptime of 99.98%
Better for high-traffic websites like eCommerce businesses
Site staging
Cloud hosting infrastructure
Hardware firewalls
Automatic database optimization
The ability to choose your data center
Affordable overages such as $1 per extra 1,000 visits
Kinsta Web Hosting Cons
Although Kinsta has a variety of advantages, it would be unfair to Kinsta and its customers to ignore its disadvantages. Here are Kinsta's most significant disadvantages:
It's expensive when compared to its competitors
It doesn't provide email hosting like other hosting providers
Low feature limits that are uncommon with providers
Due to security or performance issues, Kinsta bans specific plugins like some having to do with WooCommerce and eBay integration
It's WordPress website compatible only
Kinsta's Banned Plugins
We felt it important to provide more details on the list of banned WordPress plugins as some may feel this list is significant and would justify not using Kinsta hosting. Although it may be a hardship to some, it shouldn't preclude you from leveraging everything that is top-notch with Kinsta WordPress hosting and their service as a whole. (source: Kinsta)
Caching Plugins
Cache Enabler
LiteSpeed Cache
Backup Plugins
All-in-One WP Migration
BackupBuddy
BackWPup
Duplicator Pro
Snapshot
UpdraftPlus – This is allowed if it's a new site.
WP DB Backup
WP DB Backup Made
Performance Plugins
Better WordPress Minify
P3 Profiler
Optimize Database after Deleting Revisions
WordPress GZIP Compression: GZIP is already enabled on all Kinsta servers.
JCH Optimize (reasons: constant PHP stress, high bandwidth usage, can't cache, can't optimize for CDN)
Security Plugins
Kinsta doesn't allow any WordPress security plugins to be used and you really do not need them. Kinsta hosting offers security tools right from your MyKinsta dashboard and if the added peace of mind or a layer of security is needed, you can implement Cloudflare or Sucuri as a layer on top.
Social Media Plugins
Facebook Instant Articles & Google AMP Pages by PageFrog
Facebook Open Graph, Google+, and Twitter Card Tags
General Plugins
Allow PHP Execute
Dynamic Widgets
Exec-PHP
Inactive User Deleter
Pipdig Power Pack (P3)
WP RSS Multi Importer
WordPress Popular Posts
What Makes Kinsta Different?
As one of the top three managed WordPress hosting providers since 2020, Kinsta has made a name for itself in the tech industry. But what sets it apart?
Kinsta Uses GCP
While providers like Cloudways and Flywheel use GCP, Kinsta uses LXD to containerize each WordPress site differently. Kinsta's containers improve performance, stability, and security while allowing developers complete control. In addition, website containers are separated, even those owned by the same business.
All Core Features Included
Kinsta provides access to all of its features regardless of which plans a business selects. Kinsta doesn't nickel and dime customers by charging extra for backups, staging areas, and site migrations the way other providers do.
Instead, the hosting provider bases plan value on the amount of storage, visits, and website installs a business needs. So, as businesses evolve and grow, they won't have to go through complex migrations to achieve their goals, just a simple plan upgrade for more capacity.
24/7 WordPress and Kinsta Support
Kinsta offers 24/7 customer support to all its customers, and Kinsta's customer support team quickly resolves any issues that may arise. Kinsta's team will even help customers with tasks like site migrations, server space issues, plugin installations, and performance optimization through its exclusive dashboard without chatbots.
Kinsta Alternatives
Unfortunately, one of Kinsta's main drawbacks is its pricing structure; while they are competitive, they remain the expensive option. However, the quality of Kinsta's managed WordPress hosting service justifies the price for many businesses. Value is subjective; if Kinsta is not within your budget, other Kinsta alternatives may be better.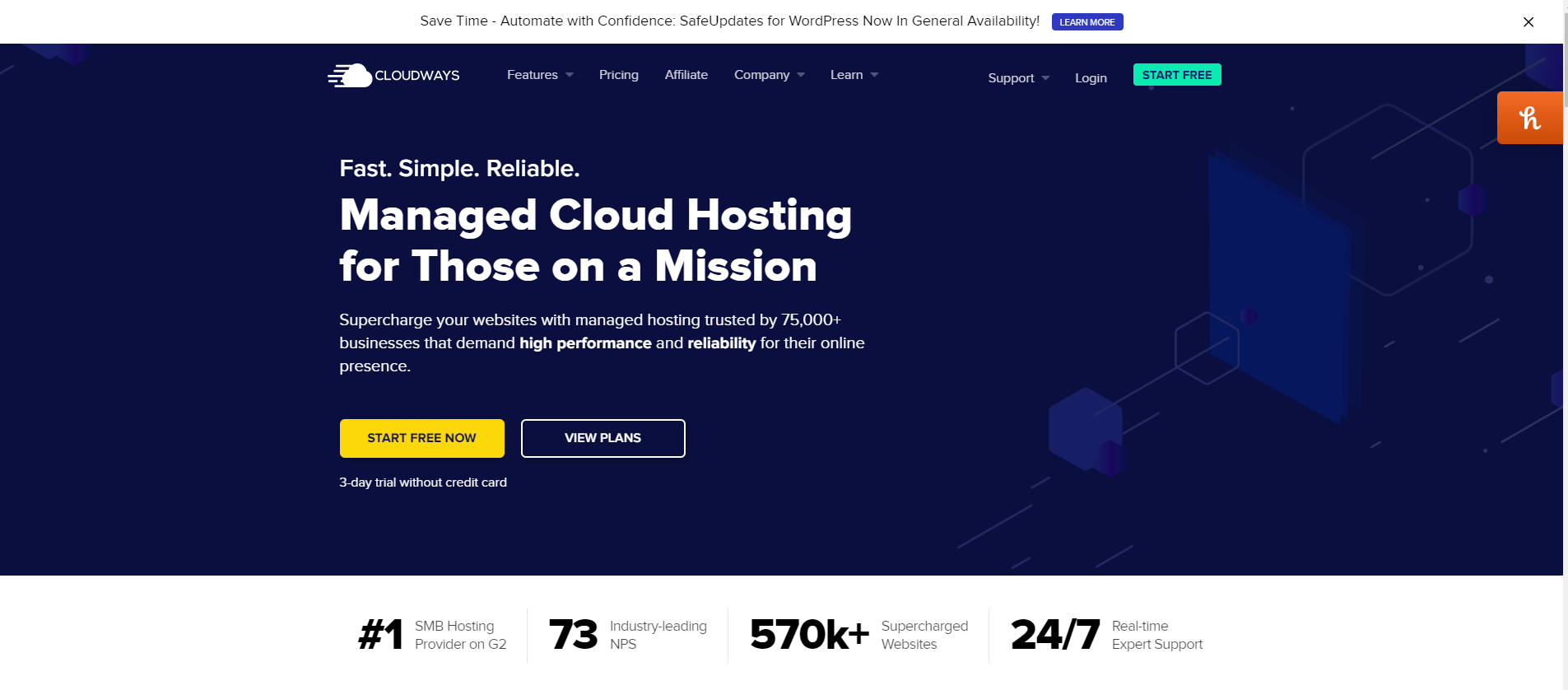 The primary distinction between Cloudways and Kinsta is that the former integrates five separate cloud structures while the latter only uses GCP; more precisely, Cloudways networks Digital Ocean, Vultr, Linode, AWS, and GCP.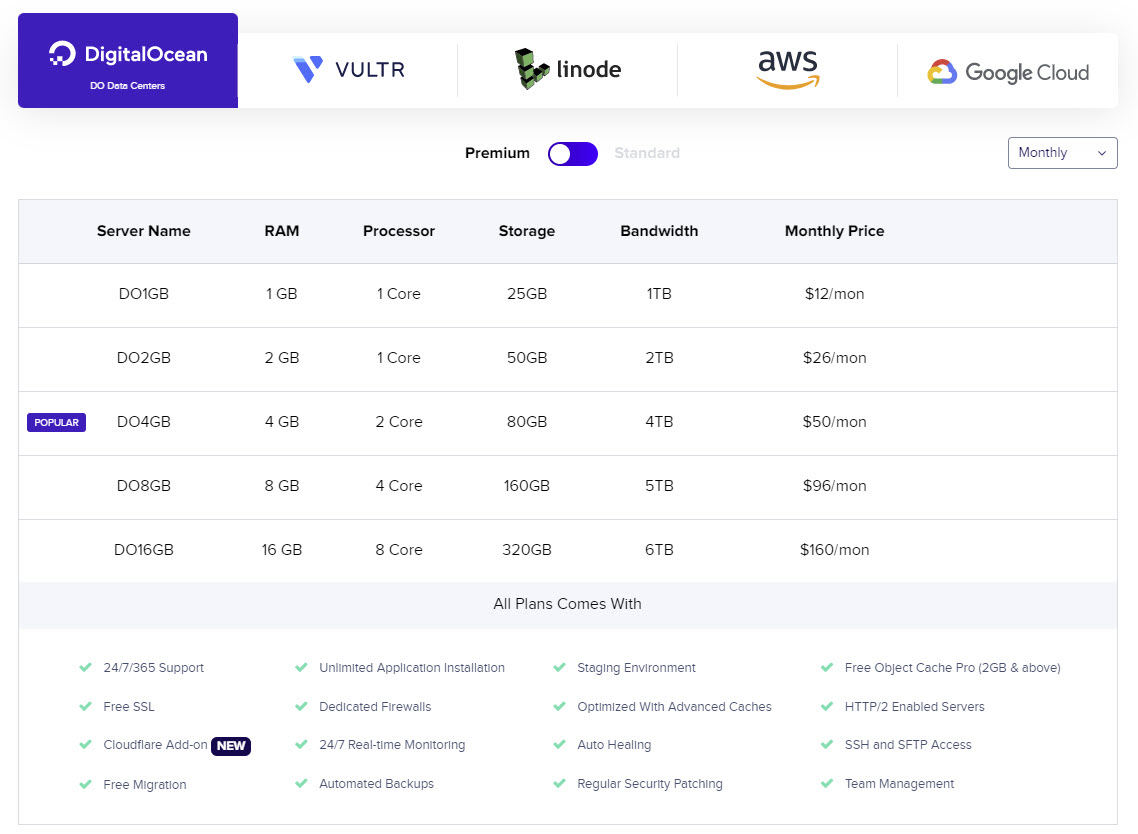 In addition, you can choose your own CMS with Cloudways, while Kinsta only offers WordPress. Ultimately, users get a more affordable service and only pay for what they use with Cloudways; Kinsta requires upfront payments at a fixed rate.

SiteGround is one of Kinsta's main competitors; the two service providers are relatively similar, with a few key distinctions. If you're looking for a cheaper alternative to Kinsta, Siteground is worth considering. They have a solid reputation within the managed WordPress hosting contingent and are much less expensive.
Although Kinsta is one of the best-managed WordPress hosting providers, they aren't affordable for everyone. For example, suppose you want to experience what it's like to have your WordPress websites professionally managed but don't want to spend too much money.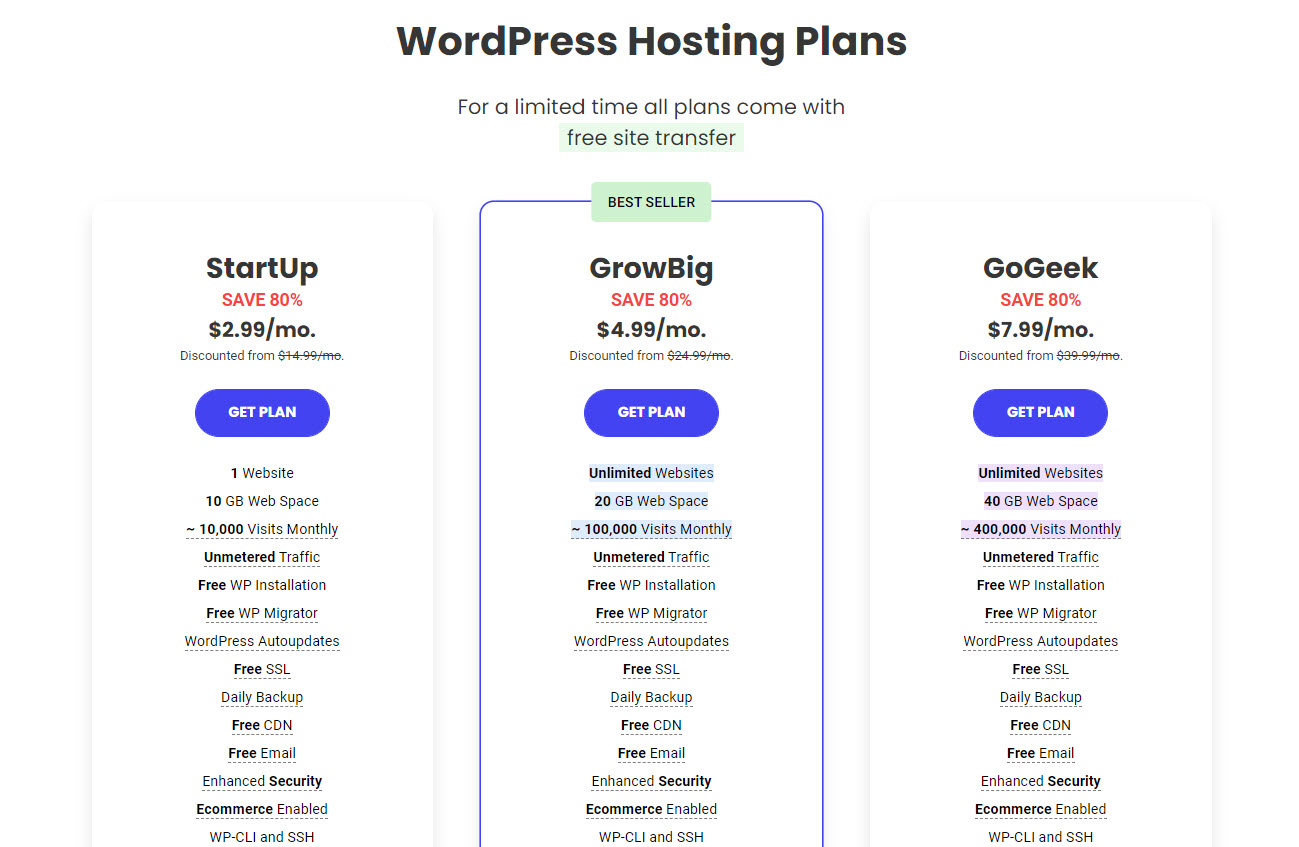 In that case, SiteGround is a decent option because they offer more reasonable rates–especially if you need to host multiple websites. SiteGround also gives users access to staging sites, automatic daily backups, free SSLs, and more.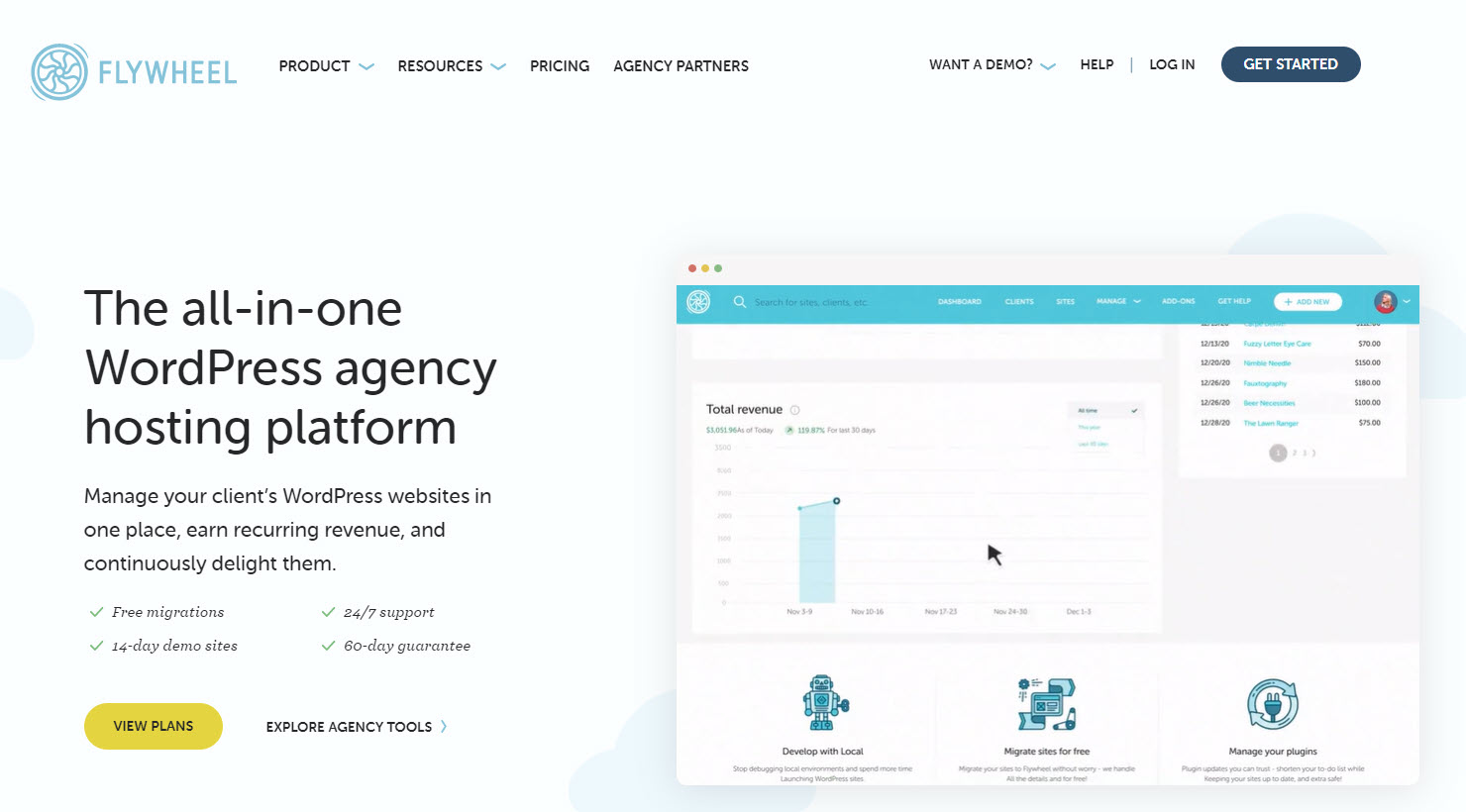 Despite being acquired in 2019 by WP Engine, Flywheel remains an independent alternative to Kinsta with a few key differences. While Kinsta and Flywheel utilize GCP, Flywheel only has five accessible data centers, while Kinsta has 35.
Flywheel's WordPress hosting packages are also much more limited than Kinsta's and top out at $242/month for 400k visits for managed hosting. Kinsta, on the other hand, had over eight different plan variations, with the most expensive being $1,650/month for 2.5 million visits.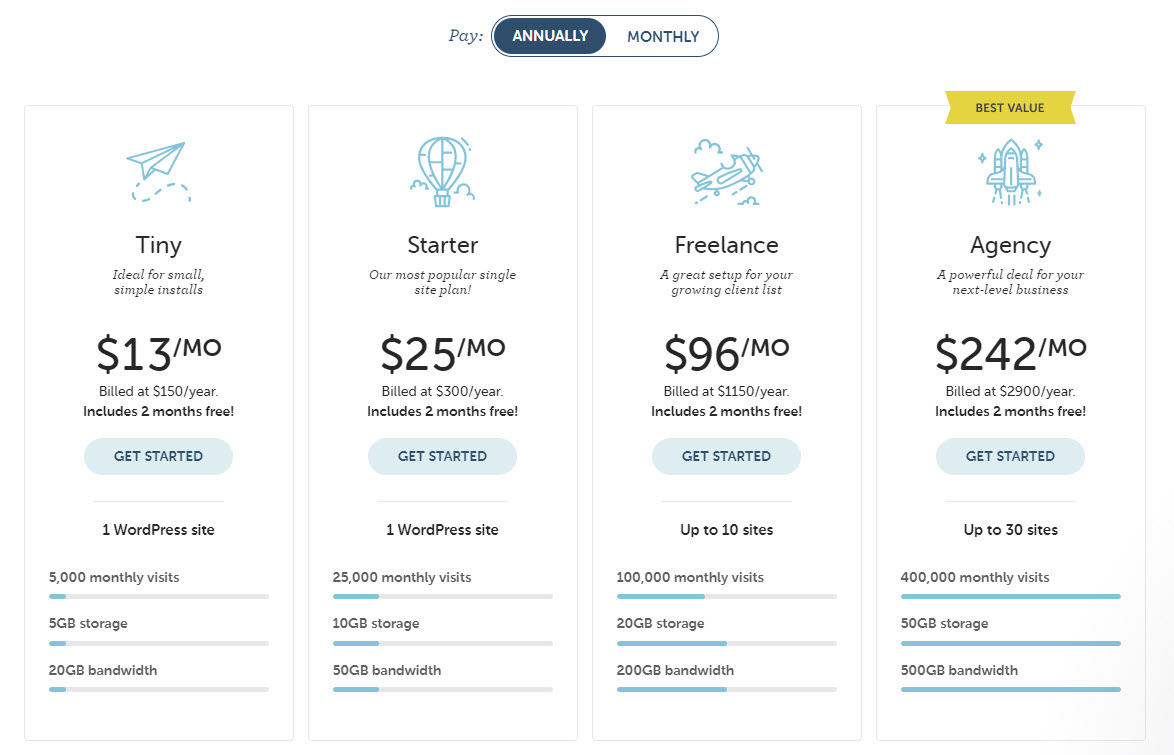 Instead, Flywheel focuses on providing a niche-based service where companies can easily manage client assets and websites. They call this the Growth Suite, and higher plans can include more visits but fewer sites than Kinsta.
In addition, Flywheel has better plan options for smaller companies that may not intend to have rapid growth. Both plans ban WordPress plugins, so check the list before subscribing to either service.
WP Engine is the progenitor of managed hosting for WordPress, and other companies have followed their example. However, WP Engine still offers quality hosting services with free SSL and 24/7 managed security – you can rest assured that your website will be safe.
Both providers offer a solution for businesses that need expert WordPress help fast. In addition, WP Engine has many features like a free CDN, on-demand backups & one-click restores, free migrations, and global edge security.
The base plan for WP Engine is less expensive than Kinsta's by $15, which can help website owners who are just starting. However, automated plugin updates on the base plan cost an additional $3 per month, which causes us to raise an eyebrow. You also need to pay extra for security. WP Engine's Global Edge Security package doesn't have any plans.
WP Engine offers a 60-day money-back guarantee, compared to the 30-day of Kinsta. Unlike Kinsta, WP Engine also provides the opportunity for optional add on's for better plan customization. Depending on how you look at this, it could be a good or bad thing.
Kinsta Review Wrap-up
Kinsta is one of the best-managed WordPress website hosting providers on the market. They offer top-of-the-line features and make it easy to scale your website as your traffic grows. Although Kinsta is more expensive than some competitors, it's worth the price for the peace of mind and website optimization you'll get in return.
If you have the budget for managed WordPress hosting, then Kinsta is the way to go. You will be satisfied with the service and the results. If you're looking for a high-quality, reliable, and fast WordPress website hosting platform, opt for Kinsta.
Kinsta is an ideal choice for growing eCommerce stores, membership sites, or handling Premium clients. If Kinsta's out of your price range or you're just starting with WordPress, we recommend checking out SiteGround or Flywheel; you can always migrate later.
Disclosure: We are a reader supported website. If you buy through links on our site, we may earn an affiliate commission. Learn more here.
---
---
Affiliate Disclosure: This website is supported by our readers. We provide honest opinions and are not endorsed by any of the organizations we write about. If you purchase using a link on our site, we may receive a small commission at no cost to you. You can read our full affiliate disclosure here. Thanks for your support.